You have /5 articles left.
Sign up for a free account or log in.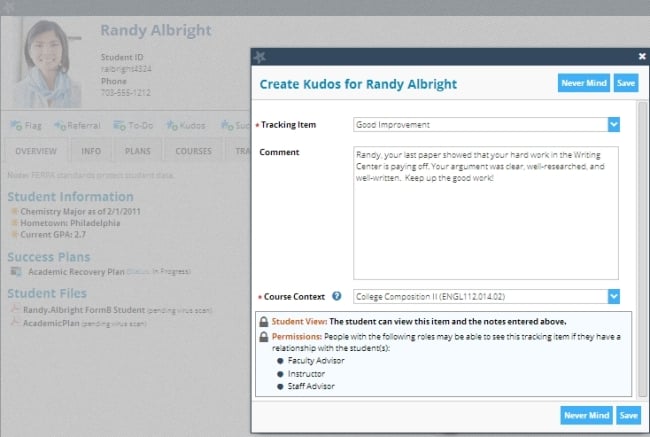 Many lower-income students wrestle with doubts about belonging in college -- particularly first-generation college students. Yet while experts say doling out positive reinforcement could improve graduation rates, systematic methods of giving students a pat on the back remain rare.
That may be changing. Colleges are getting more serious about broad strategies to improve student retention. Some have contracted with vendors to create technology-based early-warning systems that faculty members and advisers can use to identify and help at-risk students.
One company, Starfish Retention Solutions, includes a "kudos" tool in its suite of student-success software. Professors can use Starfish to create a customized notification for students when they have a breakthrough in their learning.
"Students like to get positive feedback," said Margaret Annunziata, a professor of education at Davidson Community College, which is located in North Carolina. "It doesn't happen often."
Starfish currently has 240 client institutions, about half of which are two-year institutions. Davidson hired the company in 2011.
Faculty members and advisers at Davidson used the software to generate 18,000 alerts or "flags" this spring. More than half -- fully 10,000 -- were kudos.
Annunziata said she likes the positive feedback tool. She uses it to tailor individualized messages to students. And sometimes an emailed kudos has more permanence than a comment after class, she said.
Officials at Davidson have encouraged faculty members not to just send the positive messages to top-performing students. The idea is to spread it out, and to help students celebrate their progress.
"It can make a substantial difference," said Stacy Holliday, Davidson's director of campus innovations and student success.
The University of Illinois at Springfield has tracked the impact of kudos on student performance. Officials there said they had seen a positive correlation on students' grade point averages if they received the notifications in their first two semesters.
The initial research suggests kudos have to be sustained to make a difference, said Karen Moranski, the university's associate vice chancellor for undergraduate education. And getting them from different faculty members appears to be particularly helpful.
Does It Work?
Starfish is one of several technology companies that have moved into the student success space. Other players that offer outsourced help for advisers, faculty members and administrators include Hobsons, Civitas and Noel-Levitz, to name a few.
David Yaskin, Starfish's CEO and a former senior executive at Blackboard, founded the company in 2007. He said most of its clients in the beginning were mid-tier, four-year private colleges. But Starfish has seen growing interest from two-year colleges. It also works with selective institutions, in those cases focusing on boosting student engagement rather than retention.
"We help students get more out of college," said Yaskin.
Starfish cites data that show it can help increase student retention between the first and second year by 5 to 15 percentage points. That's a big draw for colleges that facing pressure to improve their graduation rates, particularly in states with performance-based funding.
The company has drawn some attention. The White House invited Starfish officials to its higher education "summit" earlier this year.
The Bill & Melinda Gates Foundation has also noticed. The foundation is funding research on how Starfish and other vendors can make a difference on student success, particularly at a large scale. The goal, as with Gates-funded research on "adaptive learning" platforms, is to help colleges make sense of a rapidly expanding constellation of companies that do similar things, but with important differences.
Melinda Mechur Karp, a senior research associate with the Community College Research Center at Columbia University's Teachers College, is leading some of that research.
The study is looking at outsourced retention companies in action at 19 institutions. Starfish is a participant in seven of those projects.
Karp's work began with case studies on six community colleges. The research is an attempt to see how colleges are using Starfish and other retention-based tools. The next phase, which is slated for 2015, will look at how effective those strategies have been.
The various tools have great promise, according to a paper from the center. "These technologies can contribute to improved student outcomes by fundamentally changing the way students are guided and supported as they make their way through college."
However, that sort of broad adoption is tough to do, Karp said. And usage is "not as optimal as it could be" at most of the colleges she's reviewed.
One particular challenge is developing a system to respond to thousands of digital notifications about students.
"Somebody has to get all these alerts and kudos and act on them," said Karp.
However, she said Starfish has a built-in case management system that can help get the job done. Karp also said instructors and advisers like the software, even if it's not clear yet how students are interpreting the alerts.
"The jury is still out," she said.
Central Location
Yaskin said his company started by investigating the question of why colleges weren't doing more to identify students who need extra help. They interviewed faculty members, students and administrators before they built the platform.
Convenience is one key to Starfish being used broadly on a campus.
At the University of Illinois at Springfield, the company has created a central platform for both academic and student affairs.
"Advisers needed a central place to document our referrals," said Carmalita Kemayo, an academic adviser at the university.
In recent years the university has seen a big growth in demand for student services. That's partially because it had been an upper-division institution until 2001 -- meaning it only enrolled juniors and seniors. In 2005 the university began admitting freshmen and sophomores in an honors program. It later expanded to being a full-fledged four-year university.
The influx of less-prepared students created more need for advising. So the university built an early-warning platform of its own.
But Moranski said the institution quickly outgrew the homegrown system. The university now leans on Starfish for its central data repository and software-driven alerts. The university employs four staff advisers who review each student notification. They decide when to follow up with students -- with phone calls, email or appointments -- based on the severity of the warning.
"We know that we're getting to students more quickly," said Moranski, and also "getting more, better and more specific information from faculty."
Yaskin said the company's fee is based on the number of students it serves. He argues that Starfish pays for itself through retention -- by keeping tuition-paying students enrolled.
"A dozen or two dozen students saved will pay for our solution," he said.
Even so, hiring an outside company for retention services can be a big leap for a college, particularly public institutions with tight budgets.
"It is not cheap. These systems never are," Moranski said of Starfish. But she added, "It's been worth the price."