You have /5 articles left.
Sign up for a free account or log in.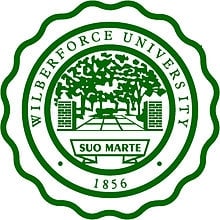 In 1865, on the night Abraham Lincoln was assassinated, Wilberforce University burned to the ground. Historians don't know what caused the fire, whether accident or arson. (Given that the black-owned university takes its name from a famous abolitionist, the latter seems more likely).
The Ohio university – the oldest private historically black institution in the country -- survived. It erected a new building: this time, brick. It was the first African-American university to have a military training program. And over the course of its history, the university attracted leading black intellectuals, such as W. E. B. Du Bois and Richard R. Wright, to its faculty.
Now, 158 years after its founding, Wilberforce again faces an existential threat. After more than a decade of financial hemorrhage and plummeting enrollment, the university risks losing its accreditation.
Despite (or, depending on who you ask, because of) the efforts of an array of actors – a charismatic preacher; a long-frustrated economics professor; a former lawyer for one of the world's largest pharmaceutical companies; a board of trustees with more ties to the African Methodist Episcopal church than to higher education – Wilberforce has until December to prove to the Higher Learning Commission of the North Central Association that it deserves to remain accredited.
To keep its accreditation, Wilberforce must address its ballooning debts, deteriorating buildings and leadership shortcomings, as well as other problems detailed in the commission's show-cause order, issued mid-June and made public last week in a letter to Wilberforce's interim president, Wilma Mishoe.
"Whereas a sanction says there's danger that the institution is out of compliance, a show-cause order is expressing serious doubt that an institution is meeting the standards," said John Hausaman, the Higher Learning Commission's public information officer. "It's asking them to show us why we shouldn't withdraw accreditation."
Losing accreditation would almost certainly prove fatal to the institution. Without accreditation, Wilberforce students would not be able to get federal grants or loans. The university gets the majority of its revenues from government grants (in 2011, government grants accounted for $3.1 million of its total revenue of $14.5 million, according to its tax returns) and tuition, fees and auxiliary revenue ($9.3 million in 2011). Federal money accounts for much of the university's tuition revenue. Eighty-seven percent of Wilberforce students received Pell Grants in 2012, and 100 percent of students took out federal loans, according to the most recent data from the New America Foundation, a nonpartisan think tank.
In a statement, Wilberforce officials said the university had seen "great advancement" in the past year. "We are committed to addressing the areas of concern, and ensuring that Wilberforce is compliant with all Higher Learning Commission accreditation standards," officials said.
Wilberforce has racked up an accumulated deficit of $9.7 million. To stanch operating losses, the university has borrowed money from its endowment. The commission, which accredits educational institutions in 19 Midwestern and Southwestern states, was "unable to determine" whether the university has repaid the money it took from its endowment. 
The institution's deteriorating infrastructure has left the campus "unsafe and unhealthy," the regional accrediting agency reported. By 2011, the campus's buildings had depreciated by $18.5 million (from a $35 million initial value to under $17 million) and its equipment had depreciated by $9.6 million (from a value of more than $10 million to under $400,000), its 2011 tax returns showed.
Some dormitories, uninhabitable, in need of repairs that the university can no longer afford, stand abandoned, said Nodie Washington, who has lived in Wilberforce, Ohio for more than 40 years and assisted the university with its re-accreditation efforts in 2010.
Preacher Man: The Floyd Flake Years
Money has long been tight at Wilberforce. Small liberal arts colleges – especially those with endowments as tiny as Wilberforce's – often find themselves vulnerable to economic vicissitudes. And historically black institutions across the country have struggled in recent decades, in part because more African-American parents are steering their children away from HBCUs, said Ibram Kendi, an assistant professor of Africana studies at the State University of New York at Albany.
But since 2002, when John Henderson retired as the university's president, Wilberforce has suffered in ways that Central State University – another historically black university also located in Wilberforce, Ohio – has not.
Richard Deering, an economics professor who has taught at Wilberforce since 1968, dated the start of the institution's decline to 2002.
"We were in good shape until about 10 or 12 years ago," he said. Since then, the university has run persistent deficits and cut its number of academic programs by more than half.
By the time Henderson left, the institution was in debt. Wilberforce's board of trustees sought a replacement who crackled with star power, someone with the name recognition to serve as a powerful fund-raiser.
"They had a fellow who was a congressman," said Floyd Thomas, curator emeritus of the National Afro-American Museum and Cultural Center, which is located in Wilberforce, Ohio. "Floyd Flake."
Floyd Flake, a Wilberforce alumnus who represented New York in the U.S. House of Representatives from 1986 to 1997, is the senior pastor of an African Methodist Episcopal megachurch in Queens, NY. The preacher said he'd take the Wilberforce job – on the condition that he wouldn't have to leave his church. The board agreed.
From 2002 to 2008, Flake worked on campus one day a week, managing Wilberforce while devoting himself to his New York congregation, Deering said. Flake reduced the number of majors the university offered. He hired his political and religious colleagues – such as his former congressional chief of staff Marshall Mitchell -- as administrators.
Tyler Lawrence, who graduated from Wilberforce in 2012, came to the university at the end of Flake's tenure.
"The heart of the school started to disassemble bit by bit, as the changes came and the programs were cut," she said. "We began to refer to those prior times as 'the good WU days.' "
In his last year as president, Flake earned a compensation package of $340,100, the Springfield News-Sun reported. That same year, Wilberforce posted a deficit of $3.2 million.
Critics have accused Flake of inflating salaries for himself and his friends – salaries largely drawn from the federal dollars that had become the university's lifeblood -- while gutting the institution. A 2012 report from the Ohio Attorney General's office, however, concluded that financial mismanagement had not occurred.
"[I]t is important to note that these increases in number and salaries of vice-presidents occurred during a time when the university was struggling and trying to attract administrators who were competent to help stop the university's financial losses," the attorney general's report argued.
A March 2008 audit from the U.S. Education Department, however, found that during Flake's presidency, Wilberforce had failed to comply with several rules governing federal financial aid disbursement. The university did not return unearned program funds and it lacked sufficient financial aid staff to comply with the program requirements of Title IV, the major source of federal financial aid under the Higher Education Act of 1965. (Title IV programs include Pell Grants and Federal Perkins Loans.)
Kendi, who studies HBCUs but has no specific tie to Wilberforce, cautioned against a narrative of Wilberforce's troubles that pinned blame squarely on Flake.
"It's very easy to just blame the administrator," the Africana studies professor said. "When the board hired Flake he made it clear he was not giving up his church. With Wilberforce in such a precarious position, it probably did necessitate someone who could dedicate their entire life to the institution getting back on a firm financial footing."
Kendi attributed Wilberforce's problems to simple resource scarcity – exacerbated by the recession, which hit black families disproportionately hard, because black Americans had a higher proportion of their wealth tied up in housing.
"I have been trying to confront this perception – what I believe to be a racist perception – that the reason why HBCUs have struggled is because of financial mismanagement," Kendi said. "People at HBCUs are too quick to blame the actual people as opposed to understanding the conditions these people are forced to operate in."
Flake and his staff did not respond to requests for comment.
Amid Worsening Trends, Rosy Projections
In 2008 Patricia Hardaway, a former chair of Wilberforce's board of trustees who served as provost under Flake, succeeded the preacher-president as the university's leader.
Wilberforce underwent an accreditation review from the Higher Learning Commission in late 2009 and early 2010. After a March 2010 accreditation visit, the commission recommended sanctioning the university by putting the institution "on notice."
Ultimately, the accrediting agency decided to grant the university a five-year reaccreditation. Typically, universities are granted 10-year accreditations.
The commission also asked Wilberforce officials to submit yearly progress reports, including finance and enrollment projections.
Washington -- the longtime Wilberforce, Ohio resident -- volunteered to aid the university's reaccreditation efforts.
"There were some challenges as it related to finances and enrollment," she said. "Plans were put in place to increase enrollment and increase fund-raising."
These plans, however, were largely unmoored from Wilberforce's actual fund-raising and enrollment numbers.
The university's strategic plan for 2007 to 2012 gives a sense of administrators' lofty expectations. The plan's vision statement reads: "Wilberforce University will become ranked as a premier liberal arts university in the Midwest and the number one coeducational liberal arts university among the HBCUs, having an endowment of more than $50,000,000 and a traditional undergraduate enrollment of 1,200 to 1,500 students."
According to its 2011 federal filing, the university's net assets stood at $3.5 million. Its undergraduate enrollment for fall 2013 was 377 students. 
A 2012 report from Hardaway to the Higher Learning Commission – obtained by Afi-Odelia Scruggs of Eye On Ohio, an Ohio-based investigative publication, and shared with Inside Higher Ed – shows wildly optimistic enrollment and financial projections.
For instance, Hardaway told the commission that Wilberforce would increase enrollment by 5 percent each year over the next three years.
"It was clear that the projections that were being made by the president were just fantastical," Deering said.
The university based its operating budget for 2014 on 500 students. Its actual enrollment was 377 students.
In the 1980s, Wilberforce enrolled more than 1,000 undergraduates, Deering recalled. In fall 2013 the university enrolled just 66 new first-time freshmen, the professor said.
Deering predicted that the university's enrollment would dip below 300 for fall 2014. "We have 203 students pre-registered," he said. "It's going to depend on how many new students we may bring in."
Deering said the number of paid deposits for the entering class of fall 2014 was "in the single digits."
Student protests marked the end of Hardaway's term. In 2012, more than 300 undergraduates threatened to withdraw unless dormitories and living conditions were improved. In 2013, students and faculty called for Hardaway to resign.
In July 2013 Hardaway informed the board of trustees she would resign, effective Dec. 31, 2013. Wilma Mishoe, a former member of the board of trustees, has served as interim president since.
A Reckoning Approaches
Wilberforce remains accredited for now. The university has until Dec. 15, 2014 to prepare a report demonstrating to the Higher Learning Commission why it should retain its accreditation. An on-site evaluation visit, which the university will host in February 2015, will follow.
Wilberforce chose three finalists for the position of university president before the show-cause letter became public, Deering said. He's uncertain whether the search will be successful given the publicity the university's accreditation woes have received.
The university's job listings suggest a number of vacancies – from the director of financial aid to the dean of students.
Deering doubts the university will keep its accreditation.
"Given the numbers it's going to be virtually impossible to do anything or show any real changes there because all the numbers are going to be even worse this fall," the economics professor said. "The enrollment will be down, the retention will probably be down."
The aging professor said he's close to retirement – "and the way it looks right now, we're all going to be retiring in June next year."
Morris Brown College, a historically black institution in Atlanta that is, like Wilberforce, associated with the African Methodist Episcopal church, lost its accreditation in December 2002. In 2012, the college filed for bankruptcy.
Lawrence, the recent Wilberforce graduate, blamed the university's precarious condition on an excess of pride from the board and administration. The university's "unwillingness to accept help" from anyone outside the board of trustees or the African Methodist Episcopal church had steered it on an irresponsible path, she said.
Other observers think a new set of leaders would set the university upright again. In an editorial published during the weekend, Cleveland.com argued that Wilberforce's board of trustees must resign in order for the university to have a chance of survival.
The university is "hobbled by inept board members," the editorial argued. "It's hard to believe at this point that any long-term board member can steer Wilberforce in the right direction. Resign."
Washington, the longtime Wilberforce, Ohio resident, said a more "diversified" board of trustees would benefit the institution.
"I think we need someone from corporate America who has demonstrated an ability to raise money and who has connections with individuals who have large financial resources," she said.
The university's accreditation troubles had prompted much anxious discussion in the community, Washington added. Losing the university, she said, would be like "losing one of your appendages."
Thomas, the museum curator, said Wilberforce's historical significance added a dimension of tragedy to its current situation.
"It's sickening," he said. "Wilberforce was a beacon of opportunity from the 19th century through recent decades. And to let it die, or to have it die, would unfortunately probably lead to obscurity. It is of such historic significance that it needs to be maintained and preserved."