You have /5 articles left.
Sign up for a free account or log in.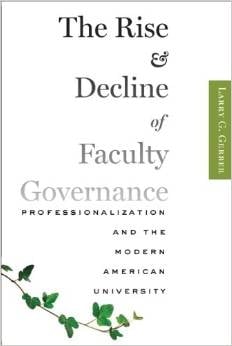 Strong shared governance hasn't always been a defining feature of the American higher education system – powerful external governing boards and presidents differentiated American colleges from the European university early on. But slowly, over several centuries, American faculty members gained primary control over the curriculum and personnel matters, and a seat at the table during other important institutional discussions. Shared governance as an ideal and a practice peaked in the mid-20th century, just as American colleges and universities achieved world-class status. And although faculty input wasn't the only reason for the system's preeminence, it was a major factor, since professors are best-positioned to make academic decisions.
So begins a new, extensive history of faculty governance from Larry G. Gerber, professor emeritus of history at Auburn University and former chair of the American Association of University Professors' Committee on College and University Governance. But along with this detailed accounting of the past comes Gerber's warning about the future: Shared governance is eroding due to the rise of adjunct faculty employment and an increasingly corporate style of management – both of which threaten the entire U.S. system.
"Key questions for the future are whether current challenges to the practice of shared governance will only intensify and whether such challenges will affect the quality and purpose of American higher education," Gerber says in The Rise and Decline of Faculty Governance: Professionalization and the Modern American University (Johns Hopkins University Press). "It remains to be seen whether American colleges and universities will be able to continue to pursue a broad approach to the purposes of higher education in an increasingly market-driven environment or to retain their position of global preeminence if the system of governance that helped make that broadly conceived mission and preeminence possible is fundamentally altered."
Gerber says that American college and university professors started off as tutors but over time became increasingly professionalized, seeking advanced degrees, doing research and performing various kinds of service. This new brand of professor helped establish the modern university in the late 19th century, when faculty members were granted more and more influence in institutional decisions – particularly those regarding instruction, coursework and tenure. Shared governance continued to evolve through the post-war enrollment boom and reached a high, perhaps, with the publication of AAUP's 1966 Statement on Governance of Colleges and Universities. The statement, backed by the Association of Governing Boards and the American Council on Education, codified and made a gold standard of this new faculty role.
But in the last several decades, shared governance has been on the decline, Gerber says, noting a series of drawn-out faculty-administrative battles over how to balance budgets, lay off faculty or introduce curricular changes since the 1970s at colleges and universities of all types. Gerber says public disinvestment from higher education triggered many of these conflicts, but he also attributes them to two other, major factors: an emerging management model that prioritizes institutional "efficiency" and "flexibility" over academic values, and the decline of tenure and related rise of adjunct faculty employment.
Gerber is critical of the market-oriented approach to higher education, which he sees as part of a larger cultural trend toward seeing public goods as commodities. And he's particularly skeptical of "outcomes-based" or "bottom-line" approaches to education, from No Child Left Behind to President Obama's new college ratings plan. They devalue the liberal arts mission, which is what makes American colleges and universities great, he says.
But the explosion of part-time faculty appointments – now 70 percent of professorial slots across academe, according to some estimates – poses the biggest threat to shared governance, Gerber says, since the "development of shared governance in the 20th century was premised on the emergence of a professionalized faculty with the expertise required to make informed academic judgments and with a career-long commitment to advancing academic values that served the public interest."
He continues: "Most faculty members on contingent appointments, however, have little prospect of developing full-time careers at a college or university and they are typically appointed without an expectation that they will engage in the full panoply of professorial activities, but rather with an expectation that their only job responsibility will be teaching."
That poses a conundrum for involving the new faculty majority in governance, Gerber says. Should adjuncts be included on faculty bodies, even though they might not be at the institution next semester? The issue became a flashpoint and resulted in the censure of the administration at Rensselaer Polytechnic Institute in 2011, after the institution's governing board rejected a move by the faculty to allow clinical, non-tenure-track faculty members to serve on its faculty senate. AAUP recently published a statement endorsing adjunct faculty involvement in governance, but with new protections of academic freedom for them. But whether or not institutions take the statement to heart remains to be seen.
While governing boards and administrations are primarily responsible for the fall of faculty governance, tenure-line professors aren't entirely without blame, Gerber says; professors sometimes shy away from service on faculty committees, since their workloads and research pressures are ever-increasing. And that leaves room for administrative creep into faculty domains.
Blame aside, Gerber says, the implications of this fall are dire.
"In the coming years, if current trends continue, the global preeminence of American colleges and universities is at risk," he says. "This is true not only because of the cutbacks in government funding for higher education at both the state and federal levels that have occurred in recent years. It is true also because the narrowing of the mission of American colleges and universities and the subsequent downgrading of the critical role of the humanities and liberal arts will lead to the elimination of the American academic tradition: namely, the assumption that a college education should seek to foster the growth of the whole individual."
Next comes Gerber's clarion call. The faculty must take up the fight for higher education's future, he says, and "make the case to the American public that current trends, including the deprofessionalization of the faculty and the retreat from the practices of shared governance, pose a danger to the future well-being of American society." Professors, too, must talk explicitly with their graduate students about the importance of academic freedom and shared governance to ensure those values are passed on to the next generation of academics, he says. Because without shared governance, academic rigor and educational quality suffer.
In an email interview, Gerber said he was "not overly optimistic" that the decline of faculty governance could be reversed. But he said that organizations that are fighting the fight, such as the AAUP, deserve support.
"In order to maintain the quality of American higher education, I believe we must put greater pressure on administrations and legislators to reverse the trends toward the greater use of faculty on contingent appointments and toward deprofessionalization more generally," he said.
Echoing arguments he makes in his book, Gerber noted that the "faculty must also do a much better job of inculcating the values of professionalism (including the importance of governance activities) in those who are just joining the professoriate. I would like to see graduate programs do a better job of teaching prospective faculty members what the responsibilities of the profession are."
Administrators also should do more to recognize and reward "effective governance service," he said.
Hopefully, he said, "I think at some point the argument that deprofessionalizing the faculty undermines the quality of education that colleges and universities provide our students may take hold and help turn public opinion against what is now happening."
The AGB declined to comment on the premise of The Rise and Decline of Faculty Governance. But the book already has received praise from some well-known scholars of higher education, including Benjamin Ginsberg, professor of political science at Johns Hopkins University and author of The Fall of the Faculty: The Rise of the All-Administrative University and Why It Matters. (In a blurb for Gerber's book, Ginsberg called his colleague "the official historian of the end of the academic world.")
Via email, Ginsberg said he agreed with Gerber's assertion that "American universities were the best in the world because they were faculty-directed with most administrators drawn from and ultimately planning to return to the faculty."
Now, Ginsberg said, "American universities have begun to decline because of the emergence of a clique of 'professional' administrators with weak, if any, faculty qualifications and little or no commitment to or even knowledge of academic values. At most schools shared governance has been reduced to administrative governance with the faculty learning of new initiatives when the administration issues a press release."
As for adjunct employment, Ginsberg called it "more a symptom than a cause of this phenomenon. Adjuncts are preferred by college administrators because they are cheap and easily fired if they become troublesome."
Gerber said he wrote the book for anyone concerned about the future of higher education. He said he hopes readers – particularly those involved in governance on all sides of institutions – continue to think and talk about the idea "that a greater role for faculty members in college and university governance went hand in hand with the process of professionalization, and that professionalization of the faculty itself was directly tied to the improving quality of American colleges and universities."
He continued: "I hope my book will contribute to a discussion of the dangers of current trends toward deprofessionalization. I also aimed to show how the development of what came to be called 'shared governance' was a gradual historical process and not a sudden or chance development."