You have /5 articles left.
Sign up for a free account or log in.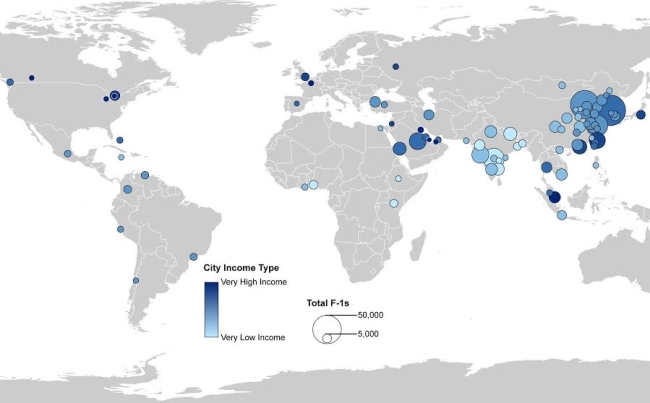 Courtesy of the Brookings Institution.
Seoul is the largest city of origin for international students coming to the United States and China, of course, the largest source country. The New York City metro area is the top destination for international students, but Ithaca, home to Cornell University, has the highest concentration of international students approved for F-1 visas relative to the overall student population. Metro areas with the fastest increases in F-1 students pursuing bachelor's, master's and doctoral degrees in recent years include Corvallis, Ore., home to Oregon State University; Dayton, Ohio, home to Wright State University; Tuscaloosa, Ala., home to the University of Alabama; Louisville, Ky., home to the University of Louisville; and Eugene, Ore., home to the University of Oregon.
A new analysis of international student visa approvals from the Brookings Institution traces where international students on F-1 visas are coming from and where they are going at the level of the city. The report, "The Geography of Foreign Students in U.S. Higher Education: Origins and Destinations," analyzes data on F-1 visa approvals included in the Student and Exchange Visitor Information System (SEVIS) database, obtained by Brookings via a Freedom of Information Act request. F-1 is the most common form of visa for international students in the U.S., but, notably, the report does not include data on international students coming to the U.S. on the less common J-1 or M-1 visas.
The new analysis differs from many others, which typically focus on countries that send students to the United States, not cities. 
The Brookings report also analyzes government data on work authorizations for students on optional practical training, a period of 12 to 29 months post-graduation in which students are permitted to stay in the U.S. and work in their field of study. The analysis found that 45 percent of international students pursue OPT in the same metro area as their college or university, with the proportions being much higher for big cities like New York and cities with specialized labor markets like Honolulu and Las Vegas (both major destinations for hospitality students), and lower for smaller metro areas like Erie, Penn. and Binghamton, N.Y.
An interactive online feature provides statistics on the foreign student population and OPT authorizations for 118 metro areas (large and small) in the U.S. and 94 global cities of origin, in addition to country-level data.
"Foreign students are the bridge between their home towns abroad and their new home towns," said Neil G. Ruiz, the report author and an associate fellow for Brookings' Metropolitan Policy Program. Per the list below, international students in the U.S. are primarily coming from large or mega-cities in countries with emerging economies.
Top Hometowns for F-1 Students in the U.S., 2008-12
| | |
| --- | --- |
| City | Share of Total F-1 Student Enrollment |
| 1. Seoul, South Korea | 4.9% |
| 2. Beijing, China | 4.3% |
| 3. Shanghai, China | 2.5% |
| 4. Hyderabad, India | 2.3% |
| 5. Riyadh, Saudi Arabia | 1.5% |
| 6. Mumbai, India | 1.5% |
| 7. Taipei, Taiwan | 1.4% |
| 8. Hong Kong | 1.1% |
| 9. Kathmandu, Nepal | 0.9% |
| 10. Jeddah, Saudi Arabia | 0.9% |
| 11. Nanjing, China | 0.8% |
| 12. Chennai, India | 0.8% |
| 13. Singapore | 0.8% |
| 14. Bangalore, India | 0.8% |
| 15. Delhi, India | 0.8% |
| 16. Guangzhou, China | 0.7% |
| 17. Chengdu, China | 0.7% |
| 18. Wuhan, China | 0.7% |
| 19. Ho Chi Minh City, Vietnam | 0.7% |
| 20. Shenzhen, China | 0.7% |
"In the short term, universities love foreign students because of the money they provide, but in the long term the local economies benefit from them if one or a few of them help to bridge with economies that are emerging in fast-growing Asia, or anywhere around the world," Ruiz said.
By drilling down to the city level, Ruiz found some surprises. One striking anomaly involves students from Hyderabad, a hub for the information technology industry in India: the Brookings analysis found that their top five destination universities from 2008-12 included several unaccredited institutions that have been targets of investigations by U.S. immigration officials, specifically the now-defunct Tri-Valley University, whose founder and president was convicted in March on charges of visa fraud; Herguan University; and the University of Northern Virginia. By contrast, the top destination universities for students from Delhi are all well-known doctoral-level research universities: Carnegie Mellon, Columbia and Purdue Universities and the Universities of Illinois and Southern California.
The Brookings analysis found that the University of Southern California had the largest overall number of F-1 visa approvals for students seeking bachelor's degrees or higher from 2008 to 2012, followed by Columbia, Illinois, New York University, Purdue, the City University of New York, Northeastern University, the University of Michigan, the University of Washington, and Indiana University.
Other main points in the report include the finding that the number of international students on F-1 visas grew dramatically from 110,000 students in 2001 to 524,000 in 2012, that they are concentrated in U.S. metropolitan areas, and that they disproportionately study science, technology engineering and mathematics (STEM) and business fields. In these regards, the Brookings findings are consistent with those documented in the annual Open Doors survey of international student enrollments conducted by the Institute of International Education, said Rajika Bhandari, IIE's deputy vice president for research and evaluation and director of its Center for Academic Mobility Research and Impact. The specific numbers vary due to differences between Open Doors survey data and SEVIS data, but Bhandari said that overall the two data sets point to similar trends.
"We were very pleased to find that this new analysis really reiterates some of the key findings about international students in the U.S. that we have been releasing over the past few years, which include the fact that we know the number of international students in the U.S. has been rising consistently; we know that international students are drawn to large metropolitan areas and that they're drawn to the STEM and business fields," Bhandari said. "I'm glad to see that this detailed report supports those findings and it's also interesting that we now have additional analysis on where students are specifically pursuing their OPT work and also which specific cities they're coming from. That piece is a very useful complement to the findings that we release through Open Doors each year."