You have /5 articles left.
Sign up for a free account or log in.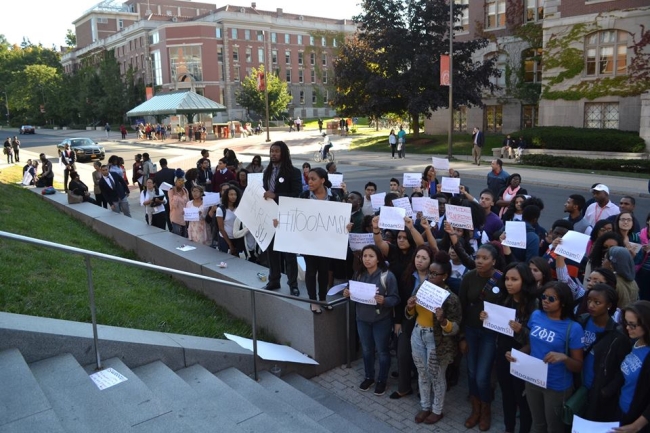 Courtesy photo via David L. Jackson
Syracuse University plans to scale back its involvement in a scholarship program for public high school students, a decision that prompted scores of its Syracuse students to protest on Friday.
The cutback represents a move by Chancellor Kent Syverud, who started in January, to dismantle at least part of the previous chancellor's ambitious and controversial effort to increase the economic and racial diversity of students at Syracuse
Former Chancellor Nancy Cantor famously ignored and repeatedly criticized college rankings and made attention-grabbing efforts to throw open the doors of Syracuse, a private university, to more low-income, minority students. While diversity supporters applauded her, others on the campus feared Syracuse's rankings were falling as a result of her commitments. Supporters of her vision feared that Syverud -- who, even before he took office, said he cared about college rankings -- would reduce the number of low-income and minority students at Syracuse.
Now, some are beginning to think that fear is justified as the new administration plans to scale back Syracuse's partnership with the Posse Foundation, which helps colleges find urban public school students worthy of scholarships. The program isn't restricted to low-income or minority students, but Posse typically helps bring those students to the attention of colleges.
David L. Jackson, a Posse sophomore at Syracuse from Miami, organized Friday's protest to coincide with a reunion of African-American and Latino Syracuse alumni. Minorities face a number of challenges at Syracuse, Jackson said, but the Posse cuts broke the camel's back.
"The same issues that alumni faced when they were at school – they just went dormant. And now they are alive," Jackson said in a telephone interview.
Cantor is now at Rutgers University. Syverud is the former dean of the law school at Washington University in St. Louis, which has a well-ranked undergraduate program that admits the lowest percentage of low-income students of any college of its kind in America.
Syracuse's partnership with Posse is in its third year and is helping about 60 students. The university has accepted about 10 students a year each from Posse sites in Atlanta, Los Angeles and Miami. Under Syverud, the university is cutting its involvement to only Miami, a reduction of about 20 scholarships a year for students Syracuse might otherwise never find.
In the past, some have suggested Cantor's policies allowed in students who were not prepared for Syracuse.
But students in the Posse program were doing well, said Maximo Patino, a former director of recruitment and diversity at Syracuse's public communications school. Patino mentored 12 Posse students from Los Angles who arrived at Syracuse in 2012. By the end of their sophomore year, six of the 12 had a 3.5 GPA or higher, four had higher than a 3.0 and two were below a 3.0 but not to the point of being put on academic probation, Patino said.
"I didn't really think that there was anything really negative about the project," Patino said in a telephone interview. "If anything, all these students are stable and, in my opinion, they really represent Syracuse University in a very positive light. We're not just talking diversity, we're talking very successful students."
Other professors are likely to appreciate the scaling back of Cantor's vision for Syracuse, which was wrapped in idealistic language and sometimes criticized as a liberal experiment gone awry.
Jeffrey Stonecash, professor emeritus of political science, was critical of Cantor's management of the university. He said Syverud came to a campus that had neglected basic maintenance of some of its affairs. The athletics department runs a deficit and the library needs money, for instance, Stonecash said.
"The prior chancellor significantly increased financial aid and created a mentality of entitlement among some groups," he said in an email. "The protests are conducted as if the university has unlimited resources and people are entitled to financial aid. Cantor overextended university commitments and someone has to scale them back a bit."
Taryne Chatman, a first-year Posse student from Long Beach, Calif., said he feels like the wrong programs are being cut by Syverud's team.
"At what point do we stop increasing the prestige of a school without taking out the color of the school?" he said in a text message.
Amid the criticism, Syracuse is now taking another look at its cutbacks to the Posse program, said Ryan Williams, Syracuse's associate vice president for enrollment management and director of financial aid and scholarships.
Williams said the Posse cuts were part of an effort to reconsider how the university was spending its financial aid money.
Because Syracuse promises to enroll and support Posse students, the university's scholarship funds for the program are fixed.
"Whenever you have a program that has a fixed dollar amount or fixed scholarship associate with it, it does not give an institution the flexibility of investing its dollars where it thinks its highest need may be," Williams said.
The university is looking to add different need-based aid programs for low-income families but also plans to add merit-based aid programs, William said. Merit aid is the sort of money that goes to students with good test scores and high GPAs, something that generally benefits students from wealthier households.
Williams said the changes have nothing to do with rankings but are instead about "flexibility."
The protest over Posse wasn't the only one last week on campus. A separate protest was directed at the new administration's decision to consolidate its student advocacy center with its counseling center.
Bill Jasso, a professor of public relations and head of the diversity committee in Syracuse's S.I. Newhouse School of Public Communications, said it's his understanding that most of the students who started out seeking help at the advocacy center ended up at the counseling center, so the administration was trying to create a "one-stop shop" rather than eliminating services.
"It appears, if that is the case, then there was a faulty communication on that particular issue, because all that a number of people heard was, 'O.K., we're going to close the advocacy center,'" he said.
Cantor's era saw a dramatic change in the complexion and background of Syracuse students. A decade ago, less than a fifth of Syracuse students were from minority groups and less than a fifth were eligible for Pell Grants -- a proxy for the number of low-income students. Now, about a third of students are minorities and about a quarter are Pell-eligible.
In the 2013-14 academic year, Syracuse admitted 3,500 first-year students, about 32 percent of whom were minorities and 16 percent of whom were first-generation students. But, among other changes, the new chancellor replaced the enrollment director at the college. In an interview about nine months ago, that former enrollment director, Don Saleh, said that he did not think the university was likely to make major changes to its recruitment pushes in urban areas. Now, he too is gone.