You have /5 articles left.
Sign up for a free account or log in.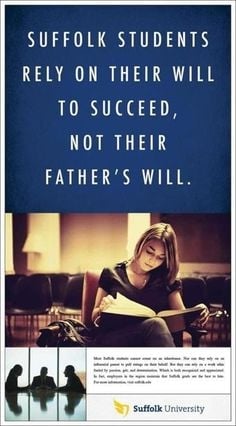 A Boston-area university has pressed pause on an ad campaign launched this summer that was described as bold and provocative.
Suffolk University made noise in July when it began a campaign that described the small, private university as anti-elite and a haven for hard-working students. It was the university's first broad campaign in eight years.
The decision to apparently pull back on that branding comes just weeks after interim President Norman Smith took over at the university.
Greg Gatlin, vice president of marketing and communications for Suffolk, said the university received positive and negative responses to the campaign. But the decision to explore other ideas is due to new leadership and a desire to increase the university's visibility in a larger region.
In a statement, the university said that it planned to focus on a wider geographic region, from Maine to Maryland, during its next marketing phase.
"The advertising campaign that ran during the past summer was a localized campaign focusing largely on the Boston market," the statement reads. "That's obviously an important and core market for us, but moving forward we plan to significantly boost our presence throughout the Northeast and Mid-Atlantic corridor, where we need to be fully visible."
Suffolk worked with Manhattan-based DeVito/Verdi ad agency to produce the campaign, which included 11 print ads for newspapers and the MBTA, a few radio spots and one TV spot. The majority of the ads ran over a four-week period starting in July.
The agency's founder, Ellis Verdi, said it had received several compliments on the campaign, especially the radio and TV ads, which were described in comments as breakthrough, strong and unique.
There was some negative feedback, too, he said, but most of that was centered on one or two print ads.
On social media, some negative comments focused on an ad that read: "Suffolk students rely on their will to succeed, not their father's will." Another edgy one said: "A university whose students have their nose to the grindstone instead of stuck up in the air."
The goal of the campaign was to separate Suffolk from the noisy market of private Boston universities by highlighting the university's unique characteristics and history of serving the working class and local residents.
Elizabeth Scarborough, chief executive officer of the marketing research firm SimpsonScarborough, said the situation at Suffolk shows how sensitive the higher education industry is to marketing. This campaign followed best practices in marketing and advertising in many ways, she said, and yet it appears someone had problems with it, she said.
"When you go into a campaign like this, you expect to live with it for a long time. Years even."
It's possible that the new leadership, which clearly wasn't involved in the campaign from the beginning, was uncomfortable with how Suffolk was inadvertently dissing other colleges and their students to promote itself, Scarborough said.
If so, that hesitation would be unique to higher education. Putting down competing brands happens all the time in corporate advertising, she said. She used the example of Apple's "Get a Mac" campaign, where the Mac is represented by the actor Justin Long, looking hip and effortless, while the PC is represented by a middle-aged man in glasses and khakis.
Even if Suffolk ultimately abandons the tone of this campaign, it already generated a lot of discussion when it launched in July, Scarborough pointed out. Newspapers wrote about it then, and the university is still getting media attention.
"Is Suffolk University not achieving their marketing goals? I think they are," she said. "They're getting more attention from this than they probably ever thought they would."
DeVito/Verdi's contract with Suffolk ended in July, but Verdi said the agency is open to continuing to work with the university.
Gatlin said Smith, the new Suffolk president, plans to meet with DeVito/Verdi to explore future ideas and strategies. No final advertising decisions have been made yet, he said.