University's lack of immediate response to a concussion leads to mass student protests and demands for dismissal of athletic director.
University of Michigan students marched to the president's home Tuesday to demand the firing of the athletic director amid a growing controversy over the university's response -- or rather, the lack of an immediate response -- to a player's concussion.
The university has now admitted that its quarterback, Shane Morris, likely suffered a "mild" concussion Saturday during a game. Despite visible symptoms of a concussion, he was reinserted into the game before being evaluated. Such an action is contrary to Michigan's protocols and all medical recommendations designed to protect athletes' health.
Anger over the incident has escalated since Saturday's game, with students, alumni and others questioning whether the athletics department is being led in an appropriate fashion. On Tuesday, both the athletics director and president issued statements that admitted to serious problems in the response to Morris's injury, but those statements have yet to assure student critics. Many say that initial statements from the football head coach suggest an attitude in which the risks of concussion are not taken seriously enough.
"There is no acceptable excuse for compromising player safety," said an editorial today in the student newspaper, The Michigan Daily. The headline: "Too little, too late."
Morris had an ankle injury in addition to the hit that caused the concussion Saturday, and Michigan officials at first suggested that they assumed his stumbling in a way that is seen as a concussion symptom was due to the ankle. But many fans in the stands (who reacted immediately with jeers to the decision to have Morris resume play) and many who were watching elsewhere immediately suspected a concussion. The injury came at a time of heightened awareness of the concussion risks associated with football at the college and professional levels.
Anger grew when, in a press conference Monday, the head football coach, Brady Hoke, dismissed concerns over the incident, saying, "We would never, ever put a guy on the field when there's a possibility of head trauma. We won't do that."
As Michigan officials now admit, the team did exactly what Hoke said it would never do. And Hoke doesn't have a lot of credibility with many Michigan fans, who are decidedly unhappy with the erstwhile powerhouse's recent performance on the field, where the team is 2-3 so far this year.
Much of the anger has been directed at Dave Brandon, the athletic director, who on Tuesday issued a statement that acknowledged that Morris should not have been sent back into the game as he was.
"In my judgment, there was a serious lack of communication that led to confusion on the sideline. Unfortunately, this confusion created a circumstance that was not in the best interest of one of our student-athletes. I sincerely apologize for the mistakes that were made. We have to learn from this situation, and moving forward, we will make important changes so we can fully live up to our shared goal of putting student-athlete safety first.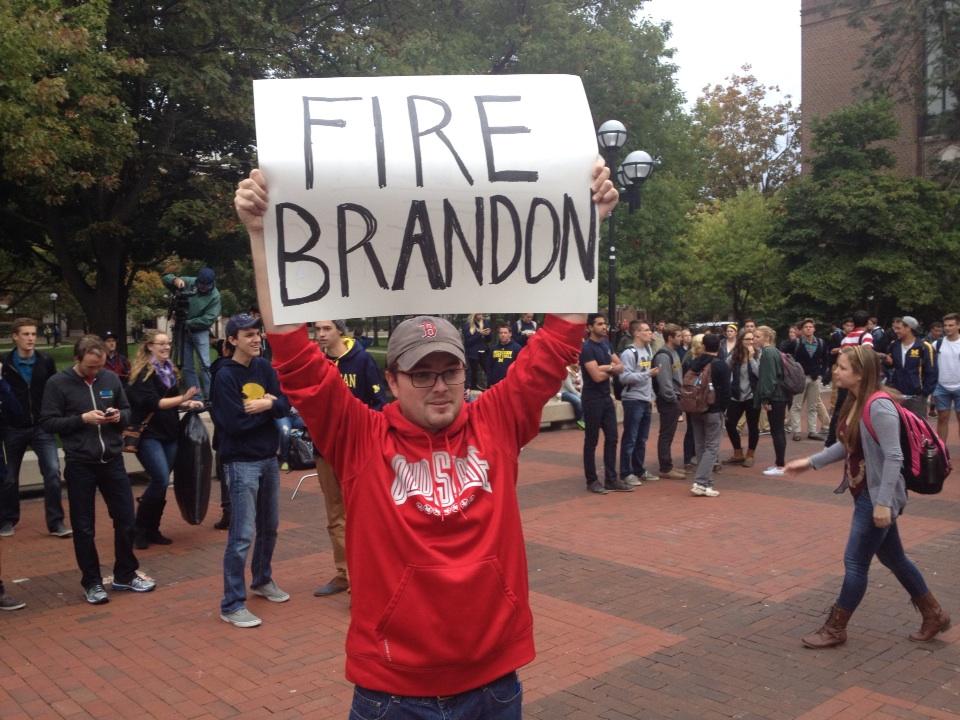 In the statement, Brandon said that senior coaching officials did not see the hit Morris took and thus assumed that his behavior was due to his ankle injury. Brandon announced that changes would be made in procedures to prevent such an incident in the future. A sports medicine professional will be in the press box so "someone will have a bird's-eye view" and could alert coaching staff to a problem. Further, he said that the athletics department would look to "reinforce our sideline communication processes."
Brandon's statement has not stopped the criticism. One student -- in an action that would normally be unthinkable at Michigan -- wore an Ohio State University hoodie to the protest and reportedly said he would not wear Michigan attire until Brandon is fired. More than 10,000 students and others have signed a petition demanding that Brandon be fired.
With students gathering to march to his home, President Mark S. Schlissel, who is in his first year in the position, issued his own statement.
"Despite having one of the finest levels of team medical expertise in the country, our system failed on Saturday. We did not get this right and for this I apologize to Shane, his family, his teammates, and the entire Michigan family," Schlissel said. "It is a critical lesson to us about how vigilant and disciplined we must always be to ensure student-athlete safety. As president, I will take all necessary steps to make sure that occurs and to enforce the necessary accountability for our success in this regard."
His statement expressed "extreme disappointment" in what happened.
But as the protests indicated, many students say that they lack confidence in current athletic leaders. The Michigan Daily editorial called the department's handling of the injury "a total failure," and said that Hoke had shown "total ignorance" about what had happened.
The editorial acknowledged that Hoke may not have acted with the intent to play a concussed athletes and that Morris may have wanted at that moment to play, but the editorial said this was all irrelevant. "Though this statement and statements from Hoke don't suggest intentionality, there is no acceptable excuse for compromising player safety, as negligence is equally as deplorable. The players on the field are entwined in a culture of toughness and playing through injury without much regard to the potential hazards of doing so. The decision to play cannot be left to the students," the editorial said.
Here is video of the game, in which announcers express doubt that Morris should be playing even prior to the hit that set off the furor.