You have /5 articles left.
Sign up for a free account or log in.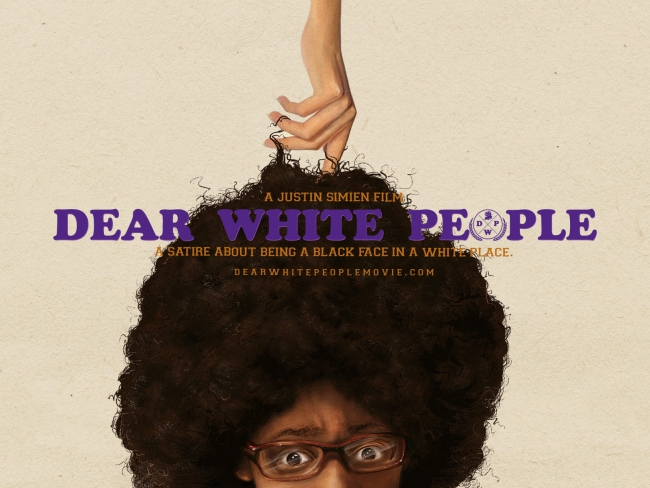 The film "Dear White People," which received a limited national release on Friday, is billed as "a satire about being a black face in a white place."
The white place is Winchester College, a fictitious Ivy League institution that finds itself on cable news after a black-themed party leads to a small riot. That party, in which white students wearing blackface drink out of a punch bowl labeled "grape drank," may seem over the top to some white audience members — until the end credits roll and actual news coverage of white students recently partying in blackface appears on screen.
"The movie is told through this satirical lens, but it's a very real world," said Lena Waithe, one of the film's producers. "It's an interesting roller coaster and a fun experience, but at the end of the day this is a real problem. We're leading the audience with the truth."
The party is the most potent and headline-grabbing example of racial tensions on campus in "Dear White People," but writer and director Justin Simien fills the film with similar moments and details that many students at elite, predominantly white institutions should have little trouble recognizing. "We really have seen these sorts of problems on campus, too," said Trevor Tezel, student body president at Georgetown University, who viewed the movie with an Inside Higher Ed reporter. "Winchester is not a real college, but there were so many similarities to a predominantly white college like Georgetown. It's hard not to see it as your campus."
The film focuses on four Winchester students in particular. Sam (Tessa Thompson) is the newly elected head of the traditionally black residence hall Armstrong Parker House. She's increasingly militant in her rallying of black students to stand up against white privilege on campus, putting her at odds with the college's white president, the black dean of students, and the dean's son, Troy (Brandon P. Bell). Sam becomes the face of a growing movement on Winchester's campus, but her bravado masks insecurities about being half-white and secretly dating a white teaching assistant.
Troy, the outgoing head of Armstrong Parker, is burdened by the political aspirations of his father, who has unfairly played second fiddle to Winchester's president for decades. Troy is a natural and charismatic leader, but secretly spends time smoking weed in his bathroom, writing jokes and hoping for a spot on the staff of the prestigious campus humor magazine, which is led by the president's son. It's the magazine's all-white staff members who plan the climactic Halloween party with the help of a black student named CoCo (Teyonah Parris).
An aspiring reality television star, CoCo is embarrassed by her real name, the shade of her skin color, and the neighborhood where she grew up. She has her own video blog series on YouTube, but is constantly overshadowed by the more controversial Sam. When a television producer tells her that "conflict is a commodity," she attempts to use the bubbling tension on campus to find reality TV stardom.
Conflicted could describe many of the characters in "Dear White People," but perhaps none more so than Lionel (Tyler James Williams), a gay sci-fi nerd who is described as "only technically black." When asked by a group of black students why he is not a member of the black student union, he answers that he "listens to Mumford and Sons and watches Robert Altman movies." Lionel is such an outsider to the world of Armstrong Parker that when a group of white students stirring up trouble in the residence hall's cafeteria is kicked out by Sam, she asks him to leave as well. He bounces from residence hall to residence hall, not feeling like he belongs at any of them.
Nevertheless, he's recruited to write a profile on black culture at Winchester by the all-white staff of the student newspaper – one of whom cannot stop herself from constantly reaching inside Lionel's afro.
That type of seemingly innocuous action serves as a source for much of the film's humor as well as its connective tissue. "Dear White People" juggles multiple characters, storylines, and points of view. Not all of the black characters are on the same ideological page, but they all experience these microaggressions. Students assume CoCo's hair must be a weave. Troy's friends assume they can say racial slurs just because they're pals with him. In an attempt to be seductive, a white student compares making out with Lionel to eating Hershey's chocolate. Sam's popular campus radio show, "Dear White People," becomes a platform for both her and the film to call white students out.
"Dear white people," she says wryly into her microphone. "Stop touching my hair. Does this look like a petting zoo to you?"
Latazia Carter, a sophomore at Georgetown University and the Black Student Alliance's Student of Color Alliance representative, said she's seen these types of microaggressions firsthand, from dealing with the assumption that she is only at Georgetown because of affirmative action to experiencing "tons of curiosity over" her hair. "I once had a professor touch my hair during an exam," Carter said. "I was shocked, but these things happen when you look differently from other people."
Microaggressions like the ones featured in "Dear White People" are primarily what inspired a 100-hour sit-in at Colgate University last month. They're what led to the "I, Too, Am Harvard" campaign in March, and protests at the University of California at Los Angeles last year. At the same time, many college administrators — like Winchester's president — say they believe the state of race relations on their campus is good.
In a scene that appears early in the movie, a film professor suggests to Sam that instead of continuing to produce aggressive short films parodying racism and privilege, she instead create one that can serve as a mirror to society (one project she films for his class pairs black-and-white stock footage of white people rioting with footage of Obama announcing health care reform). Carter said she hopes "Dear White People" can accomplish a similarly reflective feat.
"People do not see anything wrong with the microaggressions they commit," she said. "That's a problem I hope the movie can really address. Once you understand what you're doing is wrong, hopefully you will stop doing it."