You have /5 articles left.
Sign up for a free account or log in.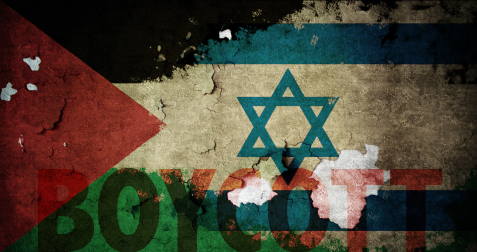 United Automobile Workers 2865 represents 13,000 graduate student workers – mostly teaching assistants – across nine University of California campuses. And while the union is no stranger to political activity – it advocates for the rights of undocumented students, for example – it focuses on and has won advances on student worker employment and quality of life issues, such as paid parental leave, class size and pay.
So it's perhaps unsurprising that a planned December vote on whether the union will join the academic boycott against Israel has some members concerned. While some education-related unions in Europe and the Middle East have signed on to the boycott, none in the U.S. have done so, and the American Federation of Teachers recently opposed it as stifling to academic freedom and intellectual engagement.
Opponents within the California graduate student union say the boycott goes against a previously stated UAW position on the Israel boycott, is anti-academic, and would ultimately hurt the California graduate student union and others like it. Proponents, meanwhile, say that joining the boycott, divestment and sanction (BDS) movement against Israel is a moral and intellectual obligation that other academic organizations, such as the American Studies Association, already have realized (although the association recently clarified its boycott in a way that confused some observers). 
The 80-some member joint council of the graduate student worker union announced its support for the academic boycott this summer, saying a union-wide vote was forthcoming. In its letter to members, the council said it was responding in solidarity to a call from Palestinian trade unions to join the boycott. Making references to some American unions' boycott of South Africa during apartheid, the council said it wanted the university system to divest from holdings that do business with Israel. It called upon members to honor the "academic and cultural" boycott of Israel, as well.
"[W]e have a responsibility as educators to both learn about and teach the social issues of our time, including pressing global struggles such as the struggle of the Palestinian people for liberation from settler-colonialism and apartheid," the council said, promising a vote on the matter in the new academic year.
Boycott momentum has grown since summer and, at their meeting last week, joint council members set a date for the vote: Dec. 4. Leaders also approved ballot language. The document asks: "Should the [union] and its members join the global movement for boycott, divestment and sanctions, until such time as Israel has complied with international law and respected the rights of Palestinians in the West Bank and Gaza Strip, Palestinians and citizens of Israel, and all Palestinian refugees and exiles?" An earlier version of the document said council members recommend a "yes" vote, but that was changed as a result of some debate at the meeting.
A separate question asks whether the union should call on the federal government to end military aid to Israel. And in a third question, the joint council asks members to consider making a non-binding, individual pledge to "adhere to this boycott, refusing to take part in any research, conferences, events, exchange programs, or other activities that are sponsored by Israeli universities complicit in the occupation of Palestine and the settler-colonial policies of the state of Israel." The original ballot proposal said the joint council "encourages" members to make such a pledge, but that language also was stricken at the meeting. (Note: The previous two paragraphs have been updated from earlier versions to show the change in ballot language approved at the meeting.)
The ballot says that the pledge targets institutions, not individuals. It says the UAW "condemns discrimination against all individuals" for "any reason," and encourages collaboration with individual Israelis, Palestinians and others "who oppose the occupation."
That and other boycott-related measures passed by a majority of council members present at last week's meeting. But some union members say there was little tolerance for dissenting opinion at the meeting. Two separate proposed statements – one supporting a two-state solution between Israel and Palestine and one saying Israel has the right to self-determination – were voted down. Another proposal to extend the boycott to other countries accused of human rights violations, including China, was tabled.
Jonathan Kummerfeld, a Ph.D. candidate in computer science at the University of California at Berkeley, isn't a member of the joint council but attended last week's meeting to represent Informed Grads, a group of union members who oppose the boycott. He said a fourth proposal to include a paragraph about Informed Grads in the regular union-wide email was blocked from coming to a vote, too, leading him to the conclusion that "it's a small group that's really pushing this."
"If they really believed in and wanted real debate on these issues," he said, "they'd be actively seeking the perspective of members in ways that galvanize everyone to get involved."
Karra Greenberg, another member of Informed Grads, who is studying sociology at the Los Angeles campus, said it was problematic that union leaders had proposed the boycott during a small meeting in the summer, when many graduate students were away. Especially concerning about the initial announcement was the mention of educators' "responsibility" to talk about Palestinians' struggle for "liberation from settler-colonialism and apartheid," she said.
Greenberg said that suggested the union may be "encouraging students to teach undergrads the merits of BDS." She said that violated university policy, could raise questions about the legitimacy about UAW 2865 within the greater union, and provided fodder to critics of organized labor who say that it's too political.  
"Why would any other university want to unionize their student workers after that?" Greenberg said.
Other groups have raised concerns about that language. In August, the AMCHA Initiative, an anti-Semitism watchdog group, sent a letter to Janet Napolitano, president of the University of California system, asking her to reaffirm the university's Regents Policy on Course Content while opposing the boycott more broadly. The policy says the university will "remain aloof from politics and never function as an instrument for the advance of partisan interest," including through "indoctrination" of students.
In response, the UC system's provost, Aimée Dorr, passed on the AMCHA letter to campus chancellors, saying the system had received "over a hundred emails similar" to it. Dorr said the university's position on academic student employee conduct was "rooted" in the Regents' statement on course content and others similar in spirit. Dorr also referenced the UAW unit contract, which says that decisions regarding "who is taught, what is taught, how it is taught and who does the teaching involve academic judgment and shall be made at the sole discretion of the university."
Shelly Meron, university spokeswoman, said the system declined to comment "on a union's vote on a political issue." But she referenced Dorr's email to chancellors.
Alborz Ghandehari, a joint council member and Ph.D. candidate in ethnic studies at the San Diego campus, said that union leaders stand by their July statement about educators' "responsibility" to teach about Israel. But he said that the resolution up for a vote "has no impact on classroom curriculum," which is up to teaching assistants and their supervisors. At the same time, he said, union leaders are concerned about the tenor of Dorr's message in that it appears raise questions about freedom of speech in the classroom.
Responding to some of Informed Grads' concerns about bias and process, Ghandehari said the union is "not singling out Israel," and has been active in other global issues. As for the other resolutions that were shot down, he said it was not the union's role "as outsiders to advocate for a solution, whether it be the two-state solution or another solution." Rather, he said, it's the union's role "to remove our complicity in the occupation through investments of our employer and international union and respond to the call from Palestinian workers and students that the human rights of all Palestinians be recognized."
The international UAW has yet to weigh in on the vote, and did not respond to requests for comment. But last week, Dennis Williams, its president, and Gary Jones, its director, received a letter from Informed Grads asking them to take a "firm, public position" opposing UAW 2865's support of the boycott.
"We request your urgent assistance to ensure that Local 2865 act in compliance with the UAW Constitution and with federal and state labor and civil rights laws," reads the letter, which notes that UAW under a different president in 2007 signed on to a Jewish Labor Committee statement against the Israel boycott movement. "We also request your help in securing and protecting our democratic rights as union members in a situation where a small group is trying to impose its will without regard for the negative effects it will have on the UAW, the labor movement, and those who work on college and university campuses in California and across the nation."
As of Friday, about 40 union members had signed Informed Grads' letter against the boycott. Kummerfeld said their ranks are growing, and the group will publish signatories' names once it's reached a critical mass.
William Herbert, director of the National Center for the Study of Collective Bargaining and the Professions at Hunter College of the City University of New York, said international unions did play a role in the South African boycott during apartheid, and many of those involved in the academic boycott of Israel point to that as precedent. Opponents, meanwhile, generally have concerns about academic freedom and the "free flow of information."
But historically, he said, "collective bargaining disputes and labor disputes are primarily the means by which boycotts are utilized by unions."