You have /5 articles left.
Sign up for a free account or log in.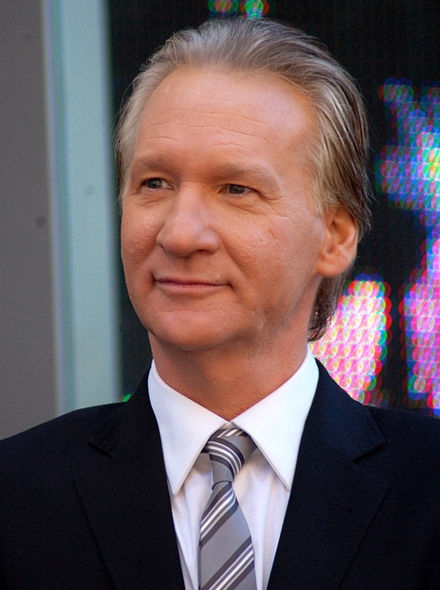 Some in higher education have been speculating over whether next spring would see a new round of debates over commencement speakers. But they won't have to wait that long. Students at the University of California at Berkeley have launched a campaign against Bill Maher, the comedian, to speak at the December graduation there. They say his anti-Muslim and other controversial statements should disqualify him.
An online petition that has quickly gathered more than 2,000 signatures states: "The students at the University of California at Berkeley represent a diverse array of students from all walks of life. Every semester a commencement speaker is given the privilege of inspiring a class of talented and capable students. This year, UC Berkeley has chosen to invite Bill Maher to speak. Bill Maher is a blatant bigot and racist who has no respect for the values UC Berkeley students and administration stand for. In a time where climate is a priority for all on campus, we cannot invite an individual who himself perpetuates a dangerous learning environment. Bill Maher's public statements on various religions and cultures are offensive and his dangerous rhetoric has found its way into our campus communities."
The petition does not single out Maher's statements about Islam, and Maher is proudly politically incorrect, making comments that offend all kinds of groups. But the organizers at Berkeley have come from Muslim student leaders, and the debate there has focused on his comments on Muslims.
Maher has not responded, and his publicist did not respond to inquiries from The Los Angeles Times.
One need not go far on his official Twitter feed to find comments about Muslims. In response to last week's violence in Ottawa, he wrote: "#Canada: Turns out the attacker was Islamic - what are the odds, huh? Its almost like there's an elephant in the room. #ImTheLiberal." Or in September: "Sorry Mr President, but saying Isis isn't Islamic is like saying Mel Gibson isn't Catholic; religions don't include just the ones you like."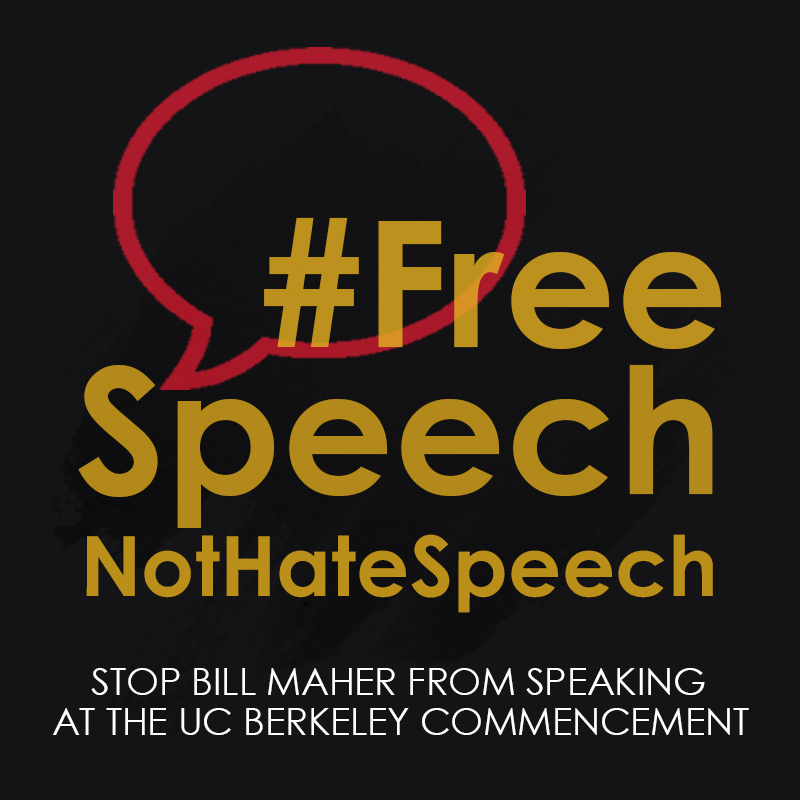 Online statements from supporters of dropping Maher repeatedly say that the issue is not free speech, but hate speech, and that has prompted signs trying to block Maher from appearing while affirming support for free speech. One statement on the petition site says, "As a Berkeley graduate and a former leader of the Muslim community on the campus, I cannot imagine anything more offensive to my own community than to have someone who has made statements that are as offensive as his to be on the stage at a commencement ceremony. While freedom of speech is a cornerstone of Cal values, bigotry and racism are not, and have never been."
Another says: "As a recent graduate from UC Berkeley, I have always been proud of my university. However, the decision to bring Bill Maher as a speaker is offensive to me and my community of Muslims and Arabs. Free speech should always be protected, however when you use this speech to spread harmful stereotypes, you should not be honored for your speech. He has dehumanized Muslims numerously, he has used generalizations to speak about us, he disrespects those who speak out against his bigotry, and his views are toxic to audiences in that he only discusses Islamic extremism as if its representative of all Muslims, perpetuating fear and hatred of American Muslims in the U.S. Berkeley knows better than to support hate speech and bigotry."
Comments posted on the website of The Daily Californian include a mix of views, with some similar to those quoted in the previous paragraphs, but others saying that blocking Maher would be a move against free speech.
One such comment: "I am a devout Catholic. I am a woman. Bill Maher regularly says things that are offensive to women and to Catholics. I have an MA from UC Berkeley. I would welcome Bill Maher as a speaker at my commencement. I would welcome Maher because he is uniquely gifted, intelligent, articulate, and prominent. He brings important ideas into the public square in a way that provokes further inquiry. I AM NOT AFRAID OF BILL MAHER'S MIND NOR HIS WORDS. Apparently Muslims ARE afraid of Bill Maher's mind and his words, and so they attempt to shut him down. Their censorship says much negative about their belief system, and nothing negative about Bill Maher."
Another said: "UCB is a bastion of freedoms; students died fighting for a university where Free Speech could prevail, diversity survive and serious debate occur. Banning Maher is a travesty, an act of gross misunderstanding of robust discourse. If Maher offers a faulty argument, critique it with eloquence and clarity."
Last spring saw debates that led to the withdrawal of graduation speakers at Rutgers University (Condoleezza Rice, opposed for her role in the administration of President George W. Bush), Smith College (Christine Lagarde, managing director of the International Monetary Fund, opposed for IMF policies) and Haverford College (Robert Birgeneau, the former chancellor of the University of California at Berkeley, opposed for his handling of campus protests).
Sometimes colleges are criticized for sticking with controversial speakers, as was the case with Goddard College, which recently stuck with Mumia Abu-Jamal, who is in prison, convicted of killing of a Philadelphia police officer in 1981. (Goddard, which has individualized programs, has commencements throughout the year.) Abu-Jamal's supporters say he was convicted unfairly, but police groups that believe the conviction was appropriate criticized the college for having him speak.