Costume company's idea of a female Ph.D. derided as sexist and foolish by real female Ph.D.s.
The "Delicious Women's Phd [sic] Darling Sexy Costume," sold by Amazon, received a lot of virtual eye rolls from academics on social media on Halloween. The costume, including a short, low-cut gown, cap and stole, is similar in style to other "racy" profession costumes that many critics have panned as sexist, offensive and absurd. Real-life Ph.D.s said this costume was no exception, as well as inaccurate: some pointed out that the costume was missing bars and a tam.
But critics had the last laugh, with many using Twitter to encourage followers to read a series of sarcastic "reviews" for the product posted on Amazon, all within the previous 48 hours.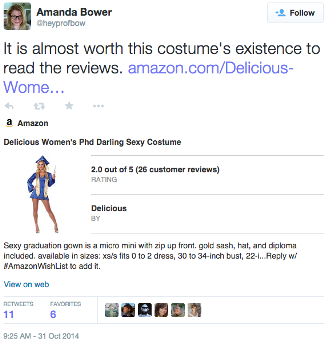 Most focused on how the costume demeans women. Here's an example:
"As a lady PhD student, let me say how much of a relief it is to see them accurately describe what we wear every day. I don't care if it isn't proper [personal protective equipment], how else will we find husbands if not for our degree in sexy? Bravo to Delicious costumes for supporting women's education in letting us know that we're only as smart as our skirts are short."
Here's another:
"I can now lecture in my 5-inch gold spiked heels and 'barely there' regalia while giving nary a thought to the male gaze and it's [sic] implications on the prevalence of rape culture in our society. I fully expect my chili pepper rating on [RateMyProfessor.com] to go through the roof once I begin to greet my students in this costume. Hopefully I can keep my post structural hegemony's [sic] from engaging in some wardrobe malfunctions."
A few other comments, such as the following, used the costume to criticize their own institutions' expectation that junior faculty buy expensive regalia:
"We all know that after years of living on a subsistence diet while your undergraduate loans collect interest, it can be difficult for junior faculty to afford their university's hood and gown for graduation ceremonies. Save yourself $950 by investing in the Delicious Women's PhD Darling ensemble! Upon seeing you, your students, their parents, and your colleagues will instantly recognize that you are a serious Lady PhD. Such a display of intellectual creativity and gravitas is practically guaranteed to secure you tenure!"
And some were just silly: "The 'Delicious Women's Phd Darling Sexy Costume' was not delicious at all. But I ate it anyway."
You may also be interested in...
Today's News from Inside Higher Ed
Inside Higher Ed's Quick Takes