You have /5 articles left.
Sign up for a free account or log in.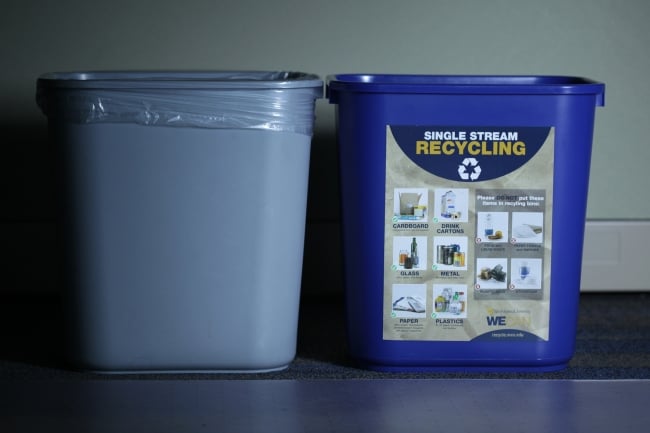 Perks are fewer and farther between for faculty members these days, especially those teaching at public institutions. But they can still expect the basics, such as somebody else emptying their trash cans at the end of the day, right? Not any more, at least not at West Virginia University. The institution recently announced that faculty members must begin taking out their own garbage, in order to encourage recycling. But some professors object to the measure and its premise, saying that the move is more about conserving the bottom line than the environment, and that the new policy comes at the expense of faculty morale.
"The primary issue is that we're not talking about the real issue," said Hawley Montgomery-Downs, an associate professor of psychology at West Virginia who has been a vocal opponent of the new trash duty. "What's really going on is budget cuts, carried out in these decisions of which the faculty is unilaterally informed."
Last fall, the university announced that it was transitioning to single-stream recycling, in which recyclable materials are deposited together, rather than separately by material. The idea was to increase on-campus recycling over all. Earlier this fall, the university announced that as part of that program, faculty members and other employees each would receive two cans – one for trash and one for recyclables – to be emptied each day in centrally located depositories. Janitorial staff would cease emptying employees' cans. The university is transitioning buildings across its downtown Morgantown and Evansdale and Health Sciences campuses to the new system this year. Many arts and sciences faculty member received their cans this week.
"What this means for our faculty, staff, and students in office settings is that they will collect all of the recyclables together in one bin, their trash in another, and empty them to a central waste station in their building," Stephanie Toothman, interim conservation specialist in West Virginia's office of sustainability, said in a university announcement about the trash plan. "Making the recycling system easier to understand while at the same time asking users to empty their own trash really increases the consciousness of what we throw away every day, and how much of it can actually be recycled."
Some faculty members barely registered the change. But others said they were shocked that the university was taking away, without much notice or any discussion, a basic service that saves them precious time, however little. And some said they were doubtful of the university's recycling rationale, suspecting the move was more about cutting the janitorial budget by eliminating the need for staff to enter each faculty office every day to empty trash.
Opposed faculty members say they're not against increased recycling. Montgomery-Downs, for example, said she is an avid recycler who takes home food waste for composting. What she opposes, she said, is the lack of discussion of the matter, and that fact that it's another shortsighted blow to faculty morale. Professors have begun circulating a petition protesting the changes.
"Most of us who work here embrace the mission of working at a land-grant school," she said. "We've got many students who are first-generation and it's a tremendously invigorating and exciting place to work. But the truth is that we make much lower salaries than our peers at comparable institutions, and we've got less access to resources than peers at a lot of institutions."
Job expectations, meanwhile -- such as those about securing research funding -- are the same as for peers elsewhere, she said. That's given rise to the the unofficial faculty motto at West Virginia: " 'We do more with less,' and we don't mean that in a loving way."
Montgomery-Downs said she's gotten two raises in six years, other than the pay bump she recently got for earning tenure: a 3.7 percent raise in 2011 and a 1.8 percent  raise in 2012. But she estimated that she was earning at least $15,000 less than her peers at other institutions who started around the same time at similarly well-negotiated salaries. That's common for mid-career professors at West Virginia, she said, especially those in the arts and sciences.
Montgomery-Downs isn't alone. Several others raised concerns about the trash policy at faculty meetings this week and last. Brent McCusker, associate professor of geography, estimated at a recent Faculty Senate meeting that emptying the trash would cost the average university employee 11 hours per year, according to an Associated Press report. He suggested that hiring more janitors might be cheaper, and that starting a recycling campaign might be a more efficient way of promoting the practice among the faculty.
McCusker declined to be interviewed Monday, saying the matter was one he wanted to handle "internally." But he said he wanted clarification about just how the university figured the plan would amount to increased recycling.
Still, not all faculty members are opposed to the plan. Jennifer Orlikoff, director of the Center for Women's and Gender Studies and an associate professor of world languages, literatures and linguistics, serves as Faculty Senate chair. She said lots of professors – herself included – don't really object to the change, since communal trash receptacles seem to be located on every floor of every building. But other professors have a "philosophical" problem with it, she said.
"A large majority of faculty are willing to go along with the [plan] and understand the value of recycling, and to them it's just another procedure," Orlikoff said. "But there are some very vocal folks who are not so much against the act of having to take out their own trash, but who are objecting to the concept of the administration asking faculty members to do one more thing," especially faculty members in the humanities who already feel that their salaries are "low."
Toothman, the university's conservation specialist, said via email that colleges across the country have been making the switch to single-stream recycling. And as West Virginia was planning its transition, she said, "it was noted that many other universities were also changing the way they collected their office trash."
She continued: "We found that the universities who implemented recycling and trash self-service programs were seeing an increase in the amount of recyclables collected. Results indicated that individuals who took both their recycling and trash to central collection stations were more mindful of how they separated their waste and thus increased the overall recycling rate. To further the university's commitment to sustainability, [West Virginia] adopted the same approach that many other universities have found successful."
While increasing the campus-wide recycling rate has been the main driver for the change in waste collection, Toothman said, there are "other benefits." She said that the university will save $62 in "tipping fees" for every ton of trash it diverts away from the landfill. And campus custodial staff will work "more efficiently with the time they have allotted per building."
A university spokesman said he could not immediately confirm that the shift did not result in custodial staff job losses, as some faculty members have wondered. But he said he did not believe that was the case.