Grades, Finals and Protests
Oberlin refuses demand to bar F grades while protests continue over police shootings. How flexible should colleges be for students feeling vulnerable over current events? How flexible should students be about protests in the library during finals?
The "Black Lives Matter" protest movement continues to reverberate on campuses.
At Oberlin College this week, the president rejected a petition signed by more than 1,000 students demanding no failing grades this semester. Student activism over decisions by grand juries not to indict police officers for the deaths of unarmed back men in Missouri and New York remains strong. And unlike most student protest movements, this one has extended into finals -- and has some students asking for flexibility on grades or exams, and others taking the unusual step of protesting in libraries during a period when student stress about academics is high.
Oberlin students have been protesting the grand jury decisions and a variety of other issues -- such as student debt. But the petition on grades has attracted considerable attention in recent days. It says:
"I would really like to see the normal grading system suspended for this semester and replaced with a no-fail mercy period. Administrators should require professors to exercise complete flexibility in what students are saying they can produce academically. Require that every professor listen to what their students are saying and if that means rather than writing a paper students instead meet with their professor to simply discuss in groups their paper topics or if tests are taken collectively with professors there are ways to make sure we are learning what we are supposed to be learning in ways that are not so taxing in times like this. Students in this moment should have complete access to alternative modes of learning while we process what's happening. Basically, no student especially black students and students of color should be failing a class this semester. A 'C' should be the lowest grade students can receive this semester. Professors should be required to work with students, who would otherwise be at risk of failing, to create alternate means of accessing knowledge."
To the disappointment of many students, President Marvin Krislov announced he would not alter the grading system.
"Please know that I have taken your request to suspend grading protocols seriously and that I have considered your petition carefully with the academic deans," Kristov wrote in an email to students. "We are in firm agreement that suspending grading protocols is not the way to achieve our shared goal of ensuring that students have every opportunity and resource to succeed."
At the same time, he announced a number of steps he said would support students who may be feeling unease because of current events. He said students could confer with individual faculty members about difficulties, and that the college had encouraged professors to be flexible and supportive. He said various officers were "exercising additional flexibility in administering requests for incompletes." And he said the college was extending the deadlines for incomplete requests and to change letter grades to pass/fail until the last day of finals.
Student protests of the grand jury decisions started as soon as word came from Missouri that there would not be an indictment in the death of Michael Brown, who was killed by a police officer in Ferguson. Protests took off with a similar grand jury decision in New York City.
The idea that students at this time might need academic flexibility appears to have started at Columbia University's law school. There, Robert E. Scott, interim law school dean, sent an email to students that ended up in The Wall Street Journal.
"The grand juries' determinations to return non-indictments in the Michael Brown and Eric Garner cases have shaken the faith of some in the integrity of the grand jury system and in the law more generally," Scott wrote. "For some law students, particularly, though not only, students of color, this chain of events is all the more profound as it threatens to undermine a sense that the law is a fundamental pillar of society designed to protect fairness, due process and equality." He added that "students who feel that their performance on examinations will be sufficiently impaired due to the effects of these recent events may petition" to have exams rescheduled.
Law students at Harvard University then sought the same rights their counterparts at Columbia received. Harvard said that individual students always have the right to ask faculty members for flexibility for a variety of reasons, but the university stopped short of saying that option would apply generally because of the current concerns over the the way some police officers treat black people.
At the New School, protesting students last week asked that the university grant them flexibility on final exams. A spokeswoman for the New School said that President David E. Van Zandt encouraged faculty members to consider extensions and other requests from students.
Social media has been full of jokes (and serious commentary in some cases) about the students demanding academic flexibility. And many were critical Tuesday of Oberlin students, both for asking for the grading system to change and for the actions of some students in posting complaints on social media about professors who they said were not making sufficient accommodations.
It's also the case that many law students (and other students for that matter) are finding ways to protest and also to take their final exams and turn in their final papers on time. An article in The Chicago Daily Law Bulletin interviewed black law students at law schools throughout Illinois -- and found many of them deeply distressed by the grand jury decisions, engaged in some protest activities and also finishing their courses. While some of these students indicated that they would have liked the flexibility offered at Columbia, they were pushing ahead with their work.
Protests in the Library
Another sign of how intense the protests are is that they have continued into finals week (in most cases without adjustments by colleges in finals schedules).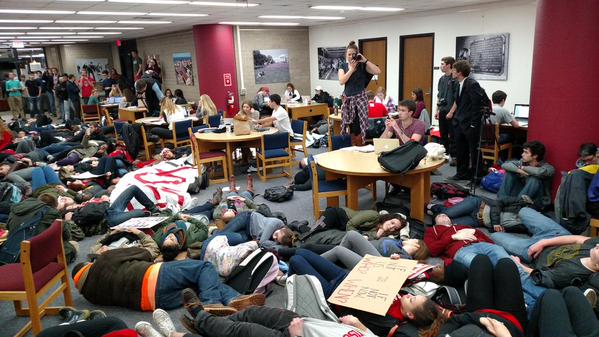 In some cases, the protests have gone into libraries where non-protesting students were studying amid the stress that comes with the end of the semester. This has drawn mixed reactions at the University of Wisconsin at Madison (above right), which saw a large protest enter the main library as students were cramming.
In comments on social media, some Wisconsin students praised the protest while others criticized it (going so far as to defend the grand juries) and others criticized the critics. One commenter on a student publication's website noted that students praise things like a pizza break traditionally organized for finals week, and that if students could survive that interruption without academic consequences, they could survive a die-in on a serious issue.
Organizers of the protest issued a statement in which they acknowledged that this is not the typical time for protests, and that the library is not the typical place. They explained why they were going ahead.
"The stress of finals has swept campus, libraries are packed with hard working students, professors' inboxes are filling with questions, and for many, these are the primary worries, but life is not normal," they wrote. "We are not living in a time where finals, or college itself, is the primary worry for so many. Students of color on this campus stress about much more. Let us remind the campus that the days do not feel normal and why, that we cannot pretend like the state of affairs is fine, that a blind eye turned toward injustice feels like a trigger pull to a colored heart. Join us as we march to the academic heart of campus, College Library, to demonstrate that black lives matter, that we belong, and that we cannot be ignored."
You may also be interested in...
Today's News from Inside Higher Ed
Inside Higher Ed's Quick Takes