Audit of a Tennessee community college raises questions about a Pennsylvania private college's decision to retroactively award a degree.
By
A community college official in Tennessee retroactively received a degree from Duquesne University in Pennsylvania this year despite failing to complete required coursework a decade ago, according to an unusual cross-state investigation by Tennessee auditors.
The audit by the Tennessee Board of Regents focused on a controversial Chattanooga State Community College official, Lisa Haynes.
The longtime president of Chattanooga State, James Catanzaro, retired this week amid questions about Haynes. She was his executive assistant and then the college's chief innovations officer. Catanzaro met Haynes in Barbados before she was hired by the college.
For Tennessee auditors' purpose, the key questions were about Haynes' qualifications. Even though a job opening in fall 2013 required a degree she did not have at the time, Chattanooga State paid for her to fly from Barbados to Tennessee for an interview, hired her even before other candidates for the job finished their interviews and then sponsored her work visa.
For Duquesne, the audit raises questions about why the university granted a degree now to someone who does not appear to have met the university's graduation requirements a decade ago.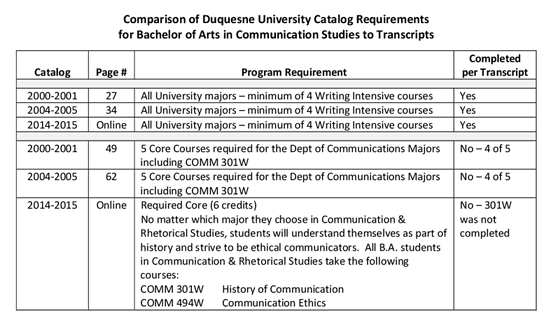 Haynes, according to the Tennessee auditors, was not qualified on paper for the Chattanooga State job because she was hired in August 2013 without having the undergraduate degree required for the job. Duquesne retroactively awarded her the degree in September 2014 – for reasons that have not been fully explained, though it seems likely the university waived a graduation requirement or allowed Haynes to substitute a course she finished for a required course she did not.
"Duquesne awards degrees only to those students who legitimately earn them," university spokeswoman Bridget Fare said in an email.
While at Duquesne, Haynes failed to complete a course that fulfilled a requirement for her communications bachelor's degree, even though she attempted the course three different times, according to auditors. Haynes had enough raw credit hours to graduate but lacked a required course.
A Duquesne official told the auditors the university did not grant Haynes a degree in 2005 because she had not met the department's graduation requirements for her major. Even though "no apparent changes occurred since," the auditors said last month, the university agreed in September to issue her a "back-dated degree."
According to the audit, Duquesne's director of core curriculum "did not disagree" that Haynes had failed to meet graduation requirements in 2005. But the director said that Duquesne officials could waive required courses or allow a student to substitute another course for a required one. The director did not tell the auditors if Duquesne had allowed this in Haynes's case, but auditors said it seems likely that this is how the university granted Haynes a degree.
Fare, the Duquesne spokeswoman, said the university's decision to award Haynes a degree "rested on extensive analysis by faculty members and administrators of the available information and a desire, within the parameters set by appropriate academic judgment, to recognize the work in the timeframe it actually occurred." Haynes's situation was reviewed by her old department, its dean, the university provost and the president.
Fare said that, generally speaking, colleges and universities do occasionally waive requirements or allow one course to be substituted for another.
Catanzaro said he could not comment about what Duquesne did, but has said in the past the degree question resulted from a mixup of some kind.
"She earned the degree in 2005, and that's what they did, they awarded the degree retroactively to 2005, recognizing that she did," he said.
At one point during the auditing process, Catanzaro told an auditor to take a "more enlightened view" of degrees. He also downplayed the significance of a degree and noted several successful business people who do not have college degrees, according to the audit.
Haynes, who did not comment on a previous story, did not respond to an email seeking comment earlier this week.
The Tennessee Board of Regents' audit came after people on the campus began to raise questions about how Haynes got the job.
Back in October, roughly a third of the college's faculty backed a no-confidence vote in Catanzaro's leadership.
Catanzaro said he was in Barbados visiting the ambassador to the country when he met Haynes.
Catanzaro said Haynes's job was to help build an entrepreneurial culture at Chattanooga State. He has said that she's working with the University of West Indies in Barbados to bring Barbadians to Chattanooga.
The audit questioned the importance of her work for the college, as well as travel expenses incurred by her and by Catanzaro on trips that, according to the audit, did not have clearly documented purposes or schedules.
Representatives of the Duquesne Faculty Senate did not return multiple emails seeking comment about the situation.
Read more by
Related Jobs from Inside Higher Ed Careers
Dalton State College - Dalton
The University of Texas at Austin - Austin
Occidental College - Los Angeles
You may also be interested in...
Today's News from Inside Higher Ed
Inside Higher Ed's Quick Takes
What Others Are Reading
Past:
Day
Week
Month
Year