You have /5 articles left.
Sign up for a free account or log in.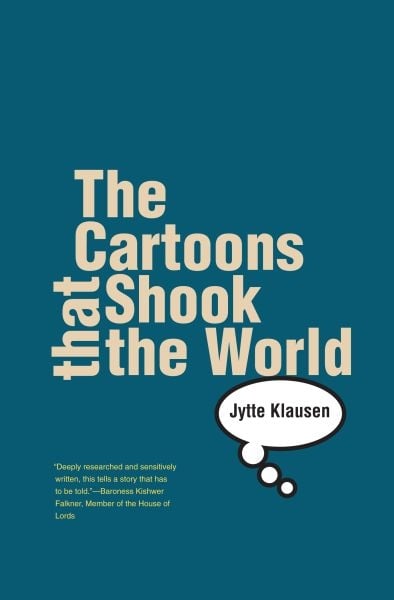 Last week's terrorist attack on the French satirical magazine Charlie Hebdo thrust a six-year-old battle between a scholar and publisher back into the spotlight. Now some are calling for Yale University Press to make good on an alleged promise to print a paperback edition of a book from which it pulled images – some controversial – of Muhammad. Some free speech advocates, not to mention the author, want the images included in the paperback.
"I'm really quite tired of readjudicating this – I'd sort of thrown up my hands and given up hope of ever having these images in my book," said Jytte Klausen, Lawrence A. Wien Professor of International Cooperation at Brandeis University and author of The Cartoons That Shook the World, which Yale published in 2009 without several originally included depictions of Muhammad, citing concerns about possible retaliation. One set of cartoons, published in Denmark's Jyllan-Posten newspaper in 2005, and which set off violent protests in the Middle East that were the subject of the Klausen book, were of particular concern.
At the same time, Klausen said, "I think we are in a new phase, and I really would welcome the opportunity [to reprint the book to include the images]. In the last two days, all major news outlets in the world with the exception of a few have run pictures Charlie Hebdo's new front page, with a depiction" of the prophet.
Yale, meanwhile, is standing behind its widely criticized 2009 decision and denies ever having promised a paperback run of Klausen's book.
The controversy surrounding Cartoons actually resurfaced last month, weeks before the events in Paris. In a Dec. 18 Washington Post op-ed criticizing Sony Pictures' initial reaction not to release its movie "The Interview" in the face of terrorist threats from groups claiming ties to North Korea, Fareed Zakaria, the scholar and TV personality, wrote that he regretted endorsing the Yale press's decision in 2009, when he was a university trustee. He resigned in 2012.
"The challenge that movie studios and theaters face is real because they have to balance freedom of expression with safety and commerce. But they have made a mistake," Zakaria wrote. "I understand it well. In 2009, Yale University Press published a book on the Danish cartoon controversy but refrained from publishing the actual — offending — cartoons (of the prophet Muhammad) because of fears of retaliation and violence. As a trustee of the university, I was asked to defend the decision (one I would not have made)."
Zakaria continued: "Swayed by my concerns for an institution I love deeply and a group of administrators I respect greatly, I made a statement supporting the university's actions that I have always deeply regretted. The right response then and now must be to affirm freedom of expression."
Next, after the attacks on Charlie Hebdo and elsewhere in Paris, Klausen wrote a Time op-ed criticizing the Yale press and other Western publishers and news outlets for refusing to publish controversial images. 
"Imagine for a minute that the Western press had continued to publish irascible cartoons ridiculing jihadist pieties after the Danish cartoon episode?," she wrote. "What if we did not have to go to the hidden courses of the Internet to find reproductions of Ottoman painting of [Muhammad]? The editors and cartoonists at Charlie Hebdo were targeted because, over the past five years, they have been left alone standing in defense of press freedom[.]"
This week, Jonathan Brent, executive director of the YIVO Institute for Jewish Research and former commissioning editor for the Yale press, made his first public comments about the debate over Klausen's book. He told Yale's student newspaper, The Yale Daily News, that he had argued for the images to remain but that the press was pressured by the administration to leave them out.
Yale press has never publicly denied that the university was involved in the decision not to publish the images of Muhammad.
In 2009, after the book's publication, John Donatich, director of the press issued a statement saying in part: "On behalf of the Yale Press, the university consulted a number of senior academics, diplomats, and national security experts. The overwhelming judgment of the experts with the most insight about the threats of violence was that there existed an appreciable chance of violence occurring if either the cartoons or other depictions of the Prophet Muhammad were printed in a book about the cartoons published by Yale University Press."
But Donatich said it was ultimately his decision that the press "would omit the images, knowing that this was the kind of decision that could not be made without negative consequences."
He added: "Many people feel that my choice was impolitic or politically incorrect or just plain wrong. Yet I believe it was the responsible, principled, practical, and right thing to do. And, again, the press did not suppress any original content."
Thomas Conroy, a university spokesman, responded to a question about the decision-making process on behalf of the press and the university, pointing back to Donatich's statement.
In an interview this week, Brent called the public reasoning behind the press's 2009 decision "specious," saying there was not only "no credible threat, but no one had threatened anybody" around the time of the book's publication.
The decision was an opportunity missed, he said, noting that he left the press prior to the book's publication.
"If the university had taken a stand that was principled, it would have taught a tremendous civil, political, social and moral lesson to the entire student body about the values of liberal democracy," Brent said. "What it could have taught in a very simple lesson is that freedom of speech is worth defending, and we're going to stand up for that."
Klausen said that Linda Koch Lorimer, who was the university's vice president and secretary at the time, and who is now vice president for global initiatives, personally told her in 2009 that the press could not publish the images. The author said she understood that one set of controversial Danish cartoons about Muhammad, which caused protests and threats against the artist following their 2005 publication, might lead "reasonable people to have different opinions" about whether or not they should be published. But Klausen said two other images that also were removed – one by the painter Gustav Dore and another piece of Ottoman-era Islamic art featuring the prophet riding off to battle – were obviously academically valuable and not controversial.
Klausen said that in other discussions with the press it was implied that a paperback version eventually would be published, and would possibly include the images in question.
Six years later, she said, the press has not moved to reprint her book. She said now is a prime opportunity for the press to "rethink" its decision. In any potential reprint, Klausen said she would like to publish a new chapter touching on the Charlie Hebdo controversy and others like it since 2009.
Conroy, the Yale spokesman, said it was "not correct" that the press had promised a paperback run, and that it had no plans for one.
'No Easy Answer'
Jamal J. Elias, Walter H. Annenberg professor in the humanities and professor religious studies at the University of Pennsylvania, and author of Aisha's Cushion: Art, Perception and Practice in Islam, said the "dilemma faced by [the press] is a real one to which there is no easy answer."
He said there's no absolute doctrine in Islamic law concerning the representation of Muhammad, but there's a sort of consensus among contemporary members of the majority Sunni sect that "Muhammad and other major Muslim religious figures should not be represented in images." But the majority of Muslims would not take extreme offense to simple images that are not intentionally provocative, he said.  
Elias continued via email: "The main problem is with images that are perceived to be insulting or offensive, as is the case with the cartoons that appeared in 2005 in the Danish publication Jyllands-Posten or the cumulative portfolio of cartoons lampooning Muhammad in Charlie Hebdo. Not surprisingly, devout Muslims who revere Muhammad are hurt, offended and outraged by vulgar, negative portrayals of him, but that is not the same thing as reacting violently. The serious concern is with individuals or groups who are committed to engaging in violence for religiopolitical ends: they are actively looking for opportunities to act and thereby project themselves as defenders of an anachronistic conception of Islam."
For that reason, Elias said he understood Yale's concerns, but said regional distributors of books and bookstore owners who might want to sell the book in countries such as India, Pakistan or Egypt would be at much greater risk.
Asked how such questions might apply to the classroom and teaching, Elias said: "We are in a moment when it might be appropriate for teachers to use Muslim religious images in the classroom for good pedagogical ends. It is difficult to provide guidelines that would be appropriate for all situations but, as a general rule, one should expect many Muslim students to feel extremely uncomfortable when they are obligated to view the more vulgar and offensive images, an extreme discomfort at the level of being obligated to watch child pornography. With that knowledge, teachers are probably the best judges of what to show in class and when. I do believe, however, that many young Muslims in the U.S. and elsewhere are unaware of the long and rich tradition of painting Muhammad reverentially and respectfully, and making that a class topic — complete with images — is probably a good thing."
Karen Offen, an independent historian who has written about the Charlie Hebdo cartoons, criticizing them for being purposefully hurtful and offensive, disagreed slightly, saying that if she were a teacher she "might mention the existence of such cartoons and indicate where they might be consulted, but not necessarily show them in class. I expect this issue will be coming up frequently during the next month or two."
She added:  "Given that it is a Muslim belief that no images of the prophet should be made or displayed, why can't that position be honored by Westerners? What impels this particular urge to deliberate provocation that we find among satirists and cartoonists of the Danish or Charlie Hebdo ilk?"
Many other scholars feel differently. In 2009, the American Association of University Professors, the Modern Language Association and other faculty groups signed on to a statement criticizing Yale, among other institutions for failing to "stand up for free expression," which "emboldens those who would attack and undermine it."
Hank Reichman, chair of the AAUP's Committee A on Academic Freedom and Tenure and a professor emeritus of history at California State University at East Bay, said the association's position hasn't changed since 2009, and that it would support a re-run on Klausen's book. He also condemned the Cambridge University Press's decision last year not to publish a controversial book about Vladimir Putin by Karen Dawisha, a professor of political science at Miami University. In that case, the press said it was concerned about British and Russian defamation laws. The book, Putin's Kleptocracy, has since been published by Simon and Schuster.
More recently, in the aftermath of the Paris attacks, an author working on a children's book said that the Oxford University Press had warned schoolbook authors not to talk about pork or pigs, so as not to offend Muslims or Jews. Perhaps needless to say, but while observant Muslims and Jews may not eat pig products, that doesn't mean they ban reading about swine.
Reichman said he understood the press's worries about putting its campus or business in danger, but he said yielding to those concerns is a slippery slope.
"Where does it end?" he asked. "This is about the whole idea of what a university is. Universities are going to have things that potentially get a person upset."