You have /5 articles left.
Sign up for a free account or log in.
Attending college full time isn't always the best way to get to graduation, at least for adult community college students who have previously pursued a degree and dropped out.
That's the central finding of a new study from a coalition of five higher education groups. The data are based on 12 million student records from the National Student Clearinghouse.
The American Council on Education (ACE), InsideTrack, NASPA: Student Affairs Administrators in Higher Education, and the University Professional and Continuing Education Association (UPCEA) worked with the Clearinghouse to track the graduation and retention rates of non-first-time students.
Their findings, which the groups released today, showed the benefits of combining full-time and part-time enrollment. Students were more likely to complete an associate degree if they used this "mixed enrollment" approach.
Policy makers in several states, as well as some at the federal level, have shown interest in encouraging more students to attend college full time -- generally defined as 15 credit hours or more per semester. Interest in the approach, which can be controversial, has been driven in part by Complete College America, a nonprofit group that is seeking improved graduation rates nationwide.
However, the new research does not appear to be in conflict with Complete College America or its allies. That's because the group has focused its course-load push on first-time students who are attending four-year institutions, not on adult students who are enrolling at a community college for a second time.
"We never said all students should take 15 credits," said Stan Jones, Complete College America's president and founder. "These are very different student populations."
The research project from the associations follows two groups of students. The first includes 4.6 million who re-enrolled in college between 2005 and 2008, after being away from higher education for at least one year. The larger, second group of 7.7 million students re-enrolled between 2008 and 2013.
About 16 percent of students in the first group who attended college in a combination of full-time and part-time study successfully earned an associate degree as of last August. In contrast, about 10 percent of exclusively full-time students earned one, and 7 percent of exclusively part-time students did.
The second group of 7.7 million students showed similar results, but with far fewer completers because less time had passed since they re-enrolled.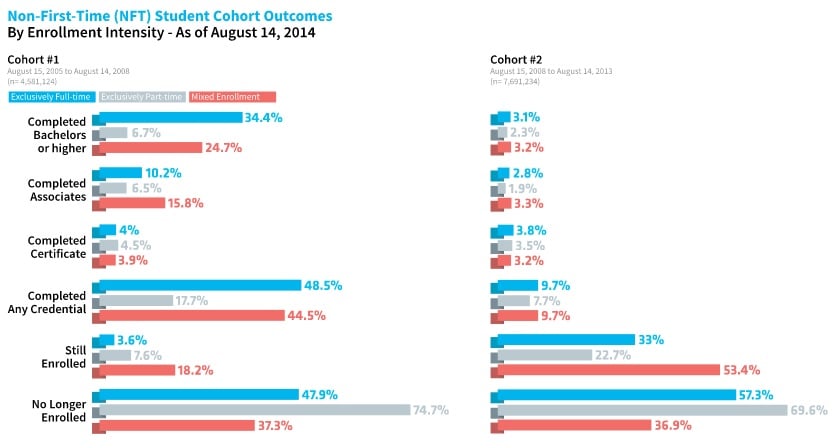 Returning students were also more likely to attend a private college the second time around, the research found, and less likely to enroll at a public institution.
Flexibility appears to be important for once-again adult students, said Dave Jarrat, vice president of marketing for InsideTrack, a company that provides student coaching services.
"Returning students are typically balancing work, family and other commitments that ebb and flow in intensity over the course of their academic career," Jarrat said in a written statement. "Mixing part-time and full-time enrollment enables these students to persist through the inevitable fluctuations in their life obligations."
The findings differed when it came to four-year degrees. Exclusively full-time students in the first group did best here, with 34 percent earning at least a bachelor's degree. About 25 percent of mixed enrollment students completed, as did just 7 percent of exclusively part-time students.
"If you go part time all the way, you're really not likely to graduate," said Jones.
Complete College America has called on states and universities to use a standard of at least 15 credits per semester as the definition of full time. They have also pushed for degree requirements to be limited to 120 credits for a bachelor's and 60 credits for an associate degree, with a few exceptions. 
These reforms are intended to improve student retention and graduation rates. Jones points to several public universities that have encouraged course loads of at least 15 credits for full-time students, including the University of Akron, Indiana University-Purdue University Indianapolis and the University of Hawaii system.
The three institutions have increased the number of incoming freshmen who take at least 15 credits per semester to at least half, up from less than 30 percent. In all three cases, however, not all incoming students must take the full load.
"We're not talking about 100 percent," said Jones.
The state of Indiana has also begun a new campaign -- dubbed "15 to Finish" -- to encourage more students to attend college full time. That idea, however, can be controversial among community college leaders.
Tom Snyder is president of Ivy Tech Community College, which is Indiana's two-year system. He has written that the campaign won't work for nontraditional students at community colleges, and could even hurt them.
"Rather than insisting that these students take 15 credit hours, or more than they can handle both financially and academically," Snyder wrote in an opinion piece, "we need to look for ways to make their path to a degree easier."