You have /5 articles left.
Sign up for a free account or log in.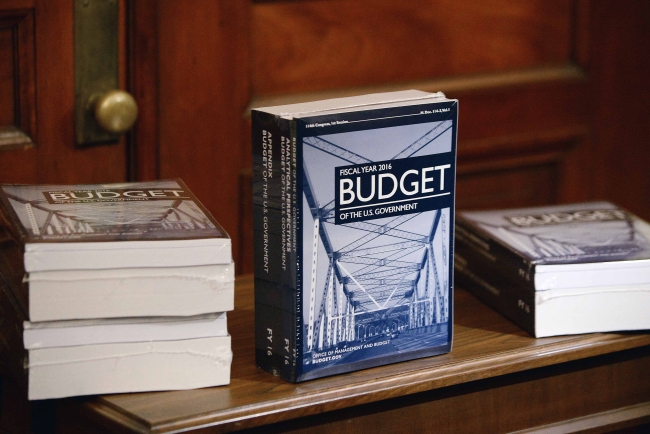 WASHINGTON -- President Obama sent Congress a budget request Monday that would increase federal spending on many higher education programs and also aims to reap savings for the government by changing some student loan and repayment options.
The administration's budget features several big-ticket policy proposals that have been announced in recent weeks or previously proposed. Among them: free community college for some students, streamlining higher education tax breaks and a bonus grant program to reward colleges that graduate large numbers of low-income students.
Many such proposals in the budget are largely aspirational in a Republican-controlled Congress with little appetite for more federal spending. But some proposals in the budget, especially those surrounding simplifying and streamlining student aid programs, may well get some traction, as they dovetail with similar efforts by Senator Lamar Alexander, the Republican who chairs the Senate education committee.
The administration's budget provided new details on its $60.3 billion plan for tuition-free community college. The program, it said, would be available for students who maintain a 2.5 GPA and have adjusted gross incomes below $200,000. The matching grants in the program would be doled out to participating states based, in part, on enrollment levels and graduation and transfer rates.
The budget again seeks billions of dollars over the next decade for a program that would reward colleges with bonus grants for graduating large numbers of Pell Grant recipients, an initiative that has been included in past budget proposals but ignored by Congress. And it also calls for $200 million for new innovation grants to colleges as part of the administration's First in the World program. That Education Department doled out $75 million in grants last fiscal year, but Congress cut the program to $60 million for the current year.
Changes to Pell Grants
The budget calls for an increase in spending on Pell Grants that would allow the maximum award to increase to $5,915 for the 2016-17 academic year. The maximum grant for the upcoming year is $5,775.
The administration also wants to see several changes to Pell Grants, including more stringent requirements on the academic progress of recipients as well as limits on Pell money that goes to students who repeatedly enroll in programs without earning any academic credits.
A department official said in an e-mail that such an academic progress policy for Pell Grants "could, for example, require students to complete and pass an increasing percentage of their total course load as they progress in their academic program."
It also called on Congress to fully expand the Pell Grant program to students without a high school diploma through the "ability to benefit" program. Earlier this year, Congress restored only part of the funding for that pathway.
Changes to Income-Based Repayment and Perkins Loans
The administration also wants Congress to streamline and scale back some of the benefits associated with federal income-based repayment programs. The changes would result in $14.6 billion in savings over the next 10 years that the administration is proposing be redirected to the Pell Grant program.
The Education Department has previously backed such reforms to income-based repayment, and the proposal is similar to a bipartisan effort in the Senate to streamline loan repayment options.
Similarly, the administration is calling for an overhaul to the Perkins Loan Program that would yield $7.1 billion in cost savings that it wants to use for Pell Grants. The Perkins proposal calls for the government, not colleges, to disburse loans directly to students, and it would tie colleges' eligibility for the program to certain student outcome metrics. A version of this program was first proposed by the administration in 2010.
Other campus-based aid programs, like Supplemental Educational Opportunity Grants and Federal Work Study, would see funding at the same level as this year under the administration's proposal.
FAFSA Simplification
The administration also put forward details on its proposal to reduce the number of questions on the federal student aid application by 30 questions, out of the current 108 questions. The plan would eliminate questions about savings, assets, untaxed income, investments and net worth. Because that would reduce some students' Pell eligibility, the budget calls for reducing the expected family contribution threshold for Pell by $600.
A bipartisan group of lawmakers, led by Senator Alexander, has proposed reducing the FAFSA application to a two-question document.
An Education Department official said Monday that the department had administratively simplified the form as much as it possibly can and that additional changes to the form need Congressional approval.
No New Funding for Ratings
After unsuccessfully requesting $10 million last year to develop its college ratings system, the Obama administration has scaled back that funding request to zero for the upcoming fiscal year.
The ratings system will move ahead in the coming months, officials said, but it will be funded out of existing money in the department's budget. Some members of Congress, including Senator Alexander, have said they want to block the administration from using any federal funds to carry out the ratings system.
"It doesn't cost a huge amount to do ratings," a department official who declined to be identified told reporters Monday. The official added that only "a couple of our staffers" were working on the ratings project and that it would not require any new full-time equivalent staff positions to complete.
Tightening Rules on For-Profits
The Obama administration is also, for the first time, asking Congress to limit the federal money that flows to for-profit colleges. The budget proposes including federal educational benefits for service members and veterans as part of the 90 percent cap on the share of for-profit colleges' revenue that comes from federal taxpayers. The cap currently includes only student loans and Pell Grants.
Critics of the for-profit education industry have said that the current law gives colleges a strong financial incentive to enroll veterans and leads to aggressive recruiting tactics. A Department of Education analysis last year showed that more than 100 for-profit colleges would fail the so-called 90/10 rule if it were expanded to include veterans' benefits.
Some Senate Democrats have repeatedly sought similar changes to the 90/10 rule in recent years, but those bills have not gone far amid Republican opposition. The proposal stands an even slimmer chance now that Republicans control the Senate.
More Money to Fight Campus Sexual Assault
The Obama administration is also asking Congress to fund a 31 percent increase in the budget of its Office for Civil Rights, to deal, in part, with more federal investigations of colleges accused of mishandling sexual assault cases.

An influx of complex and high-profile complaints relating to campus sexual assault over the past several years has stretched thin federal civil rights investigators, who are now taking longer to resolve those cases, the department said. The average time it took the department to close a Title IX investigation relating to sexual violence increased from 289 days to 325 days between the 2010 and 2014 fiscal years.
As of this week, the department has 98 open Title IX investigations relating to sexual violence at 95 colleges. Five of those cases were opened in 2011 or 2012, and 24 of them were opened in 2013. The remaining cases were opened within the last 13 months.
The department said it would use the additional funding to hire an additional 192 investigators and 8 support staff to handle complaints and conduct proactive investigations.
The proposal comes after Senators Kirsten Gillibrand and Claire McCaskill, both Democrats, questioned whether the department has enough resources to effectively combat campus sexual assaults. 
2015 Budget Funds for Non-Science Programs Important to Colleges
 

2015
Appropriation
(in millions)

2016
Proposed
(in millions)

% change,
2015 to 2016

EDUCATION DEPARTMENT

 
 
 

Financial Aid Programs

 
 
 

Pell Grants

$28,554

$28,935

1.34%

Maximum Pell Grant (not in millions)

5,775

$5,915

2.42%

Supplemental Educational Opportunity Grants

733.1

733.1

0.00%

Federal Work-Study

989.7

989.7

0.00%

TEACH Grants

14.2

11.7

-17.74%

Iraq and Afghanistan Service Grants

340

0*

-100.00%

Institutional Aid

 
 
 

Strengthening Institutions

80.4

80.4

0.00%

Strengthening Tribally Controlled Colleges and Universities

53

55.6

7.88%

Strengthening Alaska Native and Native Hawaiian-serving Institutions

26.7

27.8

4.10%

Strengthening Historically Black Colleges and Universities (HBCUs)

306.3

312.5

2.03%

Strengthening Historically Black Graduate Institutions

58.8

58.8

0.00%

Strengthening Predominantly Black Institutions

23.1

24.2

4.73%

Strengthening Asian American and Native American Pacific Islander-serving Institutions

7.7

8.1

4.71%

Strengthening Native American-serving nontribal institutions

7.7

8.1

4.71%

Minority Science and Engineering Improvement

8.9

8.9

0.00%

Aid for Hispanic-serving Institutions

201.9

210.7

4.39%

Tribally Controlled Postsecondary Career and Technical Institutions

7.7

7.7

0.00%

National Technical Institute for the Deaf

67

67

0%

Gallaudet University

120.2

120.2

0%

Howard U.

221.8

221.8

0%

Student Assistance

 
 
 

TRIO Programs

839.7

859.7

2.40%

GEAR UP

301.6

301.6

0%

Special Programs for Migrant Students

37.4

44.6

19.10%

Child Care Access

15.1

15.1

0%

Career-Technical/Adult Education

 
 
 

Perkins State Grants

1,117.50

1,317.50

17.90%

Adult education

582.6

588.6

1.00%

Graduate Education

 
 
 

Graduate Assistance in Areas of National Need

29.2

29.2

0%

Other Areas

 
 
 

International Education and Foreign Language Studies

72.1

76.1

5.54%

Fund for the Improvement of Postsecondary Education

7.7

0

-100%

First in the World

60

200

233.33%

College opportunity and graduation bonus (proposed)

0

647

 

Tuition-Free Community College (proposed)

0

1,364.80

 

Office of Civil Rights

100

130.6

30.69%

Inspector General

57.7

59.2

2.54%

Institute of Education Sciences

 
 
 

Research, Development, and Dissemination

179.8

202.2

12.46%

Statistics

103

124.7

21.00%

Regional Educational Laboratories

54.4

54.4

0.00%

Statewide Data Systems

34.5

70

102.66%

LABOR DEPARTMENT

 
 
 

Adult Employment and Training

776.7

815.5

 

Dislocated Workers Training

1,236.30

1,261.70

 

STATE DEPARTMENT

 
 
 

Fulbright Program

236.4

236

-0.21%

Global Academic Exchanges

58.3

64.4

10.52%

Special Academic Exchanges

36.8

14.5

-60.46%

OTHER AGENCIES

 
 
 

National Endowment for the Humanities

146

147.9

1.31%

Americorps

335.4

425.1

27.00%
*budget proposes moving these grants under Pell Grant program.