You have /5 articles left.
Sign up for a free account or log in.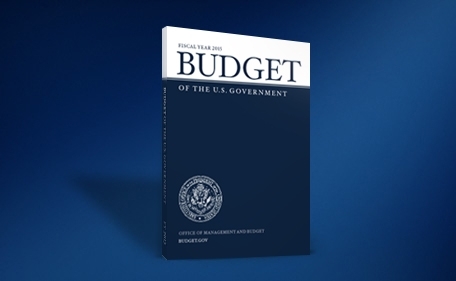 WASHINGTON -- President Obama on Tuesday sent Congress a budget request that would keep most student aid and basic research programs level-funded; the 2015 plan also included several ambitious new higher education proposals.
But the new proposals stand little chance of passing a gridlocked Congress that is gearing up for the midterm elections this fall.
The president's budget is largely a political exercise this year, since Congress has already set top-line budget levels for federal spending. Senate Democrats said they will not produce a budget but will instead proceed directly to allocating funding program by program. House Republicans, meanwhile, have indicated that their budget, coming later this month, will feature overhauls of social programs.
The budget seeks to keep discretionary funding for the Pell Grant program at the same level as last year, which would allow the maximum award to jump $100 to $5,830 because of an automatic, mandatory increase in funding. That increase would take effect in the 2015-2016 academic year. Other aid programs would continue to receive their current levels of funding. (See chart at the bottom of the article for a program-by-program breakdown.)
New Programs
The most ambitious higher education proposals in the President's budget are a $4 billion competitive matching-grant program for states and a program that would award bonus grants to colleges that successfully graduate students from low-income backgrounds.
The administration proposes a state higher education "performance fund" that would provide four-year matching grants to states that adopt "critical higher education reform policies," such as allocating state financial aid primarily based on need and improving consumer information about the return on investment at colleges.
The funds could be used to "support and scale up effective and innovative practices," such as academic support services, accelerated degree pathways, competency-based education and reforms to remedial education.
"We think this is nothing more than Race to the Top under a different name," said Terry W. Hartle, senior vice president of government and public affairs at the American Council on Education, referring to the higher ed version of the K-12 program that the president had previously proposed.
Hartle said that the group was previously skeptical of Race to the Top for higher education because it would provide the Education Department with more authority to attach strings to federal funding of higher education.
The $4 billion in mandatory spending that the administration is proposing for the program is also a big ask of Congress, Hartle said.
"The likelihood that this would go anywhere in Congress is about the same chance as me flying to the moon," he said.
A second ambitious program the president's budget proposes is an $8 billion initiative over 10 years that would reward colleges that successfully enroll and graduate a significant number of low- and moderate-income students on time. Under the plan, colleges would be rewarded with a grant calculated based on the number of Pell Grant-eligible students they graduate on time. The grant could be used to fund innovations and other interventions aimed at increase college access.
The budget also proposes a $75 million new competitive grant program for minority-serving institutions. Under the initiative, minority-serving institutions would compete for federal funds to implement innovative and cost-saving strategies aimed at improving student outcomes.
Changes to Pell
The administration's budget plan also issues a call, somewhat cryptically, to "strengthen academic progress requirements in the Pell Grant program to encourage students to complete their studies on time."
The Education Department can, on its own, change the definition of "satisfactory academic progress," which students must meet as a condition of continuing to receive Pell Grants.
"This is absolutely something that causes us great concern," said David Baime, vice president for government relations and policy analysis at the American Association of Community Colleges.
Under the current rules, Baime said, students effectively have to pass two of every three classes they take in order to satisfy the requirement.
"Since the standards were tightened a couple of years ago, we've heard concerns from our campuses," he said, "So anything that would go further in the direction of tightening them is something that we would be looking at carefully."
Still, Baime praised the administration's other proposed changes to Pell Grants. The budget asks Congress to restore a pathway to Pell Grants for students who don't have a high school diploma or GED. Congress axed that route to federal aid, known as the "ability to benefit" provision, in 2012.
Tuition Tax Credits
Higher education and student advocates heaped praise on the administration for proposing in its budget a permanent extension of the American Opportunity Tax Credit. The benefit provides up to $2,500 in partially refundable tax credits for tuition, but is currently slated to expire after December 2017.
The administration also proposed changing how that tuition tax credit formula treats Pell Grants so that Pell recipients would either see a reduction in their taxes or an increased tax credit.
Student Loan Changes
In addition to reiterating a previous proposal to revamp the Perkins Loan Program, the President's budget calls for the expansion the "Pay As You Earn" income-based repayment program to all student borrowers regardless of when they took out their loans.
The program, which caps monthly loan payments at 10 percent of a borrower's discretionary income and forgives the remaining balances after 20 years of payments, is currently available only to borrowers who took out loans after October 1, 2007 and demonstrate a "financial hardship." Students who opt for certain government and nonprofit jobs can have their debt forgiven after 10 years.
The administration is also seeking to trim some of the benefits that high-income, high-debt borrowers receive under the "Pay As You Earn" plan. For instance, the budget proposes removing the cap on payment, so that all borrowers will pay the same proportion of their discretionary income regardless of income.
It would require borrowers with more than $57,500 in debt to make payments for 25 years before it could be forgiven. The amount of debt forgiveness for public-sector workers would also be limited to $57,500 to "protect against institutional practices that may further increase student indebtedness."
Education Secretary Arne Duncan told reporters Wednesday that the administration would "need to partner with Congress" to make those changes to the income-based repayment program.
The proposal responds to concerns that the "Pay As You Earn" program is a windfall for students at expensive professional schools who incur high debt but also then get high-paying jobs that allow them to repay that debt.
In addition, the Education Department reiterated its support for legislation that would allow debt collectors to call federal student loan borrowers' cell phones using automatic dialing systems and prerecorded voice messages. The practice is already allowed for land lines, and consumer advocates have previously criticized efforts to expand it to cell phones.  
Ratings System Funding
The budget request also reaffirms the administration's priority of developing a national college ratings system to "encourage colleges to improve and help students compare the value of colleges."
The Education Department is requesting $52 million for a group of initiatives aimed at evaluating and experimenting with higher education programs, $10 million of which would be used to "further develop and refine the college rating system," the department said.
The department is currently using money from its existing budget to develop the ratings system but anticipates it may need more funding down the line, according to Dorie Nolt, the department's press secretary.
"Given that this is a significant undertaking, there might be costs that the department cannot absorb internally," Nolt said in an email. "We thought it would be prudent include a relatively minor fiscal request to ensure we have the resources we need to get it done well and carefully and to continuously adapt and improve the system once it's in place."
The department still plans to push ahead with developing the ratings plan -- a draft of which is expected in the next several months -- regardless of whether Congress approves the additional funding. 
Would-Be Windfall for Research and Community Colleges
Beyond the Education Department, the picture is much the same: the core budget contains little if any new money for scientific research and other programs important to colleges, but the administration's plan holds out the promise -- though almost certainly an illusory one -- of a windfall in the form of a big new initiative.
Called the Opportunity, Growth, and Security Initiative, the $56 billion effort would provide a huge influx of funds for research agencies such as the National Institutes of Health ($970 million) and the National Science Foundation ($552 million), and it would provide $1.5 billion in 2015 as the first installment of a new Community College Job-Driven Training Fund, which is designed to double the number of apprenticeships in the United States. The latter program is meant to succeed the Trade Adjustment Assistance Community College and Career Training program, a temporary program established in 2010 that will end this year.
But funding for the new initiative would be dependent on Congress reaching agreement on major changes in the tax code (in the form of new taxes on retirement funds for wealthy Americans) and on a series of other industry-related fees, and chances are less than slim that Congress will do any of those things.
So without those almost fanciful new funds, few federal programs would see increases in 2015.
The National Institutes of Health would receive a total of $30.2 billion, up ever so slightly from the $3.15 billion the biomedical research agency is receiving this year. The National Science Foundation would receive a 1.2 percent increase over all, to $7.255 billion from $7.18 billion in 2014, but most of that increase would be for education programs and operations, resulting in a 0.03 percent dip for research funding. As seen in the table at bottom, research funding at a few other agencies would rise or fall meaningfully, but basic research over all would decline slightly, to $32.1 billion. (A table with the administration's proposed budgets for basic research is below.)
The administration emphasized the importance of science -- "Scientific discovery and technological breakthroughs are the primary engines not only for expanding the frontiers of human knowledge but also for responding in innovative, practical ways to the challenges and opportunities of the 21st century," the White House said in its budget proposal for science and technology -- but a lot of unhappy advocates for research argued that the funding levels did not live up to the rhetoric.
"The President's FY15 budget does disappointingly little to close the nation's innovation deficit," the Association of American Universities said in a statement. "When it comes to research, its modest spending increases in a few key research agencies are not sufficient to put this nation on an investment path that can ensure we remain the world's innovation leader.".
"The United States once stood firmly at the forefront of the research revolution, but after a decade of budgets that have not kept pace with inflation and last year's across-the-board sequestration cuts, NIH has seen a more than 20 percent decline in its purchasing power and can only fund one in every seven research grants it receives," added United for Medical Research, a coalition of research groups and major universities. "As such, the U.S. is slipping in its position as the global leader in the life sciences. President Obama's proposed NIH budget won't meaningfully turn us in the right direction toward restoring hope to millions of patients, advancing scientific innovation and spurring further job growth."
Among other elements of the administration's 2015 budget request that are important to colleges:
The budget for the National Endowment for the Humanities would be held level, at $146.1 million.
Funding for the State Department's educational and cultural exchange programs would rise slightly, to $577.9 million from $568.6 in 2014. But the core Fulbright Program would see its funding cut by about $30 million, to $204 million from 2014's $234 million.
2015 Budget Funds for Non-Science Programs Important to Colleges
 

 

2014 Actual (in millions)
2015 Proposed (in millions)
% change, 2014 to 2015
EDUCATION DEPARTMENT
 
Financial Aid Programs
 
Pell Grants
$28,945
$29,175
0.79%
Maximum Pell Grant (not in millions)
5,730
5,830
1.75%
Supplemental Educational Opportunity Grants
733.1
733.1
0.00%
Federal Work-Study
974.7
974.70
0.00%
TEACH Grants
18.4
17.9
-2.72%
Iraq and Afghanistan Service Grants
0.3
0.4
33.33%
Institutional Aid
 
 
Strengthening Institutions
79.1
79.1
0.00%
Strengthening Tribally Controlled Colleges and Universities
53.1
55.2
3.95%
Strengthening Alaska Native and Native Hawaiian-serving Institutions
26.5
27.6
4.15%
Strengthening Historically Black Colleges and Universities (HBCUs)
302.7
308.8
2.02%
Strengthening Historically Black Graduate Institutions
57.9
57.9
0.00%
Strengthening Predominantly Black Institutions
9.1
9.1
0.00%
Strengthening Asian American and Native American Pacific Islander-serving Institutions
7.7
8
3.90%
Strengthening Native American-serving nontribal institutions
7.7
8
3.90%
Minority Science and Engineering Improvement
9
9
0.00%
Aid for Hispanic-serving Institutions
210.9
207.4
-1.66%
Tribally Controlled Postsecondary Career and Technical Institutions
7.7
7.7
0.00%
National Technical Institute for the Deaf
66.3
66.3
0%
Gallaudet University
119
119
0%
Howard U.
194.5
194.5
0%
Student Assistance
 
 
TRIO Programs
838.3
838.3
0%
GEAR UP
301.6
301.6
0%
Special Programs for Migrant Students
34.6
34.6
0%
Child Care Access
15.1
15.1
0%
Career-Technical/Adult Education
 
 
 
Perkins State Grants
1,117
1,117
0%
Adult education
564
564
0%
Graduate Education
 
 
Graduate Assistance in Areas of National Need
29.3
29.3
0%
Other Areas
 
 
International Education and Foreign Language Studies
72.1
76.2
5.7%
Fund for the Improvement of Postsecondary Education
3.2
0
-100%
First in the World
75
100
33.3%
College Success Grants for Minority-Serving Inst (proposed)
n/a
75
n/a
Office of Civil Rights
98.3
102
3.76%
Inspector General
57.8
59.2
2.42%
Institute of Education Sciences
Research, Development, and Dissemination
179.9
190.3
5.78%
Statistics
103.1
122.7
19.%
Regional Educational Laboratories
54.4
54.4
0.00%
Statewide Data Systems
34.5
70
102.9%
LABOR DEPARTMENT
 
Adult Employment and Training
766.1
766.1
0.00%
Dislocated Workers Training
1,222.5
1,222.5
0.00%
STATE DEPARTMENT
 
 
 
Fulbright Program
234.7
204.2
-13.00%
Global Academic Exchanges
54.0
63.0
16.67%
Special Academic Exchanges
19.1
46.3
142.41%
OTHER AGENCIES
 
 
National Endowment for the Humanities
146
146
0.00%
Americorps
335.4
335.4
0.00%
Research Funds in 2015 Budget
| | | | |
| --- | --- | --- | --- |
|   | 2014 Actual (in millions) | 2015 Proposed (in millions) | % Change, 2014 to 2015 |
| Department of Defense Basic Research  | 2,166 | 2,077 | -6.9% |
| National Institutes of Health | 29,205 | 29,403 | 0.68% |
| National Aeronautics and Space Administration Science  | 6,351 | 5,475 | -13.79% |
| Department of Energy  | 7,932 | 8,412 | 6.05% |
| National Science Foundation | 7,033 | 7,625 | 8.42% |
| --Research | 5,191 | 5,188 | -0.06% |
| Commerce Department National Institute of Standards and Technology | 579 | 598 | 3.28% |
| National Oceanic and Atmospheric Administration | 421 | 439 | 4.28% |
| Department of Agriculture  | 2,154 | 2,195 | 1.90% |
Source: White House Office of Science and Technology Policy
Doug Lederman contributed to this article.