Topics
Free Community College: It Works
Tulsa Community College started offering free tuition eight years ago, helping to inspire Tennessee's program and, by extension, President Obama, while also boosting its degree production rates. 
President Obama's free community college proposal has a direct ancestor in a program Tulsa Community College began in 2007. And Tulsa's free-tuition experiment is working, with the college's leaders calling it a "battle-tested" recipe for increasing degree production.
Tulsa Achieves pays for three free years of tuition or 63 free credits, which is enough for an associate degree. The scholarship is open to all high school graduates in Tulsa County, Okla. They must enroll right out of high school, maintain a 2.0 GPA, take a student success course and do 40 hours of community service each year to remain eligible.
The community college hit the ground running in 2007, enrolling 1,350 students in the program's first class.
"We nearly doubled our first-time freshmen," said Lauren Brookey, vice president for external affairs at Tulsa, which enrolls about 20,000 students.
The idea for the scholarship grew out of concerns about the Tulsa region's relatively low numbers of college degree holders. Local business and government leaders worked with the college to create Tulsa Achieves to encourage more students to enroll in college -- and to help them graduate. The college also created a textbook trust with private donations to cover book costs for several hundred students.
The goal was to "change the conversation about the value of community college" by using a clear message about free tuition, Brookey said. "There is no excuse in our community not to go to college."
Each year since the program began, roughly 1,500 local students have accepted that offer and taken on the extra responsibilities that come with it. Roughly one in five graduating high school seniors in Tulsa County participates in Tulsa Achieves, according to the college.
Enrollment numbers are up as a result. And Tulsa Achieves students top their peers in measures of academic performance. They have higher GPAs and retention and graduation rates, and are more likely to complete gateway courses.
For example, fully half of the first group of students, which first enrolled in 2007, had earned a bachelor's degree, associate degree or certificate by 2014 -- with 48 percent earning degrees (see chart). Only 32 percent of non-Tulsa Achieves students who entered that year earned a credential in the same period.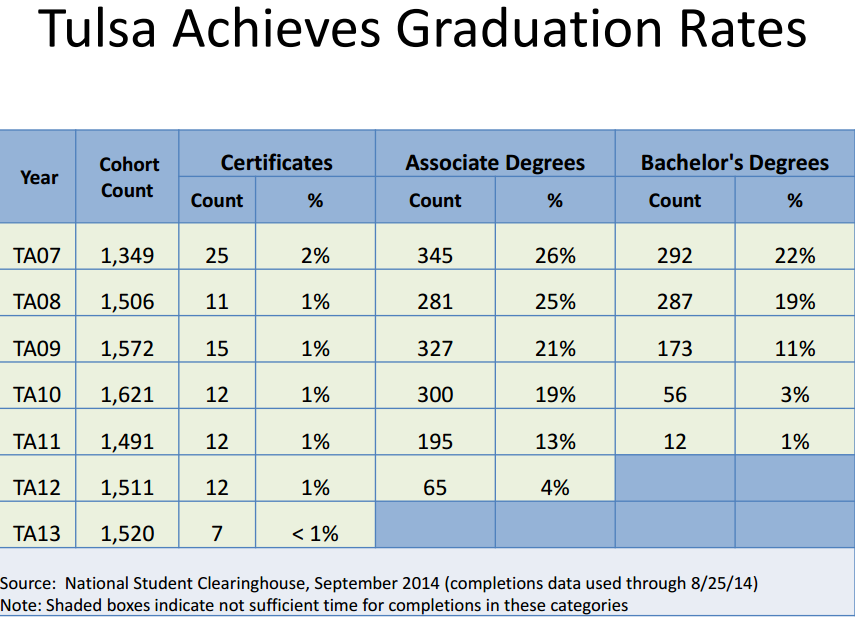 The free tuition program's numbers are better than completion rates for community college students nationwide. And subsequent classes of incoming students in Tulsa Achieves are on course for similar completion rates
High numbers of students in Tulsa Achieves transfer to four-year institutions. About 44 percent of the first class transferred, compared to 32 percent of their peers. And 22 percent of the first 1,500 students had earned a bachelor's degree by last fall.
"It's a proven method," said Leigh Goodson, Tulsa Community College's president.
Knox Achieves
Some college leaders and politicians in other states took notice of the success in Tulsa. The college's former president, Tom McKeon, gave presentations about Tulsa Achieves at the Brookings Institution and during a visit from Hillary Clinton.
Tennessee's Knox County was at least partially inspired by the program when, in 2008, it created the similar Knox Achieves.
Knoxville's mayor at the time, Bill Haslam, was skeptical about the county's free community college plan. But Haslam, who is now Tennessee's Republican governor, got on the bandwagon in a big way -- he helped take the program statewide. That version, dubbed tnAchieves, which is funded largely with private donations, has granted scholarships to 12,000 students around the state.
More than six years later, Knox County, like Tulsa County, has seen an increase in its proportion of college graduates. Leaders in both counties attribute those gains to the free tuition programs.
Haslam last year unveiled the Tennessee Promise, which taps a state pot of lottery money to offer two years of free tuition to community or technical colleges for all of Tennessee's graduating seniors. Fully 92 percent of the state's class of 2014 applied to the program, which includes a 2.0 minimum GPA and volunteering as part of its eligibility requirements.
Then, in January, Haslam joined President Obama at a Tennessee community college for the White House rollout of a federal version. The proposed America's College Promise would also cover tuition and fees for two years of community college for qualifying students, who would need to maintain a 2.5 GPA.
Obama's plan, which would cost an estimated $60 billion over 10 years, faces long odds in the U.S. Congress. But it has sparked a national debate on community college access.
Meanwhile, some other states, colleges and cities are mulling whether to follow Tennessee's lead. Indiana is on that list. And leaders at City College of Long Beach and the California State University at Long Beach said they are interested in expanding a broad college pathway partnership between those institutions and the city's K-12 district. The Long Beach Promise already includes a semester of free tuition at the two-year City College.
If Tulsa's experience is any indication, there are options for community colleges that don't want to wait on Congress or state government to pay for a free tuition plan.
The Bottom Line
Like Tennessee's program, Tulsa Achieves is a so-called last-dollar scholarship. That means the grant amounts are tallied after other federal and state aid is applied. Students must first fill out the Free Application for Federal Student Aid (FAFSA) to qualify for the scholarship.
Some experts prefer a first-dollar approach, which covers all tuition and fees up front, allowing students to use Pell Grants and other aid money for living expenses. President Obama's plan falls into this category, which is one reason it would cost $60 billion.
While last-dollar scholarships are more affordable, they still come with a cost. Tulsa doled out almost $3 million in additional aid for the program in 2007. The outlay grew to $3.7 million last year, a college spokeswoman said. That's a substantial amount for a college with total annual expenditures of about $100 million.
"We budget for it and we have been able to sustain it," said Brookey.
There are many benefits for the investment in Tulsa Achieves, in addition to the most important one of helping more students get to the finish line.
The college has been able to get better use out of its classrooms and other facilities with the increased enrollment. And state government has covered some of the costs for the uptick in students through enrollment-driven funding formulas. Local government leaders have also used the program as an enticement to businesses, stressing the county's increase in college-educated workers.
"We consider it a strong economic development tool for Tulsa County," Brookey said. "People in Tulsa love this program."
You may also be interested in...
Today's News from Inside Higher Ed
Inside Higher Ed's Quick Takes