2015 Academic Performance Bracket
Inside Higher Ed's 10th annual academic bracket for the N.C.A.A. men's basketball tournament.
It's time once again to fill out those March Madness brackets, and what better way to predict the winner of this year's National Collegiate Athletic Association men's basketball tournament than to compare how the teams succeed in the classroom?
Here's how Inside Higher Ed's bracket works: to determine the winners, we first look to the Academic Progress Rate, the N.C.A.A.'s multiyear measure of a team's classroom performance. When two teams tie, we turn to the N.C.A.A.'s Graduation Success Rate, which measures the proportion of athletes on track to graduate within six years. In the event of a G.S.R. tie, we then turn to the Federal Graduation Rate, a slightly different formula that the government uses to track graduation rates.
This tournament's championship round was a nail-biter, going into double overtime, with the teams tying on both the A.P.R. and the G.S.R.
We're not the only ones thinking of A.P.R. in relation to the tournament this year. With the N.C.A.A. and its members facing increasing scrutiny over issues of academic integrity, there's talk at some institutions of tying championship bonuses for coaches to the A.P.R. of their teams. This is also the first postseason when programs must earn a four-year A.P.R. of 930 in order to be eligible.were there any teams that would have made it (or been likely to) but didn't hit 930? -sj**there were nine teams that are banned, but none of them seem to be ones that jump to the front of people's minds when talking about who is going to make it and a google search doesn't seem to produce any headlines expressing shock about these schools so I don't think so. but here they are in case:Alabama State, Appalachian State, Central Arkansas, Florida A&M, Houston Baptist, Lamar, Milwaukee, San Jose State and Southern.
Still, we admit it; the Inside Higher Ed academic bracket does not have the best track record when it comes to predicting who will win the real tournament, but you have to admire our persistence. This is our 10th annual bracket, and while we've only picked the actual champion once (the University of North Carolina at Chapel Hill in 2009), there's always hope for a repeat performance.
After all, that's what the Big Dance is all about, right? A Cinderella story.
Click on the bracket below to see the winner, and be sure to check back Tuesday for our women's basketball tournament bracket.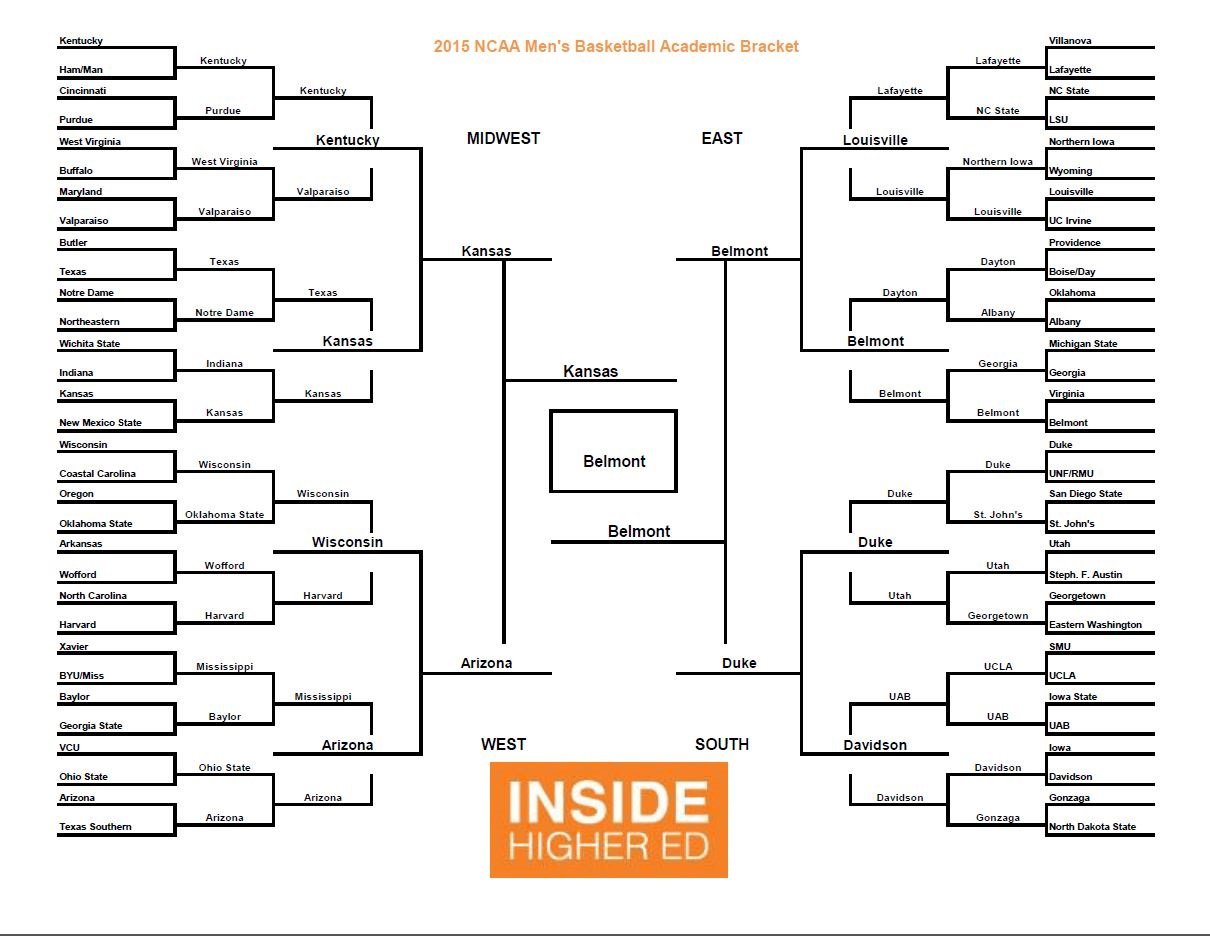 You may also be interested in...
Today's News from Inside Higher Ed
Inside Higher Ed's Quick Takes