You have /5 articles left.
Sign up for a free account or log in.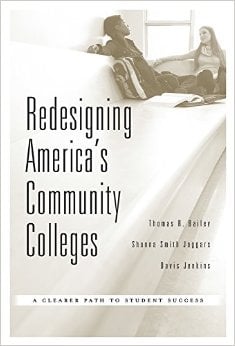 Success at community colleges will take off once institutions streamline their offerings. That's the position the authors of Redesigning America's Community Colleges take. 
Thomas R. Bailey, Shanna Smith Jaggars and Davis Jenkins, all with the Community College Research Center at Columbia University's Teachers College, believe the current cafeteria approach -- where students select from often hundreds and thousands of courses on their path to earning a degree -- is wrong for two-year colleges. They propose the guided pathways plan, which creates a structured and more narrow program of courses. 
It's an approach that helped King-Kennedy College in Chicago win a 2015 Aspen Institute Rising Star institution award this year. In the book, the authors show that despite a massive reform movement to improve student success at community colleges, there has been little evidence that the country has seen widespread improvement. The three authors jointly responded by email to questions about the new book, which will be released April 9.
Q. How has the traditional cafeteria approach hurt community college students?
A. The focus on low-cost access has encouraged colleges to offer an array of often disconnected courses, programs and support services that students are expected to navigate mostly on their own. Students are confused by a plethora of poorly explained course, program and transfer choices and available programs often do not provide a clear path to success in further education and employment…. While advising, career services and other supports are provided to students who seek them out, those who need such services the most are the least likely to take advantage of them. Community college departments closely monitor enrollment in their courses, but they often do not know which students are pursuing programs of study in their fields and thus do not track students in their programs to ensure that they make steady progress toward achieving their goals for program completion and transfer.
Finally, the focus on courses rather than on programs may undermine student learning. Because students are typically allowed to cobble together their schedules from a long list of electives, their programs often lack the sort of coherence that is essential for building skills across the curriculum. Meanwhile, faculty members conduct course design and instruction in isolation from one another. 
Q. Would a guided pathways plan lead to fewer "career-oriented" courses being cut from colleges and limit the opportunity for students to expand or broaden their college experience? 
A. Guided pathways are as relevant for students interested in the humanities or social sciences as they are for students interested in what are traditionally thought of as career-oriented programs. Guided pathways for both occupational and nonoccupational programs include general education courses to impart basic knowledge and well-designed opportunities for exploration, especially for students who are still undecided on their majors. 
In the guided pathways approach, faculty work across disciplines to create a curriculum that is educationally coherent and thus enables students to build skills across the curriculum. 
Rather than merely hoping that students will somehow pick up these skills -- critical thinking skills, understanding global diversity, appreciating the arts, interpersonal relationship skills -- through an array of disconnected courses, in a guided pathways plan, faculty select curricular content that will help build those skills while still being clearly relevant to the student's larger interests and goals. 
Q. Redesigning a guided pathways approach can be an expensive proposition for an institution. How does this plan fit with free community college policies that are emerging across the country?
A. It is notable that in Tennessee and Chicago, where policy makers have adopted free community college polices, the systems are implementing systemic reforms to improve student outcomes -- in both cases following the principles of guided pathways. 
While the effects of free community college polices on completion are uncertain, they are likely to increase enrollment, including among students who might not otherwise have gone and are poorly prepared for college. Such policies are designed to help students pay for college, yet they do not provide additional resources for college. If free college policies increase enrollments among students who need more support, without adding resources for colleges… then colleges will find it even more difficult to support each student to completion. 
C.C.R.C. research finds that to the extent that guided pathways reforms improve student retention, they are likely to increase colleges' operating costs, because as more students persist, the college has to provide them with more instruction and support services, which are not fully covered by the course-based reimbursement plan used by most states. Implementing guided pathways reforms also involves other up-front costs, including faculty and staff training and upgraded computer systems for improved student-progress tracking. 
Our analysis suggests that colleges can cover some of these costs by reallocating existing resources, but if colleges are to serve a much larger number of students, they will need more resources per student. Given the strong returns to public investment in community colleges in terms of increased earning and other benefits, this added investment would be an excellent one for taxpayers -- provided colleges introduce processes such as guided pathways that will improve outcomes.