You have /5 articles left.
Sign up for a free account or log in.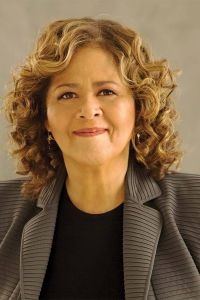 WASHINGTON -- From dramatic funding cuts to dismissive political rhetoric, the U.S. hasn't been particularly hospitable to the humanities in recent years. Yet the humanities remain fundamentally American and full of promise to Anna Deavere Smith. The noted actress and playwright delivered the National Endowment for the Humanities's annual Jefferson Lecture in the Humanities here Monday evening, at the John F. Kennedy Center for the Performing Arts.
"I think of what language is and does and can do," said Smith in an interview prior to her dynamic, performance-style lecture featuring portrayals of various people she's interviewed as part of her decade-spanning project documenting the American character. "That's been my metaphor, where I've lived -- not just in the stories of other people, but in their words and the manners in which they speak. What I'm trying to do is reach for that which is not me."
Smith didn't so much reach for as inhabit those characters during her lecture. From a hilarious and frenetic portrayal of her friend and mentor, the late journalist Studs Terkel -- featuring commentary on everything from Mark Twain to technology -- to an emotional portrayal of civil rights activist and longtime Congressman John Lewis speaking about grace, many audience members were alternately laughing or tearing up throughout.
There were portrayals of common people, too, such as an uncanny and unexpected monologue on the aftermath of the 1992 race riots in Los Angeles from the perspective of a Korean-American liquor shop owner. Smith also shared several monologues from a forthcoming project on what she called the "school-to-prison" pipeline.
Her portrayal of Michael Tubbs, a city councilman from Stockton, Calif. -- who was in the audience Monday -- was particularly arresting. Adopting Tubbs's mannerisms and speech patterns, Smith recalled the time he read to first graders during a campaign event and a 6-year-old boy told him flatly that his uncle had been shot and killed.
"Before I turned the page, everybody knew somebody who got shot or was a victim of a violent death," Smith said. "How routine and how normal does that have to be that a 6-year-old could look you in the eye and say that so matter-of-factly? Six years old. What happens when they're 7, 8, 9, 10?"
That, Smith said in Tubbs's words, "just leads to nihilism."
Though bleak, such explorations of the "other" -- many of which center on justice and equality -- are for Smith and her characters a means of getting closer to the American promise of "a more perfect union."
Smith said that after interviewing thousands of people for her project, she still only knows "a little bit" about the American character. But a recurring theme is the belief in the "possibility" of that constitutional ideal, she said. "For better or worse that is why so many people want to come and live here -- that promise of a union where their words and lives will matter."
Language and arts are central to that notion, she said. They help people develop "empathic imaginations," and a sense of citizenship and self that is more than perfunctory.
Smith said her own fascination with language was fueled by three "wordsmiths": her own grandfather, a tea and coffee merchant who told her, "If you say a word often enough, it becomes you"; Queen Margaret of Anjou from Shakespeare's Richard III; and Martin Luther King Jr.
All three were disenfranchised in some way and "condemned to words," Smith said, quoting a conversation she once had about Queen Margaret with Marjorie Garber, the William R. Kenan Jr. Professor of English and of Visual and Environmental Studies at Harvard University. But with their words they wielded power and made meaning, Smith said. And through acting, she said, she was able to escape being condemned to just one identity: a black girl from Baltimore, which was governed by a complex and spiritually narrowing set of race and class lines.
"The humanities represent meaning -- we can all go make a craft and learn how to do something, but that is the future of work, as in tasks, not a career," Smith said before her lecture. "What's a career? It's an assemblage of experiences with the expectation that you will develop gravitas. You need the humanities to give you a larger worldview."
The Jefferson Lecture, established in 1972, is the federal government's highest honor bestowed on an individual for intellectual achievement in the humanities, according to the N.E.H. Recent past lecturers include Walter Isaacson, Martin Scorsese, Drew Gilpin Faust and John Updike.
Smith is no stranger to top honors -- she was granted a MacArthur Fellowship in 1996 and received the National Humanities Medal from President Barack Obama in 2012, for example -- but she said being selected for the Jefferson Lecture took her by surprise nonetheless.
"It was really out of the blue," she said. Naming some past lecturers, she added, "It's pretty intimidating."
Of course Smith -- who's been acting for most of her life -- had a definite leg up on her Jefferson Lecture predecessors when it comes to performing. Her notable film and television performances include those in "The West Wing," "Nurse Jackie" and The American President. But she's perhaps best known for her work in theater, for which she is credited with pioneering the "verbatim" style of transforming interviews with real people into dramatic narratives. Her plays, including the Pulitzer Prize-nominated Fires in the Mirror: Crown Heights, Brooklyn and Other Identities and Twilight: Los Angeles, 1992, have explored issues of race, community and identity. They're part of a larger series called On the Road: A Search for the American Character.
Smith is the founding director of the Institute on the Arts and Civic Dialogue, now at New York University, where she is a professor of performance studies, and an affiliate professor in the School of Law.
William Adams, N.E.H. chairman, called Smith's body of work "remarkable," in particular her work on the stage and her contributions to "a new form of theater, combining material from extensive interviews, current events and her own remarkable imagination."
Adams said that in "different forms and registers, the humanities always seek to illuminate our experience and to deepen our appreciation for its complexity, constraints and possibilities." In this sense, he said, Smith's work "fits with the best and deepest impulses of the humanities tradition, seeking as it does to help us know better ourselves and one another."
Beyond the honor of being named a Jefferson lecturer, Smith said her performance Monday was special because many of her family members from Baltimore were in attendance.
"I hope I do right by my family, and I hope I do right by the National Endowment for the Humanities, because as we know the humanities are in jeopardy right now," she said. "In a lot of ways this is a really interesting time, when we're thinking about education on so many levels, and maybe even the future of human cognition. A lot of people in the humanities think they have to justify their existence, and make an argument for their existence. What the [N.E.H.] does for this country is very, very important."
Smith in her lecture recalled President Lyndon B. Johnson's 1968 speech to Congress in which he called education, or the "freedom from ignorance," the "fifth freedom."
"What [Johnson] was trying for needs to be revisited right now," she said. "The grounds for the new civil rights movement will be education."