You have /5 articles left.
Sign up for a free account or log in.
Tuition dollars made up roughly 47 percent of revenues for public higher education for the third straight year in 2014, cementing a trend in which tuition revenue now rivals state appropriations as the main funder of public colleges and universities.
Tuition dollars in 2014 made up 47.1 percent of public higher education revenues, down slightly from last year's level of 47.7 percent, an all-time high, according to the State Higher Education Finance report for fiscal 2014 released today by the State Higher Education Executive Officers association.
Public colleges rely on tuition dollars nearly a third more than they did before the recession. In the five years preceding the economic decline, tuition accounted for a significantly smaller share of public higher education revenues, hovering around 36 percent. The downturn sparked a spike in enrollment, a decrease in appropriations as states slashed spending and an increase in tuition rates, all of which led public institutions to rely on tuition dollars more now than ever before.
Twenty-five years ago, tuition accounted for 24.5 percent of public higher education revenues. Today that figure is nearly double, as seen in the chart below.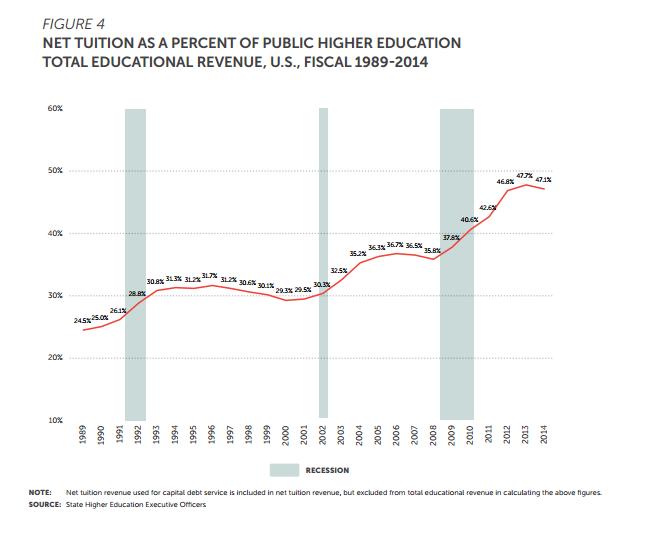 "You have an economic recession and then you have a steep jump" in tuition as a revenue share, said Andrew Carlson, the SHEEO manager who was the primary author of the report.
"Basically that's the new level. It's the new benchmark," Carlson continued. "If the past is indicative of what we can expect in the future, I would expect it to hover around this level until the next economic downturn," when tuition revenues will likely rise again, he said.
Net tuition revenue per student was $5,777 in fiscal 2014, up 2.7 percent from the previous year, up 26.7 percent from five years ago and up 107 percent from 25 years ago when adjusted for inflation. 
"It puts a real squeeze on a lot of families and working adults," SHEEO President George Pernsteiner said of public colleges' increased reliance on tuition dollars. "The cost is being borne more and more by students and their families…. It's something that states are going to have to think very hard about."
Meanwhile, states are continuing to slowly reinvest in higher education after nearly across-the-board cuts during the recession. Thirty-seven states increased their financial support of higher education in fiscal 2014. State and local governments allocated $86.3 billion to support higher education that year, including $83.5 billion toward public colleges and universities (the remainder of support went to financial aid and other support for private institutions).
State and local governments on average spent $6,552 per student in fiscal 2014, up 5.4 percent from the year before but down 13.3 percent from five years ago and down 24 percent from 25 years ago when adjusted for inflation. The increase in per-student support is indicative of two factors: hikes in appropriations and declines in enrollment.
The report outlined a third straight year of enrollment decline. In fiscal 2014, there were 11.1 million full-time-equivalent students enrolled in a public postsecondary institution, down 1.3 percent from the previous year. Typically when an economy rebounds, fewer people attend college because more jobs are available. Student population peaked at 11.6 million in 2011, the year right after the recession ended.
In 1989 state and local appropriations accounted for $8,615 and tuition accounted for $2,792 in public higher education revenues per student, when adjusted for inflation. That breakdown is now $6,552 in appropriations and $5,777 in tuition revenues per student -- a vastly different landscape than 25 years ago, as seen below.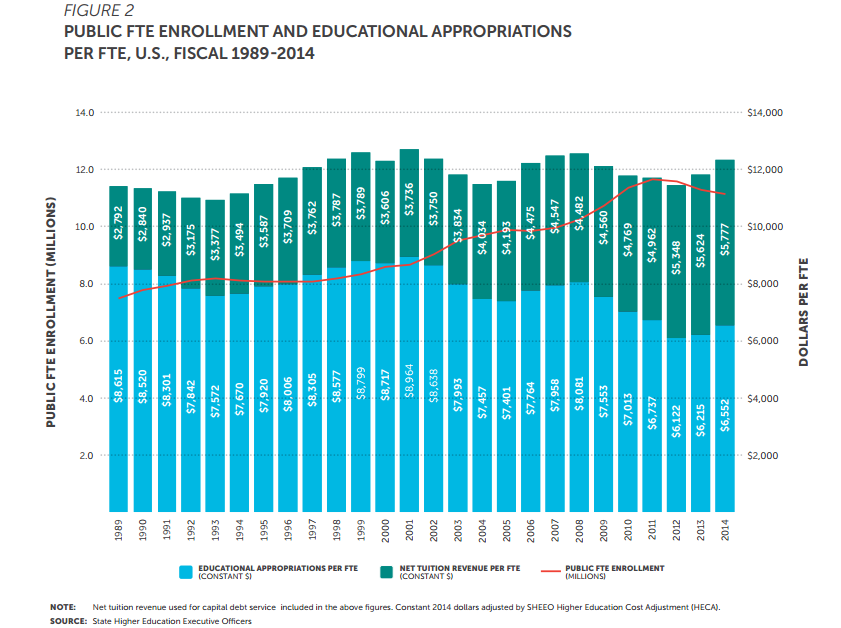 "I don't think either states or institutions have rethought spending in the context of where the money is coming from," said Jane Wellman, a senior adviser with the College Futures Foundation.
Twenty-five states generate more than half their public higher education revenue from tuition, with 15 states generating more than 60 percent from tuition.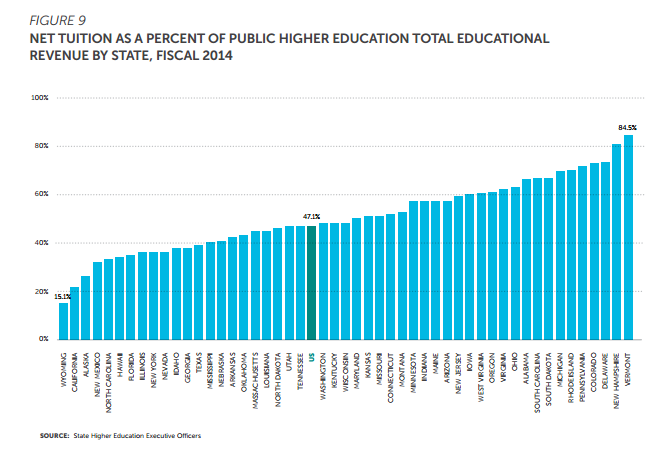 The SHEF report provides a comprehensive review of state and local funding, tuition revenue, enrollment trends and degrees for public higher education. This is its 12th year of publication.