You have /5 articles left.
Sign up for a free account or log in.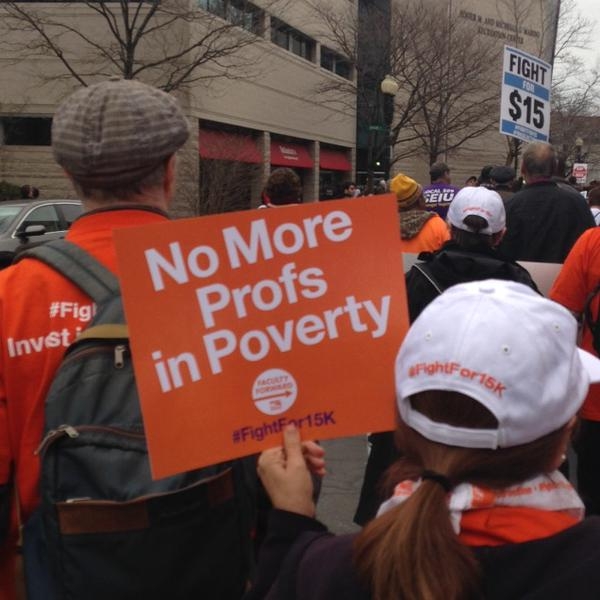 Low-wage workers in cities from New York City to Los Angeles participated in national day of protest Wednesday to draw attention to their fight for a living wage. Most of the workers were from home health and child care, retail, fast food, and other traditionally low-paying fields, but a significant number of protesters represented what is -- for some -- surprisingly low-wage work: non-tenure-track academic labor.
"I've been involved in adjuncting for 4 years teaching 10 to 12 classes a year, which is more than a full load and, quite frankly, I'm sick of it," said Cole Bellamy, an adjunct instructor of composition at Saint Leo University who participated in a rally in support of adjuncts on the University of South Florida's Tampa campus. "I work 50 percent more than a full-timer in order to make more than a living wage, and something needs to be done about that."
But it's not just about the money -- about $2,600 per course -- Bellamy said. "This is about the fact that teaching at the university level is something that is being rapidly devalued and deprofessionalized. And at the same time we've got ever-rising tuition, administrative glut and executive salaries. … This really is a battle for the soul of the university."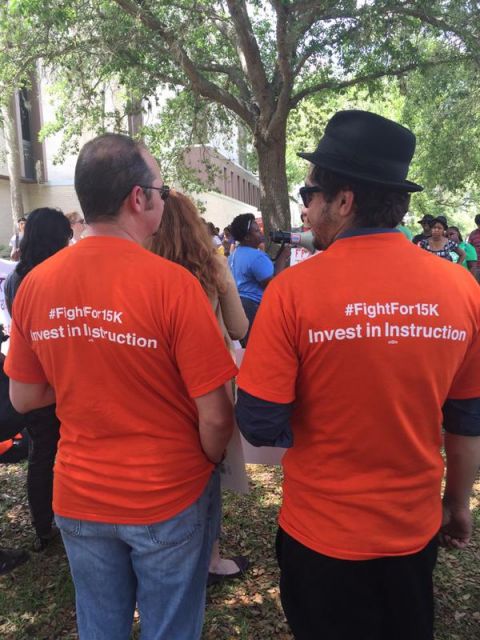 Many of the protests nationwide were organized with the help of Service Employees International Union. Fight for 15, as the action was called, centered in most cases on low-wage workers' struggle for a $15 minimum wage. But the actions centered on adjuncts promoted SEIU's recently announced campaign for pay of $15,000 per course, including benefits. SEIU, which is organizing adjuncts across the country, says that figure won't immediately be part of any contract negotiation. Rather, it represents a fair salary to which adjuncts should aspire over time, according to the union.
According to a recent study from SEIU, based on data compiled by the University of California at Berkeley's Center for Labor Research and Education, one in five part-time faculty members live below the federal poverty line. Some 25 percent are enrolled in some form of government assistance. In all states, part-time faculty members are more likely to be in poverty than the average American, from 9 percent more likely in Nevada to 43 percent more likely in Maine. Such facts challenge the idea that education guarantees a steady job and fair pay, activists said, and break down some of the traditional barriers between skilled and so-called unskilled labor activists.
Rudy Fichtenbaum, a tenured professor of economics at Wright State University and president of the American Association of University Professors, said he thought the solidarity between university faculty members and other workers exhibited Wednesday was unprecedented. He said adjuncts probably had a lot to gain -- in public awareness, in particular -- in broadening their cause.
"The shift we've seen in higher education over the last 20 to 30 years has really culminated in this huge shift in who makes up the faculty in higher education" -- something that's not known to many people otherwise following the fair wage movement, Fichtenbaum said. "This is the first time we've seen such a substantial proportion of people who are all highly educated and under any other circumstances in years past would have received good-paying jobs with some security and benefits."
In faculty actions on at least 40 campuses in 20 states, adjuncts and their supporters wore T-shirts and held signs with the phrase "Fight for 15K: Invest in Instruction." The idea echoes adjunct activists' common refrain that instructors' working conditions are students' learning conditions.
A major turnout, with acts of civil disobedience, was seen at Seattle University, where adjuncts have battled the administration over the right to form a union. Louisa Edgerly, an adjunct instructor of communication and journalism there, said the event benefited from frustration related to the ongoing union conflict as well as momentum carried over from National Adjunct Walkout Day at the end of February; many adjuncts at Seattle participated in that event. "The time of the national movement has been really serendipitous for us," Edgerly said. (Note: This paragraph has been updated from an earlier version to reflect that the protest was Wednesday only, as described.)
Late Wednesday evening, SEIU said that Edgerly had been arrested after sitting in at an intersection near campus. Edgerly said in a statement, "I got arrested today to help turn the tide in favor of higher wages for all workers, and to take a stand against the corporatization of higher education."
In Chicago, adjuncts from several institutions gathered at Loyola University for a series of rallies and events -- including the delivery of a petition asking the institution to remain neutral as adjuncts there organize with SEIU. The day ended with a parody musical called Tenure Track.
Joy Ellison, an adjunct instructor of peace studies and community service studies at DePaul University in Chicago, said she makes less than $4,000 per course and has a second, nonteaching job to make ends meet. She said few students imagine that their professors are "living in poverty" with no benefits, but in fact many are. "We're fighting for the ability to teach our students and to give them the high-quality educations that they've paying for."
Adjuncts' concerns are related to larger economic issues, such as student debt, she added.
In New York, adjuncts from Fordham University (which also received a petition requesting neutrality as the faculty organizes with SEIU) and Columbia University participated in rallies on their campuses and a larger, more general event in Times Square.
Alan Trevithick, an adjunct professor of anthropology at Fordham, said he makes about $20,000 annually, with no benefits, teaching the equivalent of a full course load. He said he was drawn to the day's events because "the disempowerment of higher education faculty really has a lot of commonalities with what's going on elsewhere" in the economy.
"I think we gain a kind of moral solidarity with other kinds of low-wage workers," he said.
Maria Maisto, president of the New Faculty Majority, a national adjunct advocacy group, said her organization has been working for years to build connections with other low-wage workers for exactly this kind of movement. Asked if she thought hitching adjuncts' cause to various others might obscure the concerns specific to academe, Maisto said no. While the adjunct advocacy movement has come a long way, she said, it's still at the point where any publicity is good publicity. And the various interests represented Wednesday are more connected that one might think, she said.
"We trust in the idea and we're told all the time that education is the path to economic security," Maisto said. "So when people are told that for those of us who've subscribed to that, that hasn't been the case, they usually get it."