You have /5 articles left.
Sign up for a free account or log in.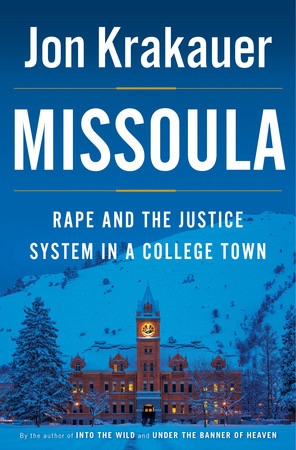 Early in Jon Krakauer's new book, Missoula: Rape and the Justice System in a College Town, he describes how an attempt by the University of Montana in 2012 to help two campus sexual assault victims may have allowed the suspect to flee the country before he could be caught by police.
The university did many things right in complying with federal antidiscrimination and campus safety laws: it kept the victims' identities confidential, it moved swiftly to begin holding the student accused of assault accountable and it sent a campus safety alert, warning students that the assaults had occurred. It did not, however, contact local police, who would have had the power to confiscate the suspect's passport before he boarded a plane back to Saudi Arabia.
Krakauer's book primarily tells the story of a rash of nonstranger sexual assaults involving University of Montana students and athletes -- and how their cases were mishandled in the football-loving college town. It also illustrates the often dysfunctional relationship between local law enforcement and campus officials and the competing priorities they face when dealing with campus sexual assault.
"Dysfunction is the rule," Krakauer said in an interview Thursday. "Not the exception."
At a U.S. Senate hearing last year, Senator Claire McCaskill, a Missouri Democrat, described interactions between colleges and law enforcement as "a complicated thicket" of issues -- they use different burdens of proofs and standards of evidence, and the length of their respective investigations varies greatly, with a criminal investigation often taking far longer than what the U.S. Education Department expects from colleges.
And while removing a predator from campus is an objective shared by both parties, the two kinds of investigations often have different end goals. College adjudication processes under Title IX of the Education Amendments of 1972 are about overall campus climate and the safety, civil rights and well-being of a particular student, while criminal investigations and trials are about the prevention of further crimes and prosecution of those guilty of the crime.
The hearing, held by the Senate Judiciary Subcommittee on Crime and Terrorism, focused on finding ways to inspire campus sexual assault survivors to have more confidence in law enforcement so that they don't, as McCaskill said, "take the default position that they'd be better off just pursuing the Title IX option."
Senator Sheldon Whitehouse, a Rhode Island Democrat and the chairman of the subcommittee, said at the time that he hoped the hearing would "help inform" the work of senators, including McCaskill, who were fine-tuning the Campus Accountability and Safety Act introduced earlier in the year. The proposed bill would require every college to create a "memorandum of understanding" with local law enforcement. Institutions that don't obtain a memorandum of understanding could be penalized up to 1 percent of the college's operating budget, a penalty many on college campuses believe goes too far.
"When you have to have a memorandum of understanding, local law enforcement holds all the cards in terms of dictating the terms," Kevin Kruger, president of NASPA: Student Affairs Administrators in Higher Education, said. "Requiring that could really have a chilling effect on victims' willingness to come forward."
As reported in Missoula, a memorandum of understanding doesn't always result in an actual understanding. Missoula police and the University of Montana had a memorandum in place, but conflicting policies and distrust between campus officials and local law enforcement still led the university to avoid calling police. The wariness, Krakauer suggests, partly stemmed from the Missoula county attorney's office's decision not to file charges in two sexual assault cases the university adjudicated the previous year.
A Department of Justice investigation would later allege that the office's deputy attorneys treated women who went to police with sexual assault accusations "with indifference or disrespect, and frequently made statements to women victims, advocates and the public diminishing the seriousness of sexual violence and minimizing the culpability of those who commit it." The investigation also found that of the nearly 90 sexual assault cases the department identified, only 14 were further investigated by the county attorney's office.
Both the DOJ investigation and Missoula describe similar behavior among some of the city's police officers at the time. Krakauer describes one exchange in which a police chief told a victim's father that he was hesitant to believe sexual assault victims because he read a study that suggested half of sexual assault claims are false.
That study, it turns out, has been repeatedly discredited.
Eight separate, more rigorous studies -- analyzed in a well-respected 2010 paper co-authored by David Lisak -- have since established that the prevalence of false allegations is likely between 2 and 10 percent. That a police officer could believe the number of false reports is so much greater when as much as 80 percent of rapes are never even reported to law enforcement to begin with and only 2 percent result in convictions does little to inspire victims to take their cases to police, Krakauer writes.
It's also why so many advocates for sexual assault victims and student affairs professionals stress the importance of campus adjudication of these cases and maintaining a level of separation between its processes and the efforts of law enforcement.
"It's really a big mess," said Laura Dunn, founder of SurvJustice, a sexual assault victims' advocacy group. "I've seen it go both ways. I've seen a lot of campuses who won't even cooperate with law enforcement, even when there's a district attorney who is adamant about prosecution. And I've seen really amazing campus-level sexual assault programs, but the prosecutor won't touch the cases."
Colleges are often criticized for mishandling cases of sexual assault on campus. While many do struggle with the task, campus proceedings, thanks to a lower burden of proof, do often result in a more favorable outcome for victims than taking their chances in a court of law (though this also raises issues of fairness and due process for the accused, critics argue).
"The overriding issue is that the ineffectiveness of the judicial system in dealing with sexual assaults is why it's so important to give the victim the choice in what they want to do," Kruger said. "I don't think you should discourage them. I wouldn't want advocates discouraging a survivor from going to police, but survivors need to have all the information they can to make sure they're picking the best path for them."
This, of course, becomes trickier when a sexual assault involves an at-large suspect who might be posing an immediate danger to other students. "You try to be victim-centric and also try to protect the community," Kruger said. "These sometimes are competing interests in the case and a tough decision has to be made."
The uneasy relationship the university had with Missoula officials would not have been fixed by simply honoring a memorandum of understanding, though. They also clashed in other, less typical ways. In 2011, Charles Couture, the since-retired dean of students, expelled a student over allegations he sexually assaulted a classmate after she changed her mind about having sex with him. The assault, as described by Krakauer, leaves the female student's sheets and clothing covered in blood. The accused student leaves the victim's dorm room carrying her pants with him.
The deputy county attorney, Kirsten Pabst, without personally speaking to the female student, chose not to file charges. When the accused student appealed his expulsion and asked for a full hearing, Pabst appeared as a witness and defended him.
"That is not something that happens often," Dunn said. "But when it does, it's very alarming."
That wasn't the only time Pabst acted as foil to Montana students accusing other students of sexual assault. When a football player was later charged with sexually assaulting a female student, Pabst chose to step down from her prosecutor role and help defend him in court. The sprawling narrative of Missoula largely focuses on the larger systemic and cultural issues that prevent sexual assault victims from finding justice. If a reader is looking for a human antagonist in Krakauer's story, however, Pabst is it.
As such, Pabst has been one of the book's loudest critics. She was similarly critical of the how the local newspaper, the Missoulian, covered the original scandal as it unfolded, accusing the paper of organizing a "campaign to make the people of Missoula believe we are in the midst of a sexual crisis to frighten people into buying papers."
In a press conference Wednesday, Pabst, who is now the county's prosecutor, softened her rhetoric to focus on the changes made within her office over the last few years. Missoula law enforcement has moved from a "process-centered" approach to one that focuses on the well-being of the victim, she said.
"Now is not the time to refute the many factual errors in the book," Pabst said. "While the charges the author has made against me, the Missoula county attorney's office and my predecessor, are inaccurate, exaggerated and unnecessarily personal, he is correct in that our investigation and prosecution standards needed to be improved. That has been done. Ask the Montana attorney general's office. Ask the U.S. Department of Justice. Today is the day to celebrate our new direction."
The University of Montana, too, has made many changes in recent years, and took the opportunity provided by the book's release to reiterate those modifications. While Krakauer's Missoula often portrays Couture, the now-retired dean, as persistent advocate for victims of campus sexual assault, the university on the whole is not shown in as positive a fashion. Blame is especially assigned to the athletic department, Krakauer writes, which connected accused football players with high-profile and successful lawyers who could help them avoid penalties.
Investigations by the Department of Justice and the Department of Education -- as well as one commissioned by Montana's president -- also criticized the university's handling of campus sexual assault. Since the scandal, the football coach and athletic director have been replaced. The current athletic director often talks of not allowing the town's love of football to rob the community of its greater perspective on issues like sexual assault. In an email to students and faculty Tuesday, Royce Engstrom, the university's president, pointed out steps Montana has taken in recent years, including adopting "revised policies, mandatory training, new and improved programs, and [hiring] additional personnel."
The relationship between Missoula city officials and the university has also improved, said Peggy Kuhr, vice president for integrated communications at the university.
"We have over the last few years worked to have a more professionally trained police force on campus and I think there's now a high degree of trust, collaboration and communication between our officers and city police," Kuhr said. "I think that's steadily grown over the years. The amount of respect and communication has also increased between our legal counsel, Title IX officers and the city."
If true, this is welcome news for the University of Montana. But as Krakauer points out, Missoula -- despite being the title and focus of his book -- is not an abnormality and not the only college town in need of reform. Krakauer said that he considered writing about 30 other colleges and cities, including Florida State University, another institution plagued by sexual assault accusations against star athletes.
"This sort of confusion and confusion about many other aspects of sexual assault still has not been resolved, and that's across most universities," Krakauer said, admitting he doesn't have all the answers. "This is not the book to discuss prescriptive ideas about how to improve things. I just wanted to give an overview and show some of the problems through the lens of one school. Fixing this is a huge challenge, but it's an important one."