You have /5 articles left.
Sign up for a free account or log in.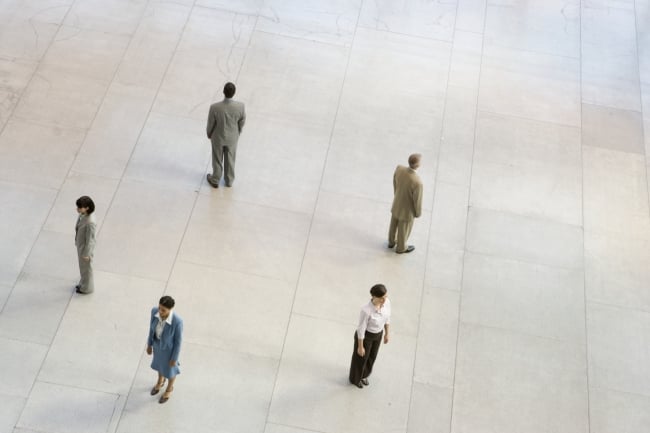 As colleges across the country attempt to navigate tough economic times and respond to calls to change their business models, conflicts abound. They are about not only the substance of various strategies, but about the ways administrators and faculty communicate during an era of sweeping change in how the business side of universities operate.
Both large and small, colleges around the country are working to adapt to a changing financial landscape.
Whether that's streamlining operations and asking fewer people to do more work, cutting benefits or slowing salary hikes, or determining how to grapple with declining enrollment and growing discount rates, the result is colleges everywhere are looking for ways to shrink their recurring costs.
Faculty members often bristle at the ways colleges attempt to cut those costs, either because they feel the logic is not sound -- such as when a group of Harvard University professors protested benefit changes last year, saying the cuts wouldn't save as much money as administrators claimed -- or because they believe the proposed changes don't align with the mission of a college.
As more and more faculty resolutions against strategic plans and administrative actions surface, nearly all of them have a common thread: concern over not only the proposed changes, but how those changes are communicated.
Often faculty members decry a lack of transparency or consultation. Sometimes their concerns are as simple as the vocabulary administrators use.
At King's College, a small Roman Catholic college in Pennsylvania, minutes from a faculty benefits meeting caused concern among a wide swath of the faculty when the chief financial officer was recorded as saying the college invests in buildings because there's a return on investment, whereas there's no such return on increasing faculty salaries. The CFO, John Loyack, claims the minutes are inaccurate, and he was instead talking about how the college couldn't use restricted capital fund donations on operating expenses such as salaries.
Clearly there was a disconnect between the four faculty members present during the meeting, who unanimously passed the minutes, which have since been amended, and the financial officer. "That conversation never happened," he said in an email.
The disconnect, offered one faculty leader at the college, could be due to the different ways administrators and faculty communicate. Margarita Rose, an economics professor and the chair of the Faculty Council at King's, said the college has experienced "a couple of challenging years in terms of budgets and there's a fair amount of frustration among faculty."
"There are other institutions where there is this tension, and there's an expectation sometimes that the financial officer will have the same language and understanding as the academic administration and faculty," Rose said. "Perhaps that's an unfair expectation since we don't always use language the same way."
King's is far from alone.
"There seems to be... a simmering level of mistrust between faculty and administrators," said Stacy Cordery, a history professor at Monmouth College, in Illinois. "When there are fiscal contractions, the mistrust seems to increase a relative size to the fiscal concern. When times grow lean, people become more possessive of what they have."
She continued, "The worst thing the administration can do is to stop communicating, to shut down and not make any attempt to communicate with the faculty…. That sounds simple, I know, but when you live through it, it's miserable."
There's an expectation sometimes that the financial officer will have the same language and understanding as the academic administration and faculty. Perhaps that's an unfair expectation since we don't always use language the same way. -- Margarita Rose, chair of the faculty leadership at King's College.
Transparency
The debates over communication or the lack thereof come as many college administrators and politicians believe it's time for new funding models and new approaches to higher education.
"The season that we're in, and have been in for a while, is putting even greater pressure on various constituencies to be really clear in their communications. This is a moment where greater clarity and transparency is absolutely essential," said Ron Mahurin, vice president for strategy and planning at Stamats, a higher education consulting firm. "Everyone at many levels understands what is at stake here -- the fact that there is such scrutiny on higher education right now around cost, affordability and sustainability."
Richard Kneedler, president emeritus of Franklin & Marshall College, said that administrators are acutely aware of faculty resistance to changes in how universities operate.
"The fundamental question is whether one is so concerned about tension that one tries to avoid having the conversation until all relevant decisions have been made and the whole package can be announced," he said. "The choice is either to have these conversations as a regular part of campus life, or to be confronted episodically with unwelcome announcements of various sorts that make people feel excluded from a decision process."
The season that we're in, and have been in for a while, is putting even greater pressure on various constituencies to be really clear in their communications. This is a moment where greater clarity and transparency is absolutely essential. -- Ron Mahurin, vice president of Stamats.
For example, at the University of Michigan last year, faculty members protested a plan to consolidate the college's administrative functions and eliminate positions. The university's Faculty Senate and the faculty governing body of its largest college each passed resolutions against the initiative. Faculty members contended that the program would not save as much money as administrators claimed, and cited a lack of transparency and faculty input in its development. The university temporarily put the project on hold as a result.
"That was a case where it was known that this was going to be confrontational, and rather than explaining what the benefits were and confronting the concerns and questions, an individual thought it would be a better strategy just to cut that process out because it was going to be difficult," said Scott Masten, head of Michigan's faculty governance. "Of course, it was worse not being up front about it."
In 2014, business school faculty members at St. Joseph's College in Philadelphia voted no confidence in the college's president, in part because of the perception that they were "deprived… of the opportunity to contribute meaningfully" to budget changes at the college because of financial constraints. Also that year, faculty members at Connecticut's regional universities and community colleges pushed back on a plan to overhaul the state's university system, claiming that they weren't giving an opportunity to help develop the new plan. Faculty and administrators at the University of Southern Maine sparred for more than a year over cutbacks and layoffs.
Macalester College, a liberal arts college in Minnesota, has frozen salaries and undergone major cuts twice since the recession. David Wheaton, the college's vice president of administration and finance, said that while the changes were difficult for faculty and staff, the college in large part avoided controversy.
"A lot of people are talking about cuts or contracting right now, but my approach here has been to offer information to faculty about the budget every year. We find that making this routine, rather than making it dramatic, makes a difference," he said.
By the time the college experienced budget issues in 2009 and again in 2013, faculty members were already familiar with the financial landscape of the college, because in the early 2000s, Wheaton began presenting the college's budget each year in open meetings to the faculty body, students and staff. So when the recession came around, the cutting process, though painful, was "pretty straightforward," he said.
"There wasn't nervousness or a lot of drama because they had seen it for six or seven years before that," Wheaton said. "Talking about the budget is best not done for the first time when there's a problem…. Discussions lacking context are almost always harder. If people don't know what the larger picture is, then all they have to fill it in with is rumors."
Juliette Rogers, a professor at Macalester who serves on the college's resources and planning committee, said that because of Wheaton's annual discussions about the budget, faculty weren't surprised when the school had to make cuts. She said her committee is in the midst of developing a financial literacy class for professors and students who want to understand more about how Macalester runs.
Faculty and staff compensation is the largest chunk of most universities' budgets -- and the industry has a tradition of generous compensation packages -- thus items like salaries, health care and retirement are often on the chopping block during times of financial strain. The cuts are deeply personal to faculty members, and they scrutinize change closely.
Discussions lacking context are almost always harder. If people don't know what the larger picture is, then all they have to fill it in with is rumors. -- David Wheaton, vice president of administration and finance at Macalester College
"There are very few campuses that do not have scarce resources," said Bob Shea, a senior fellow for finance and campus management at the National Association of College and University Business Officers. "Resource allocation decisions are important and impact people, that's why you have to have so much communication up front."
Cordery, the history professor at Monmouth, says administrator-to-faculty communication should happen "early and often," and "before faculty reach a critical point of panic or terror or anger or frustration." She added that one-on-one conversations are better received than mass emails, which are often seen as "some sort of proclamation from on high" by faculty members. Openness is also important. "Don't try to deceive or decrease the magnitude of the problem."
Of course, successful communication doesn't mean faculty won't object to the change. Often faculty members object to the substance of a plan. That's where shared governance and "genuine opportunities for faculty to share expertise" comes in, says Anita Levy, an associate secretary in the department of academic freedom, tenure and governance in the American Association of University Professors. 
"They definitely do speak a different language" than faculty members, Levy said of administrators. "It's not simply a different language, it's viewing the university as a corporate model with a corporate bottom line."
In a lot of cases, there's simply a divide on what administrators and faculty members consider solutions to a college's budget crisis. 
"They talk about numbers. They have pretty clear ideas about where their institutions stand and where the challenges are, but at least in these small institutions, there's a pretty acute awareness that, as clear as it may be to them, faculty see it differently," Christopher Welna, president of the Associated Colleges of the Midwest, said of administrators. "Some of them are more comfortable talking to faculty, and others are very nervous about it because… they've been burned by miscommunications in the past."
The ACM runs an Institute on College Futures that educates faculty on the operational and budget sides of colleges, teaching them about common practices like tuition discounting. The goal is to spur conversation between, and build a common vocabulary for, professors and administrators on the campuses in the consortium's 14 colleges.
Language of Change
The 50-member faculty council at Creighton University, a Jesuit college in Omaha, Neb., last month unanimously passed a resolution of no confidence in the college's sweeping strategic plan. Thomas Coffey, secretary of the faculty council and a professor of modern languages at Creighton, believes that more than the substance of the plan, many faculty members are unhappy with the way the plan was communicated, shaped and delivered to university's stakeholders.
At first, Coffey says, the tagline behind the plan was "No Margin, No Mission," a mantra some faculty members found difficult to get behind. "It puts it down to the money first, rather than, 'Here's the mission, now we have to go manage the resources well.' It's too flippant."
Coffey said faculty often feel that the "corporate vocabulary" administrators sometimes use is "at odds with the mission."
"There are a lot of buzzwords you hear, and when I hear them I see people rolling their eyes," he said.
Before entering academia, Wheaton came from a business background, spending the first part of his career as a banker and then transitioning into nonprofits with a job at the United Way. When he began working at universities, he learned over time not to use the same terms he used with fellow financial offers with faculty members. For example, he would not call students "customers" -- a practice most financial officers have moved away from -- when presenting the budget to the faculty.
There are a lot of buzzwords you hear, and when I hear them I see people rolling their eyes. --Tom Coffey, professor of modern languages at Creighton University
Kneedler, the former president of Franklin & Marshall, said that while administrators have a responsibility to "speak in a clear fashion" and not use "an arcane sort of administrative speak," faculty members also must be willing to learn about the budget and recognize the financial constraints many universities are experiencing.
"It's important that faculty have a willingness to learn some terminology with which they might not be familiar, because the institution where they find themselves very likely needs to have skills in a variety of areas where they might not have been necessary 15 or 20 years ago, but they are absolutely vital today," Kneedler said. "To try to insulate oneself from the forces of change, to say, 'Oh these are buzzwords,' seems to me to be unproductive."
Ann Davies, provost of Beloit College, a liberal arts college in Wisconsin, said faculty members generally dislike vocabulary that hints at universities being a "transactional" enterprise.
"Faculty do react very negatively to things that are perceived as buzzwords or business jargon," said Masten, the Michigan faculty member and an economics professor.
"You'll hear administrators say universities are like businesses. There's truth to that. They have to balance budgets and have a lot of business-type functions," he continued, "but when administrators use that language, it's a signal to faculty that they aren't appreciating what the differences are between academia and for-profit businesses."