You have /5 articles left.
Sign up for a free account or log in.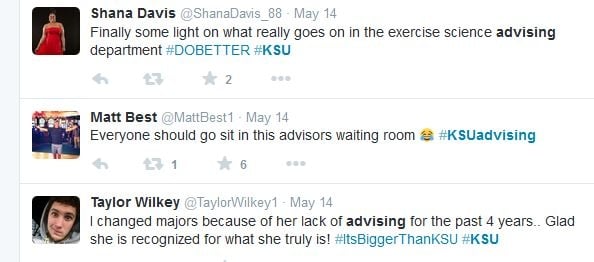 For some students, Twitter isn't just a space to vent.
Students frustrated with the slow pace of administrative responses to issues on campus are taking more drastic measures, going public on social media or sharing their stories with members of the media before officials can present their own solutions. And while the publicity does create an image issue for the institution and sometimes gets results, officials say answers to students' problems are often already in the works even before the issue becomes public and the added pressure doesn't change their plans.
When nursing students at Hudson County Community College found themselves charged an extra $450 in April, they were outraged. The students, 90 percent of whom receive some form of financial aid, went to local New York news channel PIX 11, which in turn sent media requests to the college. Four days later, the college announced it would absorb the additional cost, attributing it to a billing error due to a computer glitch.
But a college spokesman, Roger Jones, said college officials had planned on taking on the cost within 24 hours of learning of the issue, before hearing from PIX 11, and the media coverage had little to do with administrators' decisions.
"It's not just a matter of the way they voiced their concerns. What drove the decision was to not have it be a hardship to these students," Jones said.
PIX 11 claimed partial responsibility for the refunds in its coverage, but Jones said this statement was incorrect.
Elsewhere, students at Kennesaw State University have taken advantage of national media coverage after a student posted a video, which quickly went viral, of an adviser threatening to call campus police on the student if he didn't leave the advising office.
Kevin Bruce, the student who posted the video, also tweeted images of several emails between himself and the adviser, Abbie Dawson, in which he said she was unhelpful in answering questions about course selection. Other students have followed his lead, publishing similar interactions between themselves and Dawson. Dawson has since been placed on leave.
Students at Kennesaw held a sit-in in the university's student center Monday and submitted a list of demands to administrators, which include an apology from Dawson and a meeting with some of the institution's top officials. Kennesaw spokeswoman Tammy DeMel declined to comment because the matter is still under review.
And at the University of Southern California, an entire M.F.A. class left the Roski School of Art and Design, saying their admission offers were misrepresented and the quality of the program had declined since their enrollment.
An open letter the students published online said several key faculty members had left the program and their financial aid has been severely depleted. The school's dean, Erica Kuhl, said in a statement Friday that she and other school officials had met with the students several times and were under the impression that the issues had been resolved.
Many colleges and universities, including Kennesaw, offer ombudsmen to help mediate issues between students and members of the university. Kennesaw ombudsman Timothy Hedeen did not respond to multiple requests for comment.
Tom Kosakowski, associate director and ombudsman for the Center for Health Sciences at the UCLA Office of Ombuds Services, said he and other ombudsmen offer a more informal solution to problems within an institution, preventing easily resolved issues from making their way through schools' formal grievance processes and saving universities both time and money.
Kosakowski said students might "go public" rather than seek out his office's help or wait for an administrative response because students are unsure of where else to go.
"Part of it may be they have a really strong desire to expose wrongdoing, they think it's the most ethical option to make it known to as many people as possible," he said. "Or they may think it's the most effective way to force change in the institution, or if they've been unsuccessful with other things they've tried."
Nearly 400 institutions in the U.S. and Canada offer ombudsmen to students, according to a list compiled by Kosakowski, but these officials typically only offer guidance or mediate small disputes, lacking the power to determine outcomes on behalf of their universities.
USC does not have an ombudsman, but it does have policies outlining how students can file grievances against faculty, staff and administrators. The M.F.A. students had had multiple meetings with officials at the Roski School, including the dean, but still felt as if their concerns were not adequately addressed.
Kevin Kruger, the president of NASPA: Student Affairs Professionals in Higher Education, said official responses often aren't as fast as students are used to or want them to be. "Even if the university's working diligently, it's often too slow for the immediacy students want," he said.
Kruger said that while the social media commentary might create a public image issue for the institution, officials will stick to the original decision-making process in place at the time -- though they might fast-track a decision if the external pressure is great enough.
He added that administrators typically want students to voice their thoughts on problems and are willing to sit down with concerned parties and walk them through university policies and procedures.
He said the students' ideas and variety of ways of expressing their opinions, whether it's online or in person, are important contributions to the marketplace of ideas on campus.
"Giving them an audience for some of their concerns is sometimes just as important as being heard," Kruger said.
More from Residential Life