You have /5 articles left.
Sign up for a free account or log in.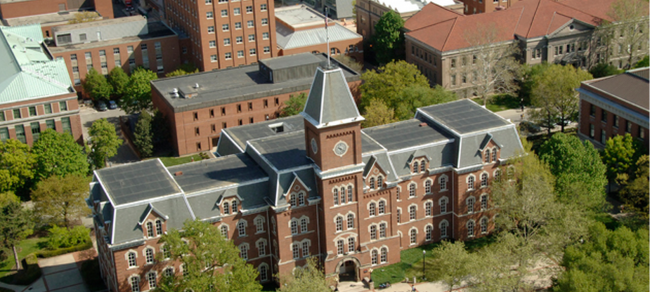 Larry Singell saw the writing on the wall well before his college was hit with a possible $8 million deficit.
Though the College of Arts and Sciences is by far the largest college at Indiana University's Bloomington campus, more and more students were enrolling with credits earned through high school programs and community colleges. Students, worrying about employability after college, were leaving majors like English and anthropology behind and picking professional colleges instead.
"There's no one reason why this is happening. As usual, it's complicated," Singell, dean of the college for the past four years, said of Indiana's deficit, which he says is a symptom of larger problems faced by liberal arts divisions within universities. "The budgetary problems are not one-year problems. This is not something that's going to be different next year."
Trends present in Indiana are present in colleges of arts and sciences across the nation.
Tim Johnston, president of the Council of Colleges of Arts and Sciences and the University of North Carolina at Greensboro's dean of Arts and Sciences, says enrollments in departments like English and history, which historically have been staples of humanities programs, are down nationally.
"That's partly a result of the economic situation, and students being very focused on the question of employment immediately after graduation," he said. "We are sensitive to, and affected by, shifts in student interest and the consequences of that interest on our programs."
Ohio State University's College of Arts and Sciences faces a $10 million deficit, a shortfall of about 4 percent of its $266 million operating budget. Administrators blame trends in enrollment. Department chairs, however, charge that administrators have failed to adopt an effective strategic plan for the college, causing it to flounder financially. Some say the university places a high priority on admitting students unlikely to be arts and sciences majors and are turning away students who could provide a better financial base for the college.
One in five students come to Ohio State having completed a full year's worth of course work, either through Advanced Placement courses or community colleges, eroding revenue from what has long been the bread and butter of colleges of arts and sciences: general education courses that are required of all students, no matter their major or college.
Meanwhile, Ohio State's College of Arts and Sciences saw an 11 percent drop in credit hour enrollment over the past five years, according to university data. Yet the College of Engineering grew by 56 percent and the business school grew by 12 percent.
During that same period, the number of students majoring in English and history dropped by a third.
In 2012 Ohio State went from offering courses in quarters to offering them in semesters, and in doing so changed its general education requirements. The change precipitated a 12 percent decline in credit hour enrollment at the College of Arts and Sciences, compared to an 8 percent decline for Ohio State as a whole, according to enrollment figures reported by the college.
Perfect Storm
As enrollment in the humanities has dropped by half in six years, the number of students applying to Ohio State's humanities programs has increased by 21 percent. That's compared to a doubling of applications for the university as a whole, according to university figures. Applications to the College of Arts and Sciences have also doubled, but the number of students enrolled has remained relatively flat and the number of credit hours has declined.
Faculty members question why enrollment has decreased while applications are up, and some allege that humanities are low on the list of the college's priorities.
"University policies are acting against the arts and humanities," said Harvey Graff, a professor of English and history and director of the college's literacy studies program.
Graff alleges that the university is more concerned with admitting -- and offering scholarships to -- students interested in colleges that have seen a surge of interest, as well as students from out of state, who pay more than double the tuition in-state students pay, and students with profiles that bring up the university's ranking, than with enrolling a student body that is fairly distributed among disciplines. As a result, some professional colleges have too many students, while the College of Arts and Sciences has too few, Graff says.
When colleges face financial difficulties, tensions between faculty and administrators can emerge, either due to breakdowns in communication over proposed cuts or disagreements over how a college is run. Such is the case at Ohio State.
Graff is one of nearly two dozen arts, humanities and social sciences department chairs and center directors at the college who expressed concern over the leadership of the college's dean, David Manderscheid, in a May letter to Ohio State's provost. They assert the college has been mismanaged and that the dean has been opaque in his decision-making process. Ten math and science department chairs and center directors penned a second similar, but softer worded, letter of concern.
Manderscheid declined an interview for this article, although he did offer a prepared statement listing enrollment declines and credits earned in high school as contributors to the deficit. He also defended his leadership, saying that he has been communicative with faculty.
At Indiana, applications have dipped alongside enrollment. The college has a $393 million budget and was anticipating a shortfall of $4 to $8 million in the coming year.
The number of students applying to Indiana's College of Arts and Sciences has declined by 13 percent since 2011, and the number of students admitted has dipped to 8 percent. This year about 12,300 students applied to the college, 900 fewer students than last year and 1,800 fewer than the year before.
Officials say an uptick of international students at the university has helped sway the pendulum away from the College of Arts and Sciences, as international students tend to enroll in professional colleges, such as business.
Meanwhile, students are bringing thousands of credit hours with them when they matriculate. Students can earn credit if they take AP courses and pass AP tests, or if they participate in the university's Advance College Project, which allows students to take college courses in some high schools and receive credit for a nominal fee.
Since 2013, 21,700 students have brought 166,700 outside credit hours to Bloomington, with 80 percent of those credit hours earned through high school programs.
"It's kind of a perfect storm in some ways," Jean Robinson, the associate executive dean for the college, said of the college's myriad of challenges.
Problems Within
Indiana and Ohio State use a responsibility-centered management budgeting model, meaning that officials are responsible for generating all the revenue necessary to pay for the college's expenses. With this type of model, money flows directly from credit hours. So when credit hours dip, so does revenue, and a deficit likely ensues. At most universities, while there is a link between an individual college's enrollment and its revenue, the link is not as direct, as divisions within universities often help subsidize one another.
The responsibility-based model exacerbates -- and perhaps makes more evident -- the financial issues that many arts and sciences colleges are facing because there are no cross-subsidies to cushion the budget. Some say the budgeting approach doesn't recognize the value of the liberal arts in supporting an entire university.
"We need to think about how we operate. There is a discipline that comes with this that says, 'OK, students aren't coming to our front door, how can we do things differently?'" Singell said. "It's not pleasant, but without being able to have this type of budget circumstance, it would be harder to convince faculty to change."
While each college at Ohio State and Indiana is responsible for generating its own revenue, disciplines within colleges subsidize one another.
One of Indiana's most financially successful and popular College of Arts and Sciences majors is economics. The college uses revenue from the economics department to subsidize other departments that aren't bringing in revenue. Yet economics faculty members are beginning to complain about the practice, saying they have too many students and not enough resources to educate them, since the revenue the program generates is being shared with other departments. For example, some upper-level economics courses have as many as 150 students enrolled, while upper-level courses in most humanities are much, much smaller.
"For a College of Arts and Sciences to be viable… you're going to need to have some width to the disciplines and there's going to have to be some cost subsidies that take place," Singell said. "But you have to decide how much you're going to do, and this environment makes the line a little finer."
It's inevitable, Singell says, that programs with poor enrollment will suffer: fewer faculty will be hired, which will lead programs to shrink.
"If that trend continues, it's worrisome. There are certain disciplines that are already pretty small, and getting smaller is complicated," Singell said. "Effectively what you're doing is cannibalizing positions in order to keep paying people. It's not a good long-term solution."
Rebecca Spang, a history professor, center director and member of the Bloomington Faculty Council, says that some departments within the college "may have gotten bigger than they need to be." The history program, for example, employs 52 full-time faculty members, and could afford to shrink.
Spang understands that while enrollments in humanities general education courses have "fallen dramatically" -- although she asserts some STEM fields, like natural sciences and mathematics, have also seen enrollment declines -- liberal arts programs are part of the overall Bloomington package that make the institution attractive, even for students who plan to major in engineering and business.
"Right now we happen to be seeing a boom of enrollment in the business school, but the reason why the business school is so successful is because it's part of a campus that includes the College of Arts and Sciences," she said. "It won't really be a campus without those elements, and I think everybody realizes that."
Search for Solutions
As Indiana and Ohio State face deficits, officials are looking at both long- and short-term fixes. In Indiana, faculty members at College of Arts and Sciences are receiving 1 percent raises on average, half the amount officials were originally budgeted to offer (other university units have also been authorized to offer faculty members a 2 percent raise). At Ohio State, the dean plans to scale back the number of lecturers and graduate students employed by the college, and the college's administration is reducing its budget next year by 4 percent.
While such Band-Aids will close the deficits projected for next year, both colleges need plans in place that will bring more revenue into the college and eliminate or minimize deficits in the years to come.
At Indiana, the College of Arts and Sciences is trying to attract more students by strengthening career readiness programs and by offering majors and programs that merge the humanities and social sciences with courses that are more typical in a professional school. One such example is the college's new School of Global and International Studies.
At Ohio State, the College of Arts and Sciences is emphasizing its STEM offerings in an effort to attract students. The school launched a new data analytics major in 2014, and its new neuroscience major has attracted 800 students since it was rolled out in 2012.
Officials at Indiana are also contemplating ways the college can respond to the national conversation about job readiness after college. They say they need to do a better job of preparing students for the workforce, and a better job of educating prospective students that they can get equitable employment with a liberal arts degree.
"There is a lot of talk among parents, and nationally in the media, of concern about jobs. The public perception -- and the very good public relations by professional schools that seems to resonate among parents and children -- is that it's a lot easier to get a job if you're in a professional school," said Robinson, the assistant dean at Indiana. "Colleges of arts and sciences, including our own, haven't done a good job about helping students and parents understand that if you take a slightly longer look, students in arts and humanities do just as well."
Johnston, leader of the CCAS, says there's a "mistaken emphasis" on a student's first job out of college. "A college education really is a preparation for life, it's not training for the first job you get," he said, adding that most people these days have "changeable and unpredictable" career paths.
Singell agrees, but recently had his own reality check when his daughter graduated from college last month. The milestone marked a huge achievement, but also the end of four years of hefty tuition bills.
"Admittedly, it's tough. I'm paying a lot of money for a college education -- you want them to get a job after graduation," he said, adding later, "Colleges of arts and sciences are going to have to evolve a little bit."