You have /5 articles left.
Sign up for a free account or log in.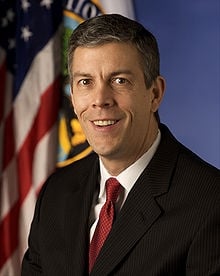 The federal government will forgive the debt of thousands of former students of Corinthian Colleges, the Obama administration said Monday as it announced a new debt relief plan that will extend to all federal borrowers who can prove they were defrauded by their college.
U.S. Department of Education officials unveiled a series of loan forgiveness measures aimed most immediately at helping students who attended the now-defunct for-profit Corinthian chain. But officials are also opening up debt relief to a far broader pool of students, and said they're anticipating claims from borrowers at other for-profit colleges found to have engaged in predatory practices.
Education Secretary Arne Duncan told reporters that Corinthian, which declared bankruptcy last month, "will not be the last domino to fall" in the for-profit education industry, which he criticized heavily in his remarks.
"This is our first major action on this but obviously it won't be the last," Duncan added.
For that reason, Under Secretary of Education Ted Mitchell said, the department is trying to create a loan forgiveness process that is "durable, not just for Corinthian but beyond."
Officials said they will hire a consultant to provide advice not only on how to judge the existing 1,400 debt relief claims they have received in recent months, but also how to structure debt relief procedures going forward.
Parts of the debt relief process remain undecided, officials said. But what is clear is that taxpayers will be taking a large hit as the department opens up debt relief for the first time to a pool of potentially hundreds of thousands of borrowers.
Large Cost to Taxpayers
The department has already decided that approximately 40,000 students who took out loans to attend certain programs at the Corinthian-owned Heald College are eligible to have that debt erased. If all those former students applied, it would cost taxpayers about $544 million.
But if all of the approximately 350,000 Corinthian students who took out federal loans in the past five years successfully applied for debt relief, taxpayers would be on the hook for as much as $3.5 billion, officials said.
Separately, the Education Department said Monday that it is expanding the number of borrowers eligible for a closed school discharge at one of the 28 Corinthian-owned campuses that suddenly shut down in April, shortly before the company declared bankruptcy. An additional 1,500 students who dropped out of those campuses between June and December of last year will now be eligible, officials said, bringing the total number to 15,000 borrowers who owe about $200 million.
Department officials said it is difficult to know the true cost of all the new debt relief measures.
"We don't know how many students will apply for this," Duncan said. "That's the big unknown at this point."
Mitchell, who oversaw the unwinding of Corinthian Colleges over the past year, emphasized that the department is operating within its power under the law in providing the loan forgiveness.
"The law is what makes students entitled to this kind of relief," Mitchell said.
How It Will Work
The department has already created a form for the approximately 40,000 Heald College students who are eligible for debt relief, which will be provided on an expedited basis, officials said.
Department officials said their own findings earlier this year that Heald College misrepresented job placement rates provided enough evidence to grant the debt relief claims of any student who signs a form saying he or she relied on the misleading information in deciding to enroll.
But other borrowers -- at Corinthian and other colleges -- who feel they've been defrauded will have to individually submit a debt relief claim. The department doesn't yet have an intake process for those forms.
The department will, in the next several weeks, hire a "special master" -- likely a lawyer with expertise in various states' consumer protection laws, according to an official who declined to be named -- to make recommendations on the debt relief claims. The official said that the department would likely retain the final decision-making authority.
No Clear Standards
The obscure federal law under which the Obama administration is providing the debt relief has been used only five times since it was first enacted in the 1990s. The Clinton administration in 1995 set the only current standard for such debt relief claims: borrowers can be relieved from their federal loans when their college's misconduct rises to the level of a state law violation.
But it remains unclear exactly what a borrower must prove in order to meet that standard.
"We haven't decided how we're going to weigh different sources of evidence" about a college's misconduct, said a department official who declined to be named.
At least two types of evidence of a college's misconduct, though, are likely to be sure bets to result in a successful debt relief claim, officials said: the department's own findings against a college, like the $30 million fine against Heald College for misleading job placement rates, or a state court's final judgment that a college has violated the law.
"Those are at the pinnacle of any hierarchy" of evidence, an official said. But other pieces of evidence of a college's misconduct -- like, say, allegations brought against a college by a state attorney general -- may not be enough on their own.
"This will be important work for the special master, how to weight different sources of evidence," the official said.
Reaction From Activists
The department's announcement comes after months of pressure from congressional Democrats and labor, student and consumer groups, as well as a debt strike organized by student activists, some of whom have refused to repay their debts in protest. A handful of state attorneys general also called on the department to act.
James W. Runcie, the top official in charge of the department's Office of Federal Student Aid, alluded to that pressure in a memo last week, seeking emergency approval from the White House's Office of Management and Budget to create a debt relief process.
The memo also references media coverage as adding to the pressure. "While coverage has been mixed, most stories imply that the department has not taken sufficient action to protect [Corinthian] students," Runcie wrote. "Over all, pressure is mounting for the department to act."
The Corinthian student activists said Monday that they were not satisfied with the department's debt relief process because it would require borrowers to individually prove their claims. They view that as an unfair burden for students to navigate.
"The Department of Education's 'solution' is a bureaucratically tortured process designed to provide relief only to those who hear about it and can figure out how to navigate unnecessary red tape," the debt strikers, who are organized under a group called the Debt Collective, said in a blog post.
The Education Department says it is working on ways to provide other group-based relief beyond Heald College. The department also said it would accept debt relief claims directly by email.
Other consumer advocates were less critical, praising the department's actions but saying they had remaining concerns.
The announcement is "a step in the right direction," wrote the National Consumer Law Center, which represents low-income borrowers. But the group said it was concerned about how the department will get out the word to students that they are eligible for relief.
Political Reaction
The department's announcement drew some bipartisan praise on Monday.
Representative John Kline of Minnesota, the Republican who chairs the House education committee, and Representative Robert Scott of Virginia, the top Democrat on the panel, said in a joint statement that they were "pleased" by the department's decision.
"A lot of men and women have been hurt by this unfortunate situation, including low-income and minority students," the pair said. "Helping those eligible students who have been harmed is the right thing to do."
Both Kline and Scott have previously been sympathetic to for-profit colleges, criticizing the Obama administration for its "gainful employment" rule aimed at cracking down on the industry.
Several Democratic senators who had been pressing the department to provide debt relief for Corinthian students also praised Monday's announcement.
Senator Patty Murray of Washington, the ranking minority member on the Senate education committee, said the department's actions "will provide critical debt relief for those dealing with student loans and limited job opportunities as a result of the company's actions."
Senator Dick Durbin, the Illinois Democrat and longtime critic of for-profit colleges, similarly called the department's actions "good news," but said he had some reservations that federal officials did not go far enough in providing widespread relief.
"We remain concerned about the effects an overly individualized adjudication process would have on the ability of many students to receive the relief they deserve," Durbin said in a statement with fellow Democratic Senator Richard Blumenthal of Connecticut.
The large cost that taxpayers will bear under the plan, though, did not sit well with Senator Lamar Alexander of Tennessee, the Republican who heads the Senate education committee.
"Students have been hurt, but the department is establishing a precedent that puts taxpayers on the hook for what a college may have done," Alexander said in a statement. He added, "This is one more reason it was a bad idea to make the U.S. Department of Education the banker for students as well as the regulator of their colleges." That's a reference to the fact Congress in 2010 approved President Obama's plan to end the bank-based lending program and switch to 100 percent direct lending.