You have /5 articles left.
Sign up for a free account or log in.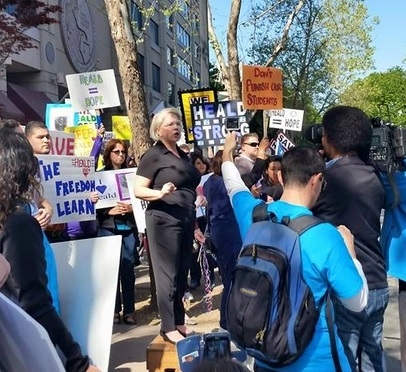 The U.S. Department of Education on Tuesday fined Corinthian Colleges nearly $30 million for misrepresenting job placement rates at its Heald College chain, which officials said the troubled for-profit education company must now begin the process of closing.
Department officials said the Corinthian-owned Heald, which mostly operates in California, provided inaccurate information about graduates' job prospects at each of its 12 campuses, with 947 misrepresentations in total.
The department ordered Heald to stop enrolling students and begin closing its programs, which currently enroll 9,000 students in California and at smaller locations in Oregon and Hawaii. As long as the company keeps those colleges open, department officials said, students will either be allowed to finish their education or transfer to other institutions.  
Education Secretary Arne Duncan said in a statement that the department's actions "should be a wake-up call for consumers across the country about the abuses that can exist within the for-profit sector."
Ted Mitchell, the under secretary of education, who has been overseeing the dismantling of Corinthian Colleges since last summer and brokered a sale of most of its U.S. campuses to the ECMC Group, called the company's conduct unacceptable.
"Corinthian violated students' and taxpayers' trust," he said in a statement. "Their substantial misrepresentations evidence a blatant disregard not just for professional standards, but for students' futures."
Corinthian disputed the government's findings. Spokesman Joe Hixson said the Education Department's "highly questionable, unsubstantiated allegations" were based on faulty data. He said in an email Tuesday night that the company planned to appeal the department's decisions.
'Serious Violations'
The department outlined the basis for the $29.7 million fine against Corinthian in a 14-page letter that describes what officials call "serious violations" of federal law and job placement disclosure rules.
The investigation found that the for-profit college paid companies to hire its graduates for as few as two days. The college then counted those graduates in its placement rates.
Corinthian also artificially inflated placement rates by excluding large numbers of their graduates from the calculation, according to the department. For example, it found that one criminal justice program boasted a 100 percent placement rate, but the college had removed almost 60 percent of the graduates from the calculation by deeming them unavailable for employment.
In other cases, the letter says Corinthian counted graduates as employed even though they were clearly not working in their field of study. For example, the department said, Corinthian claimed that a graduate of an accounting program working in a food service job at Taco Bell was employed in her field.
In each finding of a violation, the department imposed the maximum penalty allowed under the Higher Education Act, which is the federal law that governs financial aid programs.
The department's findings are similar to those of the Consumer Financial Protection Bureau, which sued Corinthian last fall. The CFPB alleged, among other things, that Corinthian's misrepresentation of job placement rates lured students into predatory private loans.
Setting the Stage for Debt Relief?
The department's action comes as the Obama administration faces increasing pressure from Senate Democrats, consumer groups, state attorneys general and student activists to provide debt relief for students who attended Corinthian campuses. Officials are considering ways to make it easier for some former Corinthian students to have their federal student loans canceled. But the department has yet to announce any decisions on the matter.
A long list of findings against Corinthian, though, may help boost the legal case of borrowers who argue they shouldn't have to repay the federal loans they took out to attend the for-profit college.
A group of activists, which includes 100 former Corinthian students who are refusing to repay their debts, has submitted 257 claims to the department with several hundred more on the way.
The feds will provide more information on how borrowers can file such claims "in the coming days," said a department official who declined to be named.
"This finding means we've proven that Heald College misrepresented many of their placement rates," the official said in an email. "That may be useful evidence for borrowers applying for relief from their loans from the department. At the same time, there are other things such borrowers would have to show."
California Attorney General Kamala Harris on Tuesday praised the department's actions against Heald College. In a statement she urged the department "to act quickly to relieve these students from their student loan debt burdens."
Maggie Thompson, who directs the coalition of mostly liberal groups known as Higher Ed, Not Debt, praised the department's enforcement action but called on officials to follow through with direct debt relief for Corinthian students.
"It's a step in the right direction but the real issue here is that these students who were the victim of Corinthian need a full refund and the chance to start over," she said.
Impact on Sale
The department's actions are likely to, at a minimum, complicate Corinthian's search for buyers for its Heald College campuses, which are the bulk of its remaining properties.
Hixson, the company spokesperson, said in an email that the department's announcement "further threatens Heald's future by potentially imposing added financial and operational hurdles to prospective buyers."
The department's aggressive action means the end for Heald, said Trace Urdan, who analyzes for-profit higher education companies for Wells Fargo.
"It's effectively putting them out of business," he said.
Corinthian had, as recently as last week, been trying to rally its students and employees in California to pressure the state's attorney general to back down from her demand that any future owner of Corinthian campuses assume liability relating to her ongoing lawsuit against the company.
Corinthian has until May 5 to appeal the fine directly to the department, to request that an administrative law judge hear the case, or to take both options.
The Education Department does not often impose punitive fines against a college or university, and it is even rarer for the amount to be as large as $30 million. It's not clear that Corinthian, which is already cash-strapped and faces a slew of other legal and regulatory issues, would be able to pay the fine.
Tuesday's actions do not affect the dozen or so remaining Corinthian campuses operating under the Everest College and WyoTech brand names. Most of those campuses are in California, with two locations in Phoenix and one in Rochester, N.Y.
Those campuses may continue to enroll students and receive federal student aid funding, a department official confirmed.