Christie Opposes Free Higher Ed
Governor, in education speech at Iowa State U, says some colleges are "drunk" on spending. But he also endorses more support for federal aid programs.
New Jersey Governor Chris Christie, an undeclared candidate for the Republican presidential nomination, used a speech at Iowa State University Thursday to attack the idea (gaining ground in Democratic circles) of free higher education. And he got in a few digs at college spending. But the governor also spoke of the value of higher education and singled out some federal aid programs he supports.
Buzz and Buzzkill on Free Higher Education
Independent Senator Bernie Sanders of Vermont, a candidate for the Democratic nomination, has called for free public higher education. Senator Elizabeth Warren, a Massachusetts Democrat whom many liberals want to run, on Tuesday proposed a path for every state to have a debt-free college option. And Hillary Clinton is expected to unveil her plan next month.
Christie came out strongly against the idea, although he stressed that he agrees that many students and families struggle to pay for college. "For too many students, they're caught between a rock and a hard place. They can go to college, struggle to get by and face crippling debts. Or they can not go to college -- and face the loss of economic opportunities and mobility that comes from that. It's time we stop making a college education a choice between the lesser of two hardships," he said.
But the solution isn't free higher education, Christie was quick to add: "It's not about just making higher education free. That is a typical liberal approach. It is wrong. And we know it. There are always costs involved, and if college graduates are going to reap the greater economic rewards and opportunities of earning a degree, then it seems fair for them to support the cost of the education they're receiving. Earning a degree should actually involve earning it."
What Can Be Done?
He said that it's time to spend more on key federal programs, and Christie cited as two examples the Supplemental Education Opportunity Grant and Perkins Loans. Generally, Christie said, "Congress should reconsider its spending priorities when it comes to higher education, and properly fund and expand student aid programs for the families at the bottom of the economic ladder. Everyone deserves a chance to climb that ladder, and it's the right thing to do."
He argued that middle-class students may be helped by new private sector initiatives. He noted that Iowa Governor Terry Branstad, a Republican, has endorsed an idea to give tax credits to individuals who donate to organizations that help reduce student debt. And Christie said he was interested in programs "where students agree to pay some percentage of their future income for a defined period of time in exchange for private financing. Unlike traditional student loans, the amount a student pays depends on their success."
Christie endorsed models that are gaining momentum outside the political process, such as the increasing use of apprenticeships and stackable credentials, which he sees as an alternative to the four-year degree.
"Right now, we encourage students to focus on earning one four-year degree, and to get all the training they need in a single burst. But increasingly, students want the flexibility to jump in and out of education as needed -- to follow jobs and opportunities during college when they need to, or to return to college later for additional training, as they require new skills," he said. "We should work to create stackable credentials so that students can re-enroll at different colleges without losing credits. That's going to make learning more efficient, more affordable and more responsive to the changing needs of industry."
Some College Bashing
Christie spoke at length of the importance of higher education, but he also said colleges need to be more transparent about spending, which should be required for them to be eligible for federal aid.
"Some colleges are drunk on cash and embarking on crazy spending binges, just because they know they can get huge revenues from tuition. We have million-dollar-plus salaries for education administrators, and millions more being poured into unnecessary college bureaucracy," he said.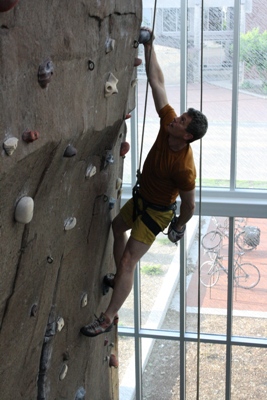 Christie also got personal, according to The Des Moines Register, in remarks that were not in the prepared text from which the rest of the quotes in this article were taken. The Register said that Christie complained about his daughter's $61,700 bill to attend the University of Notre Dame, and said that parents should know if any part of their tuition bills are paying for climbing walls.
"Do you guys have a rock climbing wall here?" he asked the Iowa State students. (The answer may be found on the right.)
While Christie may not be seeking to align himself with Warren's approach to higher education, they may have common ground: in her talk Wednesday, she blasted colleges for spending on climbing walls.
You may also be interested in...
Today's News from Inside Higher Ed
Inside Higher Ed's Quick Takes