You have /5 articles left.
Sign up for a free account or log in.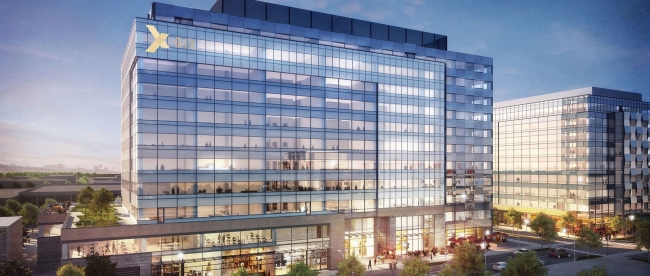 Courtesy of the University of Washington.
The University of Washington announced on Thursday that is creating a joint institute with Tsinghua University, a top technical university in China, with $40 million in initial funding from Microsoft. UW said that the institute, named the Global Innovation Exchange (GIX), will offer its first graduate program, a master of science in technology innovation, in fall 2016, and will grow from there to eventually enroll more than 3,000 students across a range of programs.
GIX will be housed in a new facility in the Seattle area, which will initially be leased by Microsoft. Its establishment in the Puget Sound region represents a reversal of the more typical movement by U.S. universities to establish joint campuses or research centers in China.
"The idea of the institute, the idea of GIX, is that we want it to be innovative, multidisciplinary and nimble," said Ana Mari Cauce, the University of Washington's interim president. When asked about some of the specifics regarding the institute's structure, Cauce said that she did not want to "close any doors," but that she expects, for example, that rather than having its own departmental structure, the institute will draw on professors from existing UW and Tsinghua departments who take on temporary or partial appointments with the GIX.
At this point, the initial degree -- which will focus on hardware, software, design, law and business-related questions surrounding Internet-connected devices -- is planned as a UW degree, though the university is interested in establishing joint degree programs with Tsinghua over time.
Cauce said GIX will emphasize interdisciplinary, project-based learning.
"We very much don't want to put walls around this, but there's no question that our first slate of programs will have that 'techie' feel," said Cauce, who noted that faculty members in art and design, business, computer science, engineering, and law are among those who have been most involved in GIX at the outset.
UW and Tsinghua are also interested in finding one or two additional university partners.
"It's hard to capture just the incredible excitement there is about this," Cauce said. "Tsinghua really is the pacesetter for innovation in China." Tsinghua, which is based in Beijing, is frequently described as the MIT of China.
"Just think about the kind of talent that is going to be in this area, side by side with the very great talent of our students here, and our faculty and their faculty mixing shoulder to shoulder," Cauce said.
Brad Smith, Microsoft's executive vice president and general counsel, said that "the opportunity to persuade the premier research university in China to establish a physical presence not only in the United States but in Puget Sound was really a unique opportunity to pursue."
Smith said that in addition to contributing funds, Microsoft hopes to provide ideas for research projects as well as to offer mentors and internships for students.
"Ultimately, if GIX is a success, every company in every part of the technology ecosystem in Puget Sound will benefit from that success," said Smith. "It will add to the talent pool, it will add to the innovation energy" of the region.
Tsinghua's media relations office declined to make the university president or another top official available for an interview and did not reply to emailed questions over several days.
Jason Lane, associate professor and co-director of the Cross-Border Education Research Team at the State University of New York at Albany, noted the significance of a Chinese university starting an outpost in the U.S. as opposed to the norm of American universities establishing presences in China.
"I think we're seeing a shift in the global perception of Chinese higher education as well," Lane said. "It used to be the undeveloped country we all wanted to go to and help develop; now we are recruiting them here because we see value."
GIX is somewhat analogous to an attempt -- so far unrealized -- by the University of California at Berkeley to attract multiple foreign universities to establish satellite locations at an education hub it's hoping to develop in Northern California (absent government funding, Berkeley's plans are premised on securing financial investments on the part of would-be foreign university partners as well as corporate donations and gifts from alumni and other donors). Another inexact parallel in terms of U.S.-foreign university cooperation -- and an inspiration for the Berkeley initiative -- may be the tech campus being jointly developed by Cornell University and the Technion-Israel Institute of Technology on land granted by New York City.