You have /5 articles left.
Sign up for a free account or log in.
When someone spray painted "KKK," "Black Lives Matter" and "Murderer" on the base of a statue of a Confederate soldier at the University of North Carolina at Chapel Hill, people took to social media to discuss the incident. Many -- including those who want the statue removed -- criticized the tactic, calling it vandalism. Some comments were quite critical of whoever wrote those things, with many comments assuming they were students.
"What's even worse that [sic] the vandalism is proof of failed educations provided to @UNC students. #UNCDisgrace #DumbLivesDontMatter," wrote one person on Twitter.
Others, however, refused to call the incident vandalism. Referring to the statue's nickname, another person wrote on Twitter: "#SilentSam was not vandalized. #SilentSam was already vandalism, disgrace to #UNC campus. #BlackLivesMatter made it better."
UNC Chapel is one of four universities since April where similar words have been written on statues, a building wall or a painting -- all of which are linked to racist figures or ideas from the Confederate or Jim Crow days of the South. Authorities are investigating all the incidents. The others:
At the University of Texas at Austin, the target was a statue of Jefferson Davis, president of the Confederacy.
At Winthrop University, someone used red paint to write "violent racist" on a painting of Benjamin Tillman, who in the 19th century was a powerful South Carolina politician and a participant and supporter in violent attacks on black people. Tillman also helped secure state funds for Winthrop and is honored in the name of the main administration building, Tillman Hall, where the painting was located.
At Clemson University, someone wrote "Tillman Was a Violent Racist" on a wall at that institution's Tillman Hall. Many on the campus have been pushing for the university to rename the building, but the board has rejected their requests.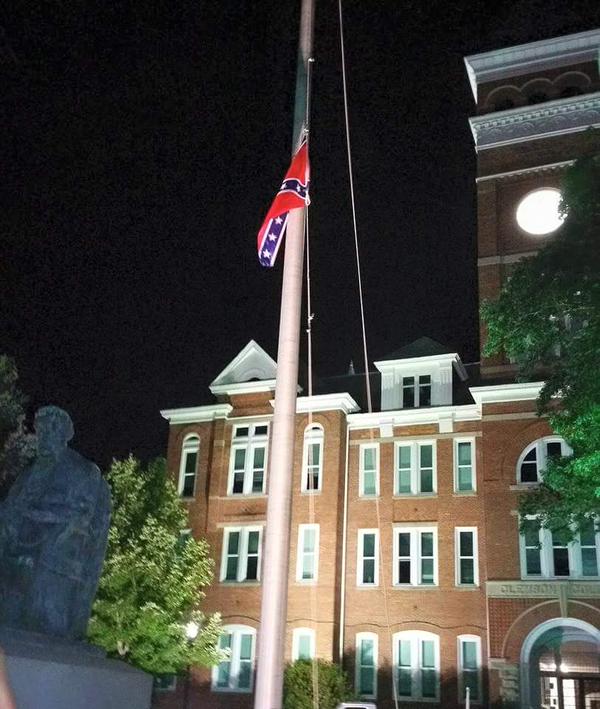 These actions also appear to be producing counterreactions. Images are circulating on social media (right) of a Confederate flag that someone raised at Clemson Monday night in front of Tillman Hall (where that flag does not normally fly). Clemson officials said that the incident, along with the spray painting in Tillman Hall, is under investigation by police and that the university did not authorize anyone to fly the Confederate flag. Clemson and the other universities with recent incidents have said that defacing buildings or statues is not an appropriate way to express views about these issues.
The defacing of these sites has drawn attention to the reality that -- just like the Confederate flag flying at South Carolina's State House -- images that are hurtful to many black students, faculty members and others have been an accepted and in some cases celebrated part of many campuses for decades.
At Winthrop and Texas, university leaders have created processes to review whether a building at Winthrop should be renamed or statues (there are multiple Confederate figures at Texas) removed. Clemson's board -- while recently backing the removal of the Confederate flag from the South Carolina State House grounds -- has insisted there is no need to change the name of Tillman Hall there.
And the UNC board, when it voted in May to rename a building that honored a Reconstruction-era leader of the Ku Klux Klan, also voted to impose a 16-year moratorium on renaming other buildings -- a move that some students say signals an unwillingness to make further changes to the campus related to its history. The board directed the university to work on ways to explain the institution's history, including racist policies of the past, and said that the moratorium would give officials time to create such an educational approach.
While the debates over these buildings have gone on for years (and in some cases decades), the more recent activism in the form of defacing statues and buildings is attracting the attention of experts in student affairs. While not endorsing vandalism, several said that these public, visible honors for Old South figures should be eliminated -- and that many campuses can expect more protests on these issues in the fall.
In the Internet era, when a student who might not have known Benjamin Tillman's history can quickly learn it -- as well as see protests taking place elsewhere -- activism is likely to spread, they said. Many students applauded when Bree Newsome opted not to wait for South Carolina lawmakers to make a decision on the Confederate flag, and instead climbed up the flagpole and took it down.
"While vandalism is clearly inappropriate, I hope that we focus on some of the broader issues," Benjamin D. Reese Jr., vice president for institutional equity at Duke University and president of the National Association of Diversity Officers in Higher Education, said via email. "There is a growing dialogue, surely to increase when our students return, about the symbolism of various statues, plaques and named building on our campuses. For me, it's not an issue of rewriting history, rather it's an appropriate discussion about the impact of certain symbolic representations, as our nation grapples with overt racism, subtle bias and microaggressions. Recent vandalism, although clearly inappropriate, is sometimes the light that shines on an issue, too long unspoken and ignored."
'Historical Guerrilla Warfare'
Mark Auslander, associate professor of anthropology and museum studies at Central Washington University, who has written extensively about ties between American colleges and the institution of slavery, said that many colleges have not addressed their own histories in this regard and should expect more "historical guerrilla warfare" as a result.
He said that the recent incidents shouldn't be viewed in isolation but as "symptoms" of "the vast work that remains in coming to terms with the underacknowledged histories of slavery, Jim Crow and institutional racism embedded in the U.S. system of higher education."
And Auslander said he doesn't view these recent incidents as vandalism. "I am not sure if the word 'vandalism' is quite right, in these contexts," he said in an email. "From the perspective of my many students and former students of color in particular, the continued retention of the names of avowed white supremacists and defenders of slavery and Jim Crow in the names of university buildings and residence halls -- as well as Confederate-themed sculpture and memorials -- is an everyday affront, a kind of symbolic violence that, many feel, helps to catalyze or implicitly legitimate actual instances of physical violence, such as the Charleston church shootings. Vandalism implies active, malicious defacing of property, but in these cases we are seeing active efforts by those who have so long been written out of the historical record to write themselves, quite literally, back into history."
Auslander said colleges benefit when they promote the telling of their full histories. He is the author of The Accidental Slaveowner (University of Georgia Press), which examines the role of slavery in the early history of Emory University, and has organized a wiki on slavery and colleges and universities.
Mitchell J. Chang, a professor of higher education and organizational change at the University of California at Los Angeles, said the people defacing statues and buildings believe that their views (and those of many people previously on campuses) have been ignored, over and over again. "They want their perspective to be noticed and to matter because they firmly believe that those reminders form conditions that negatively affect not only their experiences but also how others on campus negotiate this racial order," he said.
The view of some students, he said, is that "society has reached a painful moment whereby remaining silent about racism is no longer a viable option for them. Instead, the healing requires disrupting people's comfort level by making more visible what was once largely invisible."
Kevin Kruger, president of NASPA: Student Affairs Administrators in Higher Education, predicted that campuses would see more scrutiny of their decisions on buildings and statues, and more protests.
He said that the past six months have been "transformational" for many students. They have seen "violent protests in Baltimore," "the most horrific racially fueled violence in Charleston," the Supreme Court decision requiring states to allow same-sex marriage, "followed by a sudden spate of decisions to step away from the Confederate flag after years of contentious debate." He said that this series of "very public" events "is causing students to take a closer look at their own communities and to take action where they see names or artifacts that represent values they don't agree with." And he said technology means that every student action is instantly shared, with social media "spurring students to action."
Kruger said colleges need to expect more such incidents in the fall, and to consider whether it is in fact time to change some building names or statues. "In cases where the name or artifact is inconsistent with the values of the institution, tough decisions will need to be made about the intersecting value of preserving history and to use these as teachable moments -- or whether the very existence of the name or artifact is intolerable to the community," he said. Colleges need to be planning now, he said, for forums for students and others to discuss these issues civilly.
One thing "is certain," he added: "Students will care and notice the decision, either way."