Bethel College tells faculty members they can't take leadership roles in groups that differ from church view on creation. Are Christian colleges cracking down on supporters of evolution?
Bethel College, in Indiana, last month adopted a new policy on the creation of the Earth and humanity -- and applied it in a new way that has led one professor to quit and raised concerns among others about the state of academic freedom at the institution.
Bethel's statement, based on views of the Missionary Church with which the college is affiliated, says that "We believe that the first man, Adam, was created by an immediate act of God and not by a process of evolution." The statement affirms that "faculty are supported to investigate and teach all viewpoints on origins."
While professors have praised the pledge to uphold their rights in the classroom, many are concerned about another part of the new policy.
That part, at the end of the policy, states: "This statement does not intend to suppress faculty opinions about origins, but prevent public contradiction or disparagement of this corporate commitment. This permits faculty to participate in academic communities which might be at variance with the position statement in order to learn from that community, but faculty are not to advocate for, nor hold leadership positions for, nor sustain a contractual relationship with an academic community which may be at variance with the statement."
Effectively, this means faculty members can attend scientific meetings, but play no public role with them if they extend to evolutionary theory or if scientific groups back evolution. And specifically, the statement appears to make it impossible for faculty members to be involved with BioLogos, a group that promotes the idea that one can be a Christian believer and also embrace modern science, including evolution.
To many scientists at Christian colleges, BioLogos is an important organization in allowing them to, as Christians, push for the teaching of evolution. Some see the Bethel policy as a specific way to quash the role of BioLogos -- at least on the Bethel faculty.
Indeed, a professor widely hailed as a popular instructor at Bethel who was also involved in BioLogos has quit his faculty position rather than comply with the new rules.
Some academics at Christian colleges fear that recent developments at Bethel and elsewhere suggest a tightening by Christian colleges of what faculty members can say about evolution -- even if they are teaching within a context that reflects faith.
Northwest Nazarene University -- to widespread opposition from students and faculty members -- this year eliminated the job of one of its most popular professors, Thomas Jay Oord, who has promoted the idea that evolution is not inconsistent with faith. And last year Bryan College (named for William Jennings Bryan, the prosecutor in the 1925 Scopes trial of a public school teacher accused of teaching evolution) "clarified" its statement of faith in ways many faculty members said made the historicity of Adam and Eve so narrow that they could no longer agree with it.
In all three cases, faculty members who have found ways to work at Christian colleges for a long time, taking seriously the faiths of the institutions at which they taught, suddenly found it impossible to continue. The reality is that many Christian colleges do look the other way on some teaching of evolution. Many professors say that as long as they stay away from human evolution, they are not in trouble. The new Bethel statement, for example, specifies that "macroevolution among animals is not addressed here."
Resignation and Fallout
Only a few weeks after Bethel announced its new policy, Jim Stump, a longtime professor of philosophy and director of the college's honors program, resigned. In a statement he issued with the college's president, Stump said he was not pressured to leave, but opted to do so because he wanted to pursue work that wasn't consistent with the college's new policy. (He is now working at BioLogos.)
Stump did not respond to repeated email messages and phone calls. And some Bethel faculty members said they were not surprised about this, even after he left the college, because many there fear speaking out against the new policy.

On Friday, the conflict attracted more attention when Deborah Haarsma (right), president of BioLogos and formerly physics and astronomy chair at Calvin College, discussed the issue in a blog post. "We are deeply aware of the challenges of discussing human origins in an evangelical context. We also respect the board's right to set boundaries on that discussion at their institution," Haarsma wrote. But she went on much more critically.
"Yet we are concerned that a decision like this effectively sets faith commitments in opposition to clear scientific evidence in God's creation. We would like to see Christian colleges encouraging their scholars to engage the scientific evidence that humans evolved, and acknowledge that this can be done without letting go of biblical authority," she wrote. "The issues are complex and interdisciplinary, so the evangelical church needs to hear the insights of many Christian philosophers, biologists, theologians and other scholars. We are also concerned that Christian college students, especially those who feel called to scientific careers, will see policies like this as a sign of conflict between Christianity and science and feel forced to make an unnecessary choice between them."
Haarsma concluded: "There's a lot at stake for the church in this conversation, not just in doctrine but in evangelism, discipleship and the church's impact in the public square. Jim's departure is an unfortunate loss for Bethel College and its students, who will no longer be taught and discipled by this fine scholar and committed Christian. We all owe it to the next generation to keep engaging the evidence in God's world, even the evidence for the evolution of humans, while upholding the authority of God's word."
Social media comments have been more harsh than the BioLogos post. Two comments on Twitter, for example: "Sad for my alma mater (@BethelCollegeIN), my mentor & the future. Disappointed in the fearful MC denomination" and "Because it's not hard enough already to attract and keep talent at evangelical SLACs." (MC refers to the Missionary Church and SLACs to small liberal arts colleges.)
One professor who asked for anonymity out of fear for his job for criticizing the new policy said that a major concern was that the rules "seem clearly crafted to eliminate a professor" and have succeeded in doing so. He said it was "very problematic" for a college to restrict the groups with which one could play a meaningful role. "This policy seems like a very hard turn toward a particular brand of Christianity, toward fundamentalism," said the professor. "To me, a small Christian liberal arts college should be a place with a wide space of acceptable belief."
He noted that in discussions of the policy, administrators frequently spoke of receiving calls from parents of prospective students, with the parents wanting reassurance that the college was committed to a literal view of the Bible. "As Christian colleges become more concerned about enrollment, they are paying attention to some of the loud fundamentalist voices, and are trying to make sure they are still going to get students" from families who don't want any deviation in thinking. "Time and time again, this came up," he said, even if administrators would then deny that was their rationale.
The Bethel Brand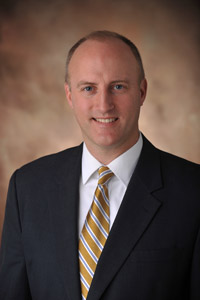 Gregg Chenoweth (right), Bethel's president, responded via email to questions about the situation. He noted that the curriculum dealing with human origins is only about "0.2 percent of a bachelor's degree," but said that it is "doctrinally loaded, and of increasing importance to many constituents." He said that, for a long time, Bethel faculty members and administrators were asked about the college's position on these issues and people heard "positions, not a position, and Bethel is branded by whomever you ask."
The process of producing a statement started under his predecessor, in 2012, and Chenoweth said he was pleased to finish the process because he thought "a public statement would bring stability."
As to questions of academic freedom, Chenoweth noted that the statement offers much freedom to professors, just not unlimited freedom. "Bethel faculty retain very wide protections in academic freedom, but that freedom is limited in some very small ways due to this statement," he said. "The statement even affirms that personal opinions are not sought to be suppressed, only public contradiction or open disparagement of the college's corporate commitment."
He also defended the idea that some limits on academic freedom are appropriate. Wrote Chenoweth: "Academic freedom is freedom to, not freedom from. It is freedom to fulfill professional responsibilities to completely and expertly educate students in the full body of knowledge of their discipline, but never freedom from the community which defines the institution. Bethel faculty are not only accountable to the academic community, but the church as well."
Janna McLean, a biologist who is dean of arts and sciences at Bethel, said via email of the new statement that it "doesn't change what we are teaching or investigating, but it does clarify that we are to approach this work in a way that honors the position of the Missionary Church denomination. Since Bethel College is affiliated with the Missionary Church, this seems reasonable to the faculty I have spoken with." She also noted that the statement imposes no limits with regard to "organisms other than humans."
She added: "I know that faculty have some questions about how to approach some specific topics in a way that honors the statement. They might be thinking about topics that they've taught for years, and now they're looking at them with fresh eyes and wondering if they need to give additional class time on particular issues, or include more specific information on the position of the denomination. We in the administration have been discussing ways we can support faculty in working through these questions."
Diversity Among Christian Colleges
The Council of Christian Colleges and Universities answered some questions via email on science and evolution at member institutions. The statement stressed that there is not one approach to these issues.
"There is wide diversity of opinion within the member institutions consistent with their stated missions," the statement said. "All institutions present the breath of scientific data, even those who privilege a particular point of view. The evolutionary record is not a settled question and the interesting work for faith-based schools is the intersection of faith with the emerging scientific record. This intersection creates open discussion about all aspects of the human understanding of faith and science. In some universities, it would be politically incorrect and possibly career ending if a person wanted to privilege a creational understanding."
As to whether there is any shift at Christian colleges to oppose those who believe in evolution, the statement disputed this analysis. "There is no evidence for that. In fact right now we are hosting a faith and science event sponsored by the Templeton Foundation and over 25 institutions are involved and many more applied to participate. However, as theistic evolution has become more prominent, some institutions have more clearly articulated their long-standing theological beliefs."
You may also be interested in...
Today's News from Inside Higher Ed
Inside Higher Ed's Quick Takes