You have /5 articles left.
Sign up for a free account or log in.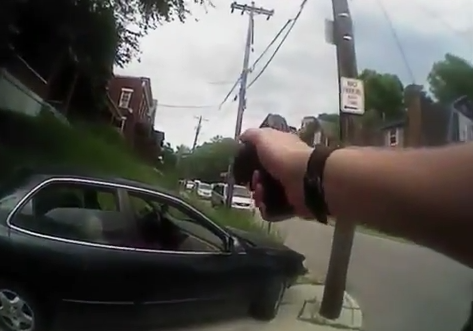 During a widely anticipated news conference Wednesday afternoon, an Ohio county prosecutor announced that a white University of Cincinnati police officer would be indicted for the murder of Samuel DuBose, a black man shot by the officer during a traffic stop on July 19.
Prosecutor Joe Deters called the killing "asinine" and "senseless" during the news conference, saying that Ray Tensing "should never have been an officer," and released footage of the shooting from Tensing's body camera. Earlier in the day, the university canceled classes and called on surrounding police districts to help ward off any potential riots on campus.
But Deters also called for the University of Cincinnati's police force to be disbanded and replaced with officers from the Cincinnati Police Department.
Deters, who has earned two degrees from the university and is a former trustee, described the institution itself as "wonderful" but said it shouldn't be doing police work on campus.
"They're not cops, and we have a great police department in Cincinnati, probably the best in Ohio," he said. "And I talked to the [city police] chief about it today and I said, 'You know, you guys should be doing this stuff,' and I think he's in agreement with it."
In a separate news conference later in the day, University of Cincinnati President Santa Ono fielded questions addressing Deters's proposal, saying the university has no plans to disband the campus force but does plan a review of the department.
Ono announced last week that the university would join Cincinnati's Collaborative Agreement to help improve relationships with community members. He also said at the time that the university had reached out to officers from Cincinnati's Fifth and Fourth Districts to help patrol the boundaries of campus and that university officers would remain on the campus and not perform any traffic stops outside the campus grounds.
Ono said during the news conference that campus officers have different requirements from city police because the officers at a university have different responsibilities and scenarios that are oriented more toward students than toward the diverse group of people the average police force might interact with on a daily basis.
"It's really a specific field where a police officer is working with students a lot, so they need a lot of experience working with them. There are also a lot of federal guidelines that they're working toward," Ono said.
He added that he had met with DuBose's family that morning, including one of DuBose's stepdaughters, who is a student at the university, and that university officials were in the process of discussing different ways the university could help the family.
When a student died after being shocked with a Taser by a University of Cincinnati officer in 2011, the family was awarded $2 million in a settlement with the university. The victim's two siblings also received free undergraduate educations at the university.
City Police on Campus
Generally, a campus police force patrols an institution, although there are a couple exceptions to the rule. Auburn University does not have a police force but instead relies on the City of Auburn Police Department for law enforcement.
The University of Cincinnati police force is not accredited, but officers are allowed to carry weapons. Ninety-four percent of armed officers at more than 900 institutions were authorized to carry firearms, and nearly 70 percent of colleges and universities operated full police departments on campus in 2012.
William Taylor, president of the International Association of Campus Law Enforcement Administrators and chief of police at San Jacinto College, said most colleges began creating their own forces after clashes between students and police broke out during Vietnam War protests in the 1970s.
He said the quality of campus police forces is about equal to that of municipal police departments, because both choose from the same pool of applicants and both kinds of officers have to follow the same state requirements and policies.
Taylor called the prosecutor's comments "disheartening" and said the police department at the University of Cincinnati should not be judged on the actions of a single officer.
"I'm concerned to see that kind of public statement made, because it's stating everything that's wrong with the department based on a single incident," he said.
Taylor also noted that the chief of police at the university, Jason Goodrich, has been in his position for a relatively short period of time (less than two years), and that the force could be in a period of transition.
Chuck Drago, a former police chief and a police practices consultant, said that if a campus police department is trying to put reforms in place and bringing it to a level where it can be accredited, as Goodrich is, community members have to be patient while those changes take effect.
"If you see evidence of this chief trying to fix things and they brought him in to do it, as I assume they did, he needs a fair amount of time to do it," he said.
Twelve officers were sworn in to the University of Cincinnati force in March, bringing the total to 72. In November of 2014, that number was only 51.
Drago said that if the university runs the police department, university officials get to dictate policy. Otherwise, the university is at the mercy of local law enforcement.
"The city of Cincinnati would have to reach an agreement that would provide the type of police the school would want, just like any jurisdiction would want to define the type of police department a jurisdiction has," he said.
S. Daniel Carter, director of the 32 National Campus Safety Initiative, said it was "an incredibly short-sighted and dangerous call" made by the prosecutor, noting that specialized campus police departments have been the norm for more than 40 years.
"It would be dangerous to replace them with a unit of city police from the police department of Cincinnati," he said.
Healing on Campus
During the prosecutor's news conference, DuBose's family and their lawyer called for peace in the city. In 2001, the city suffered millions of dollars in damages after riots broke out in response to the death of a black man at the hands of a white officer.
A protest by the group Black Lives Matter Cincinnati was planned for 6:30 p.m. Wednesday outside the Hamilton County Courthouse, where the officer turned himself in earlier that day.
While the Cincinnati police department has received praise for its reforms in recent years, Christina Brown, a University of Cincinnati alumna and Black Lives Matter Cincinnati activist, said that replacing campus police with city police wouldn't help to solve the racial and law enforcement issues on campus.
"It's just changing the uniform," Brown said, adding that the police still need to recognize the systematic cultural and racial issues on the city campus.
She also called the university's response to DuBose's death "problematic" because no statement was issued until 72 hours after the incident and the president's statement offered condolences to the family but no mention of a transparent investigation.
She said that the university should take this opportunity to reflect and determine the best way to "not move beyond, but work through" the racial issues and conflicts the university community faces.
"If we can't honestly analyze these issues at an institution of higher learning," Brown said, "where can you do so?"