You have /5 articles left.
Sign up for a free account or log in.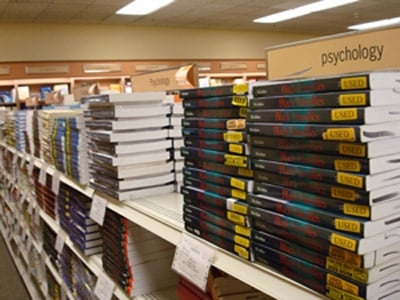 When the University of Michigan at Flint recently took inventory of the textbooks used by students during the winter 2015 semester, it found what American Enterprise Institute scholar Mark J. Perry called a "new milestone" in the textbook affordability debate: a $400 textbook.
The outrage is not new. Perry, professor of economics and finance at the university, noted in a blog post that textbook prices increased by 161 percent between 1998 and 2014 -- more than the cost of medical care and new homes. Going back to 1978, prices are up 945 percent. With the fall semester weeks away, stories about college bookstore "sticker shock" and listicles on how to save money on textbooks are sure to pop up. 
But in this case, the culprit was a textbook used in a 400-level chemistry course, which does not leave students many opportunities to find a less expensive alternative. While efforts to contain costs and increase access to course materials are well underway, those initiatives rarely target upper-level courses. And because of the advanced subject matter, fewer students have likely taken those courses in the past, meaning fewer used textbooks on the market. 
Faced with the prospect of paying several hundred dollars for a single textbook, some students may choose not to buy. A 2014 survey conducted by the United States Public Interest Research Group found 65 percent of students have done just that, even though virtually all of them feared it would hurt their academic performance.
"That's the danger," Perry said in an interview. "I don't see how it can be sustainable."
Open educational resources are also harder to come by in upper-level courses -- at least for now. Many OER and affordable textbook providers, seeking to gain a foothold in the market, have targeted large lecture courses. Creating affordable alternatives to the most expensive textbooks may save an individual student the most money, but for a company, such a strategy doesn't make financial sense, publishers said.
OpenStax College, a textbook publishing initiative out of Rice University, exemplifies that approach. The publisher offers free textbooks meant to be used in introductory courses in biology, chemistry and sociology, among other disciplines.
"Right now what [OER providers are] trying to do is reach the greatest number of students," said David Harris, editor-in-chief of OpenStax College. "As you move up into those upper-division courses, the enrollments are going from hundreds of thousands -- perhaps millions -- of students to tens of thousands. It's a different need."
OpenStax College published its first textbook about three years ago. This fall, its titles will reach an estimated 200,000 students at 2,000 institutions, Harris said.
The publisher relies on foundational support to operate, however, and is at the moment funded through 21 titles, Harris said. Its backers include the Bill & Melinda Gates Foundation, the William and Flora Hewlett Foundation and the Twenty Million Minds Foundation, among others.
Other publishers have experienced the limits of free. Flat World Knowledge, an affordable textbook provider, in 2013 replaced its free access tier with a paid electronic access tier. At the time, the move was billed as a way to "make our business healthier."
"We decided from a business point of view that having an affordable option at $24 was more sustainable than just having a bunch of free PDFs out there," CEO Christopher Etesse said. "They were sort of static, not getting updated. It was just not a good learning experience."
Flat World Knowledge began with large lecture courses, but has since expanded into upper-level courses. Its catalog now contains about 110 titles, including books covering advanced topics in business and management courses. Etesse said the textbooks, which are also offered in print for $89 or $139, are used by about 250,000 students, 6,000 faculty members and 2,000 institutions a year. Those numbers have nearly tripled over the last two and a half years, he said.
Instead of tackling one upper-level course at a time, OER and affordable textbook providers may over time focus more on degree programs with zero textbook costs, Etesse and Harris said.
"The ability to measure learning across an entire degree program is really where we're headed in the future rather than just on a course-by-course basis," Etesse said.
Tidewater Community College in Virginia worked with OER providers to launch such a program in fall 2013. Known as the Z-Degree, the associate degree program in business administration has so far enrolled more than 2,500 students and accumulated $253,400 in savings on course materials, said Sharon Morrissey, vice chancellor for academic services and research at the Virginia Community College System.
"Students who are trying to scrape together enough money just to pay tuition and go to colleges are living on the edge," Morrissey said. "This is a way to make all learning materials available to all students from the very first day of class, so it's a significant change in thinking about student preparation."
Morrissey said the community college also saw gains in retention, as well as in faculty awareness of how course readings connected to desired student outcomes.
In May, the VCCS received a $200,000 grant from the Hewlett Foundation to expand the effort to other institutions. The goal, Morrissey said, is to support the creation of textbook-cost-free degrees at 15 community colleges in Virginia.
But Morrissey stressed that she did not think courses that trade textbooks for online course materials are a good fit for every faculty member and student. Some faculty members may not want to put in the effort of evaluating and customizing free resources, she said, while some students may be more comfortable with a physical book.
"OER classes are successful because the faculty who teach those classes have bought into the OER strategy," Morrissey said. "Some faculty have bought into that, others have not.… Our end goal overall is to drive down textbook costs across the VCCS, and we're trying to reach that through multiple avenues."
More from Books & Publishing