You have /5 articles left.
Sign up for a free account or log in.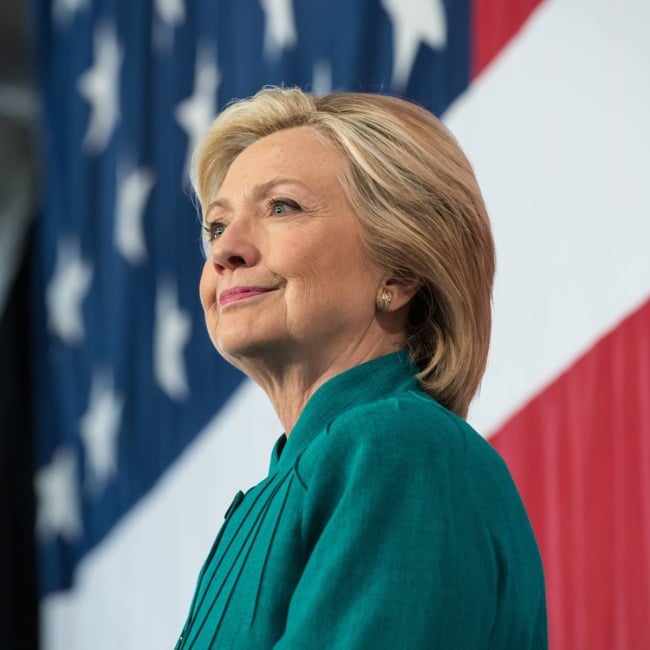 Hillary Clinton will today unveil a massive plan to make higher education more affordable, student loan debt less burdensome and states accountable for supporting their public colleges. The plan -- which would cost $350 billion over 10 years -- is one that campaign officials say will be central to her candidacy for the presidency.
The plan touches on many other aspects of higher education policy beyond tuition and state support, promising lower interest rates on student loans, tougher rules for for-profit higher education, new grants for private colleges that have small endowments and serve large numbers of low-income and minority students, and a major expansion of AmeriCorps, through which those who perform national service may receive funds for college or repay student loans.
The plan, if adopted, would create many more opportunities for Americans to earn a four-year degree at a public college without spending or borrowing as much as they do now. And the plan would create -- for many students -- options that are debt-free or effectively free. But the plan stays away -- intentionally, according to campaign officials -- from broad promises about making higher education free or debt-free for everyone.
With the plan, Clinton puts out an alternative on college affordability to those of Senator Bernie Sanders and her other rivals for the Democratic presidential nomination. The campaign's fact sheet states: "Lifting incomes for working Americans is the defining economic challenge of our time. And to raise wages, there is no better investment we can make than in education."
The plan, called the New College Compact, would:
Provide grants to states, which would be given to four-year public colleges that pledge to create no-loan tuition plans for students and community colleges that charge no tuition. The grants (based in part on requirements outlined below) should bring down tuition for in-state students across the board at these colleges. In theory, some public institutions might opt to participate and others in the state might not.
States would be required to "halt disinvestment" and provide more money to public higher education, so that the infusion of federal funds would add to total support for higher education and not allow states to spend less.
Stipulate that the debt-free options do not use Pell Grant funds, meaning that Pell-eligible students would be able to use those grants for living expenses and minimize their need to borrow.
Link the size of federal grants to states to the proportion of low- and middle-income students enrolled in the state's public colleges. The plan would use existing federal programs to provide support based on graduating large proportions of these students.
Set family contributions for college expenses at "reasonable" rates and base financial need calculations on an expectation that students work 10 hours a week.
In cases where a state declined to participate, create a path for public colleges to do so directly with the U.S. Education Department.
Cut the interest rate on federal student loans "significantly" to eliminate any profit that the government makes on these loans.
Allow everyone with current student debt to refinance at today's relatively low interest rates.
Create a new program to help "modest endowment" private colleges keep tuition low and promote better graduation rates. The program will be designed for minority-serving institutions and others that serve a high proportion of Pell-eligible students.
Expand the AmeriCorps public service program (a favorite of President Bill Clinton) from 75,000 to 250,000 students annually.
Accountability and Accreditation
The Clinton plan would also embrace new accountability measures, some of which may be controversial with colleges. For example, a fact sheet on the plan states that "our colleges and universities should be up-front about graduation rates, likely earnings and likely debt, and how those metrics compare with other schools. Clinton's plan will make sure that students can shop around, rather than roll the dice."
President Obama made similar arguments on behalf of his ratings plan, on which he has since pulled back, and faced significant pushback from many higher education leaders who feared such statistics and comparisons would be oversimplified.
The plan would also require colleges to have "skin in the game," such that colleges are penalized when too many students fail to graduate and are left with debts. The campaign said that Clinton would "embrace bipartisan efforts," such as the bill introduced last week by Senators Jeanne Shaheen of New Hampshire, a Democrat, and Orrin Hatch of Utah, a Republican, to require colleges to share the default risks and measure loan underperformance in new ways.
As for accreditation, Clinton both called for reforms and affirmed the importance of accreditation. Senator Marco Rubio of Florida, a candidate for the Republican presidential nomination, recently outlined a higher education platform in which he called for ending the accreditation "cartel," and creating a system that "welcomes low-cost, innovative providers."
Clinton advocated changes, but also suggested that accreditors are wise to hold new programs and new modes of delivery to rigorous standards. And she implied that online learning -- or at least some of it -- has quality issues.
The Clinton plan will "ensure that accreditation does not stifle innovation and keep out promising new entrants -- but set standards high for existing and new entrants," the campaign document said. "Title IV funds [federal financial aid] will be a lever to ensure accreditors are open to low-cost, technology-enabled programs. But we will rigorously evaluate outcomes to make sure these programs work. We must restore integrity to online learning and will not tolerate programs that fall short."
Tough Line on For-Profits
The Clinton campaign's fact sheet also indicates that she will take a tough line on for-profit higher education. In the plan, Hillary Clinton endorsed several measures that for-profit colleges are already opposing -- and perhaps Clinton will reassure some for-profit critics who have wondered about her views in light of President Bill Clinton's lucrative relationship, since ended, with Laureate Education.
The outline of the Clinton higher ed agenda said that Clinton will "strengthen and defend" the gainful employment regulations that the Obama administration has pushed in a fairly intense legal and political fight (which isn't over) to deny participation in aid programs to some for-profit institutions based on the ability of graduates to find good jobs.
Further, Clinton is pledging to "crack down on lawbreaking by for-profits" by expanding support for the efforts of numerous government agencies to "enforce laws against deceptive marketing, fraud and other illegal practices."
She also repeated a vow to take action to help veterans recruited by for-profit colleges. Clinton said that she would "close the 90-10 loophole" that she said colleges use to "prey on veterans." The rule prevents for-profits from receiving more than 90 percent of their revenue from federal sources. But under current regulations, veterans' and military service members' educational benefits do not count toward that 90 percent limit, and Clinton is joining a number of Democratic members of Congress who want those funds to count, potentially resulting in some for-profits losing eligibility for aid programs.
Paying for the Plan
In providing some detail on the financing of the plan, Clinton campaign materials said that about half of the $350 billion cost would come in direct grants to states and colleges. And one-third would come from debt relief by lowering interest rates on student loans.
The source of funds: "closing tax loopholes and expenditures for the most fortunate." (Such sources of funds tend to have a hard time winning approval in Congress, at least as currently composed.)
The campaign's fact sheet makes a case for these actions by saying that "we need to make ambitious investments so that cost is no longer a barrier to college education, and the burden of debt does not hold back everyday Americans."
Clinton would significantly outspend Sanders, who has called for $18 billion a year in state grants to allow them to slash public college tuition.
Help for All Kinds of Students
A campaign adviser on education who spoke on condition of anonymity said in an interview Sunday that the plan would help all kinds of students. Everyone would have free tuition at a community college. And four-year public colleges would become more affordable. While some students might still have to borrow for nontuition expenses at public institutions, that borrowing would be minimal compared to what students are taking out in loans today. Further, the program should create "some debt-free options" for those students who want to avoid all debt.
For those at private colleges, there will be immediate assistance in the form of lower interest rates on student loans, she said.
While many students would end up with a debt-free education and a very low-cost higher education, the campaign wants to avoid calling the plan "debt-free" or "free" higher education, she said. "Sometimes 'debt-free' is thrown around in the Washington chattering classes" and people don't realize that such plans aren't as free or debt-free as described, the Clinton adviser said.
The plan is also based on the idea of all players -- federal and state governments, families, students, colleges -- doing their parts, she said. But the expectations are reasonable. For example, she noted that research has found that working 10 hours a week has a positive impact on completion rates (while working many more hours a week has the opposite effect).
By stressing the obligations of all parties, as opposed to a "free" message, the aide said an important message was being sent. "One of the things that is important and gets lost is that college is still a really good investment," she said. "We think everyone should commit to it."
Sandy Baum, a senior fellow at the Urban Institute and an expert on college costs, has been advising the Clinton campaign and describes herself as "highly supportive" of the campaign, but not on the Clinton staff. (She was authorized to speak on the record, unlike the aide quoted above.)
Baum praised the proposals being made today. "I think it's very important that she is stepping up and addressing what everyone knows is a very real problem, that too many students are struggling with student debt, and too many students are not succeeding with college," she said.
In the past, Baum has been critical of some "free" college plans for not focusing enough on the resources needed both by students and colleges. She noted that the Clinton plan avoids these problems, by assuring increased funds to public colleges to make up for lost tuition revenue. She also noted the recognition of the Clinton plan -- in provisions like requiring that Pell funds not be relied on to create a debt-free option -- that many students' nontuition obligations are a key factor in their ability to enroll or their need to borrow.
"Any campaign plan is going to have details that need to be worked out," she said. But this one, right from the start "is designed with attention to the resource issue. It involves assurances about the money that the state is putting into higher education, so that the state can't just replace its funds with federal funds." And this matters, Baum said, to assure quality and affordability, not just the latter. It is better for some students to borrow modestly (for nontuition expenses at four-year institutions) than for everyone to be promised such a low price that quality would suffer, Baum said.
"I am pleased that they are trying to address this problem in a meaningful way without saying everything will be free."
Peter McPherson, president of the Association of Public and Land-Grant Universities, said that he needed to learn more about the plan, but that based on what he has heard, he was struck that it has "many complexities" that need study. But he said he "appreciated the concept" of a new federal-state partnership to provide needed resources to public colleges and universities.
He said that there has been "a real problem of some states reducing their appropriations for higher education," and that it was important for plans to deal with "access, quality and completion," not just any one of those factors. "It's time for a public discussion" on these issues, McPherson said.
Molly Corbett Broad, president of the American Council on Education, also praised the idea of a public discussion on helping families afford higher education. "A presidential election is the time to consider broad changes to public policy, and this is a big, bold and complex proposal," she said via email. "With the widespread public interest in helping students and their families finance a college education, it is not surprising to see this and other proposals put forward as part of the conversation around how to make college more affordable and encourage states to invest appropriately in higher education. We look forward to participating in that discussion."
Sarah A. Flanagan, vice president for government relations and policy development at the National Association of Independent Colleges and Universities, was critical in an interview of a series of proposals -- including President Obama on free community college and Sanders on reduced-cost public higher education -- that she said represented a significant shift in public policy. She said that, for generations now, federal support for students has gone to the student, who in turn decides where to take the aid. These new plans, she said, direct federal support to public institutions (even if there are some pots of funds for those at privates).
"This is an emphasis on institutions over students," she said. And Flanagan said that many private colleges serve large numbers of low-income students and are not wealthy institutions with extravagant campuses -- at a time when many public colleges and universities are recruiting wealthy students.
"We're doing public policy based on an image that isn't based on reality," she said. "There are as many climbing walls at publics as privates."
Follow me @ScottJaschik