You have /5 articles left.
Sign up for a free account or log in.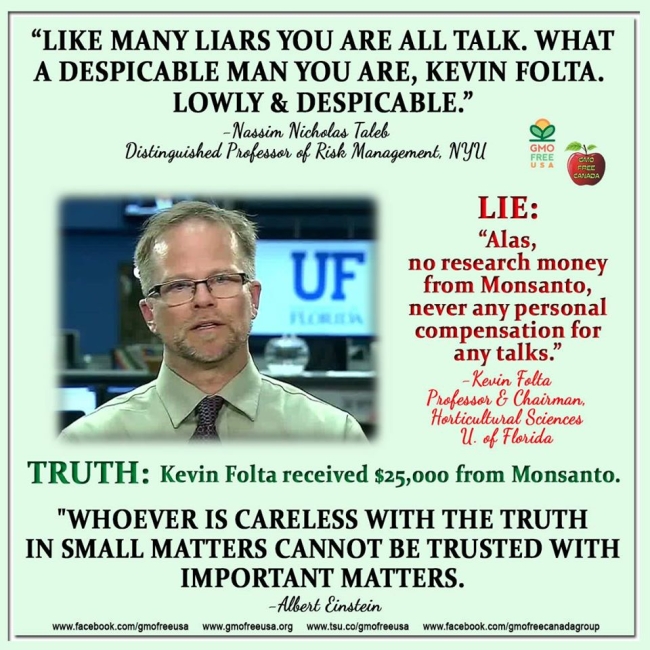 Kevin Folta likes to think of himself as a kind of referee between anti-genetically-modified-food activists and the food industry, championing science over other interests. And in Folta's (and many but certainly not all other scientists') view, the science is clear: that eating genetically modified food is no riskier than eating that which is grown conventionally. Of course, he knows he has a lot of skeptics who think the science is inconclusive, or that there's a lot that's not yet know about the health risks of eating these so-called Frankenfoods. Or worse yet, that big agribusiness is hiding risks from consumers.
So Folta, professor and chair of the horticultural sciences department at the University of Florida, likes to say in his public talks that he's not in anyone's pocket, and that he's never taken a dime from Big Ag. And that's true -- mostly. But it's the "mostly" that's landed him in the middle of a firestorm over research ethics regarding the multibillion-dollar agricultural industry, the ongoing debate over genetically modified foods, and what some have called the war on science.
"There are impersonations of me on social media and people are saying things that are completely off base -- and then there are attempted hacks on my email," said Folta, describing some of the fallout from a recent article in Nature that alleged he has "close ties" to Monsanto, a firm that many activists view as the Darth Vader of the GMO universe.
"Most disturbing is the libelous, false claims that are now becoming a permanent part of who I am," Folta said. "I can't sleep at night. People are taking a jewel of my science outreach and destroying it."
Over the last six months, a number of young scholars, primarily in the humanities and social sciences, have found themselves the target of online social media campaigns demeaning their work and ideas. Folta, a senior natural scientist, is an example of a different kind of scholar who has become a target.
The Nature article is based on thousands of pages of Folta's emails, which were recently obtained by the anti-GMO group U.S. Right to Know via an open records request. Although Folta vehemently denies having "close ties" to Monsanto, he readily admits to another detail in the article: that in 2014 he accepted an unrestricted $25,000 grant from the company to further his active outreach agenda on scientific communication.
Folta said that he visits colleges, universities and even elementary schools to talk about the importance of science communication and literacy, but personally declines honorariums to do so. He does, however, accept donations for a fund to further his outreach agenda -- which is where Monsanto comes in. The company in 2014 funded a seminar at Florida on scientific communication and agricultural biotechnology, and Folta saved the balance to finance future talks.
In hindsight, Folta said, he probably needs to rethink his claims about never having accepted money from Big Ag. But the mistake was innocent, he said, since Monsanto has in no way contributed to his research. He didn't rule out accepting research dollars from Monsanto in the future, but said that would come with requisite disclosure to preserve his "integrity -- I'm not going to wreck that for anyone's profits." (As with other industries, research partnerships between academe and agribusinesses such as Monsanto are common.)
Folta continued, "The nuance is that if I give a donation to muscular dystrophy, I don't get to direct how they do their research or what Jerry Lewis says during the Labor Day special. But research is different. There are deliverables -- scientific milestones and coordination."
Despite a similar explanation on Folta's blog, the Monsanto grant revelation has mobilized anti-GMO activists and even some fellow academics who say they're disappointed in their peer.
"He is paid for outreach as a means of promotion of a product," said Nassim Nicholas Taleb, a distinguished professor of risk engineering at New York University who's criticized Folta on social media (Taleb co-wrote a working paper arguing that genetically modified foods pose unknown risks). "This disrupts the core of academic life."
Taleb pointed to another article on the controversy published Thursday in PLOS revealing more about the correspondence between Monsanto and Folta. One email from Folta reportedly was entitled "CONFIDENTIAL: Coalition Update," and contained advice from Folta to Monsanto on ways to defeat a political campaign in California requiring the labeling of GMO products. PLOS reiterates a claim made in the Nature piece that the public relations firm Ketchum, which runs a website called GMOAnswers, provided him with canned answers to questions about GMOs.
Taleb's co-author on the risk study, Joe Norman, a complex-systems scientist at the New England Complex Systems Institute, also criticized Folta on his blog.
"In the case of Folta, the issue at hand is his professional dishonesty," Norman wrote (emphasis his). "Conflicts of interest are serious business, and more so when one claims to be acting on behalf of the public. … Now he is backpedaling and claiming that that money was not used directly for research but for 'outreach,' so therefore he was not technically lying. Personally, I find whether he was using the funds directly for research or for flying around the country to advertise immaterial -- it is clear he intended for the public to believe he had no professional relationship with Monsanto, which was untrue."
Folta said that even if details of the correspondence sound damning, he was simply acting according to his research. Regarding the canned answers, he said he was "pissed off" when he received them and never used them (although he does contribute to GMOAnswers, and says he's grateful for the venue). As for the other, more serious allegation about the California campaign, he said he couldn't recall the exact email in question, since he was copied on hundreds of emails sent to a variety of interested parties. (Moreover, the email citation predates the scope of the public information request -- and the Monsanto grant -- by several years, Folta said, adding that he was planning to contact PLOS to complain, or at least demand an opportunity to respond.) But he said he was openly opposed to the labeling initiative in that it was not based on science. He denies ever having accepted any compensation for offering advice and maintains that he has no formal ties to Monsanto. (UPDATE: Folta has posted the alleged advice email in a response on Science 2.0, saying the PLOS article "blatantly" misrepresented its content and his involvement in the correspondence. Read it here.)
"You tell the truth and you get whacked for it," he said. "When scientists are under fire for communicating science, this planet is headed for disaster."
Others have come to Folta's defense.
"Thank you, Kevin, for standing up to them," David Zaruk, a risk and communications specialist and blogger based in Europe, wrote on Folta's blog. "Often the activists assume they can insult, name and shame and most will just stay out of their way (kind of like how we react to the crazy man screaming at people in the street). When one has the courage to stand up and call them out, or try to engage them in discussion or debate, the hypocrites walk away and pretend they have won another victory."
Jack Payne, the University of Florida's senior vice president for agriculture and natural resources, said via email that Folta "has always emphasized communication as part of our graduate programs. He teaches science communication and science from third graders to postdocs, from physicians to farmers."
Payne continued, "He understands the literature around the public controversy in biotechnology, and donates his time teaching public audiences about this topic. He is raising scientific literacy. That is why companies, including Monsanto, are interested in providing funding to cover workshop costs and travel. It is also why anti-GMO activists need to marginalize him and destroy his reputation."
Charla Lord, a Monsanto spokeswoman, said the company is "supportive of programs that increase awareness and understanding of science and technology" and so was "happy to support Dr. Folta's outreach program to increase understanding of biotechnology," and science communication more generally.
Lord said Folta's grant was "no strings attached," but still subject to university policies, procedures and controls. Unrestricted grants are "are beneficial to a researcher's ongoing program because it ensures their independence," she added via email. "We cannot make any formal requirements on the research and we cannot make any claims to any intellectual property rights that may result."
Folta's among some 40 researchers whose emails were requested by U.S. Right to Know. The University of Florida was among the first institutions to comply, due in part to the state's strict laws regarding public records.
Janine Sikes, a university spokeswoman, said the institution had no option to withhold Folta's records, as some other universities have for scientists involved in controversial research. The University of Virginia, for example, went to court and won the right to protect the emails of Michael Mann, a former climate scientist there. (Sikes noted, however, that the university has fought to protect the identities of researchers who were harassed by animal rights groups.)
Many academic groups came to Mann's defense, and complained about the tactic of trying to get research and other notes he thought were private. So far, there hasn't been the same level of outcry for Folta. But he said he's received lots of emails of support and even small checks for his outreach fund.
Folta said he believed in transparency, but that the risk of having no privacy could ultimately have a chilling effect on good science.
"This has to energize scientists and not scare them away from this dialogue, because that's what it's intended to do," he said. "They show you that if you dare to communicate science, you're going to get thrown under the bus. That does have a chilling effect, and the spiral of this is people won't want to do science or talk about science, especially young faculty."
But Gary Ruskin, head of U.S. Right to Know, said public records laws are an important check on public health and research ethics.
"The agrochemical and other industries are spending a great deal of time on public relations and public skepticism about food safety, and they're trotting out professors to act as spokespeople," he said. "This looks like a classic case of industry as puppeteer, and we're trying to understand those [public relations] dynamics."
The PLOS article also defended vigorous open records laws, saying they'd helped reveal undisclosed links between the oil industry and Wei-Hock Soon of the Harvard-Smithsonian Center for Astrophysics, a prominent climate change skeptic, for example.
"Although transparency has not been proven to eradicate or prevent misbehavior in science, these efforts make it easier for the experts and regulators to independently evaluate the merits of research, scientific practices and resulting public policy," reads the article by Paul D. Thacker, a journalist and consultant (and formerly a reporter at Inside Higher Ed), and Charles Seife, a professor of journalist at NYU. "For instance, industry funding of clinical trials invites further scrutiny of study results by experts. And important component to transparency is ensuring public confidence in science by protecting the ability of journalists, government and nonprofits to uncover potential corrupt practices, especially when the research my impact public health."
Dana B. Barr, a professor of public health at Emory University, has written about research ethics, including in her capacity as former editor of Journal of Exposure Science and Environmental Epidemiology. She said she believes in the mandatory disclosure of industry funding, regardless of the activity.
"I think it matters if it is outreach or research or even paying for travel to a conference or to visit their site," she said via email, noting that she encounters such questions regularly as a member of Emory's Conflict of Interest Committee. "A researcher may get funding from Company X on an issue not related to the proposed research, but it could still pose a significant financial interest or a conflict of interest. Disclosure to all involved (participants, [institutional review boards], publications, presentations, staff, etc.) is usually required to promote transparency. In many instances, the conflicted researcher is not allowed to consent participants or to evaluate the data, or perhaps external evaluation of results/data is required."
Despite the criticism, Folta's not backing down on his position on GMOs and food.
"I espouse a strict adherence to peer-reviewed science that's evenhanded, and when you come out with a synthesis of that," he said, "the idea is that it's generally good technology that has many more benefits than risks, and could do a lot more if we were brave enough to allow it to do more."