You have /5 articles left.
Sign up for a free account or log in.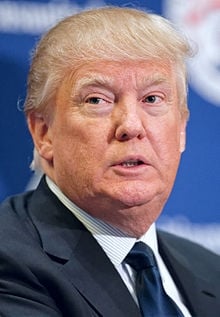 The Republican presidential candidate Donald Trump may be known for his nativist rhetoric and policy positions in favor of mass deportations of undocumented immigrants, the building of a border wall billed to the treasury of Mexico, and the elimination of birthright citizenship for children whose parents are in the U.S. illegally -- but his recent comments on international students struck a welcoming tone.
"When foreigners attend our great colleges and want to stay in the U.S., they should not be thrown out of our country," Trump wrote in a tweet Tuesday.
"I want talented people to come into this country -- to work hard and to become citizens. Silicon Valley needs engineers, etc.," another tweet said.
The Trump campaign did not respond to requests for specifics about how it would seek to make it easier for international students to stay in the U.S. postgraduation. But when it comes to this general goal, Trump -- who leads the pack in polling among Republican presidential contenders -- is in line with mainstream sentiment in higher education.
Trump's tweets came two days after he released a brief position paper on immigration. Many of his proposals focused on border security and enforcement issues, but the document also called for raising the prevailing wage paid to foreigners on H-1B skilled worker visas and putting in place a requirement that employers hire American workers first. H-1Bs represent one of the few routes through which former international students can gain permanent residency.
"Raising the prevailing wage paid to H-1Bs will force companies to give these coveted entry-level jobs to the existing domestic pool of unemployed native and immigrant workers in the U.S., instead of flying in cheaper workers from overseas. This will improve the number of black, Hispanic and female workers in Silicon Valley who have been passed over in favor of the H-1B program," Trump's position paper argues. The paper also takes a shot at a pending bill that would increase the number of H-1B visas -- the Immigration Innovation Act of 2015 -- describing one of its sponsors, Marco Rubio, a U.S. Senator from Florida and another Republican presidential candidate, as "Mark Zuckerberg's personal senator."
American technology companies have long campaigned for expanding the number of available H-1B visas beyond the current 85,000 cap on the grounds that there is a generalized shortage of American workers with advanced skills in science, technology, engineering and mathematics fields (a shortage that some experts argue is a myth). But as The New York Times reported earlier this summer, while many American companies do use the program to bring in small numbers of foreign workers with specialized skills, the top recipients of H-1Bs are India-based outsourcing companies that import information technology workers "to take over entire in-house technology units -- and to cut costs."
Of the 85,000 available visas -- a cap which is routinely met within days -- 20,000 are reserved for holders of advanced degrees from U.S. universities. About 35 percent of H-1B visas went to former international students in 2010, according to an August 2014 report on foreign students that Neil Ruiz wrote for the Brookings Institution.
Ruiz, now the executive director of the Center for Law, Economics and Finance at George Washington University, said that in Trump's statements on H-1Bs and international students, the candidate seems to be trying to strike a balance between two goals -- job creation and protection of American jobs. In fact, Ruiz noted, Trump's position on prevailing wages and H-1Bs is in line with views generally expressed by labor unions -- as opposed to businesses, which typically argue that they can't find American workers with the necessary skills in STEM fields or that they need more H-1Bs to hire "the best and the brightest" from abroad.
"He's coming at it from a more protectionist perspective," Ruiz said.
Norm Matloff, a professor of computer science at the University of California at Davis who argues that the H-1B visas are abused by businesses that want cheap, immobile labor, initially praised Trump's policy proposal on H-1Bs on his blog, but thinks Trump "reneged" on that proposal when he posted the tweets about international students. Matloff argues that abuse of the H-1B system by companies that give preference to cheaper foreign candidates over equally qualified, and in many cases older, American workers is common across the technology sector, not just among the India-based outsourcing companies but also at the U.S. technology companies that hire international students.
Matloff supports selectively broadening certain other visa and green card categories for those from abroad who truly are among "the best and brightest," but argues in a 2013 paper for the Economic Policy Institute that there's no evidence that foreign graduates as a group "offer superior skills or ability relative to U.S. graduates" -- and that, further, "the foreign worker programs are causing an internal brain drain in the United States, in which the nation's own best and brightest are either displaced or discouraged from entering the tech field in the first place."
However, many in higher education support a broad expansion of options for international students who wish to stay in the U.S. to work after graduation on the basis that it will stimulate innovation and economic growth. Fourteen major higher education associations signed on to a letter of support for the aforementioned Immigration Innovation Act -- the bill that Trump panned -- which would increase the cap on H-1B visas and remove the cap entirely for holders of advanced American degrees in the STEM fields.
"The legislation would take steps to end the unfortunate flaw in our current immigration system in which we train the world's most talented international students at our colleges and universities only to see many of them forced to return home upon completion of their studies for no reason other than lack of available visas," states the letter, which was signed by the American Council on Education, the Association of Public and Land-grant Universities, the Association of American Universities, the American Association of State Colleges and Universities, and NAFSA: Association of International Educators, among others.
In a statement, Heather Stewart, the counsel and director of immigration policy for NAFSA, wrote that international students are an asset to the United States. "While Trump tweets good things about keeping talented international students in our country, his policy makes no mention of how he will attract and retain them," she said. "There are very few opportunities available for highly educated and talented immigrants to live and work here and become Americans once they have exhausted their opportunities as students. The facts show that over the past decade, the United States has lost 10 percent of its market share of foreign students, as other countries continue to adopt friendlier immigration laws. A true viable immigration plan, which meets the educational, economic and security needs of our nation, must not only fix our broken pipeline of talent, but also create a path to citizenship for those working here and contributing to our communities."