You have /5 articles left.
Sign up for a free account or log in.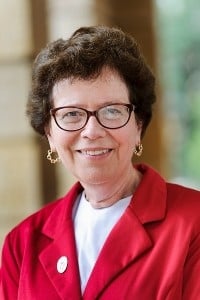 Facing what is sure to be a difficult retention season, given this year's battles over the future of higher education funding and tenure in Wisconsin, the University of Wisconsin at Madison is today announcing the results of a massive donation-matching campaign aimed at recognizing top faculty members with endowed chairs.
"This is a transformative gift to create new chairs and opportunities to attract and maintain" top faculty, said Rebecca Blank, Madison's chancellor. "This is a statement that we are a very strong university where good things are happening."
Last fall, an alumni couple, Tashia Morgridge, a retired special education teacher, and John Morgridge, former chief executive of Cisco Systems, announced that they would match up to $100 million in donations to endow new and enhanced professorships, chairs and distinguished professorships in an effort to recruit and retain star professors. The chairs were to be established in the matching donors' names, not the Morgridges'.
Donations hit the $100 million mark in just six months, and the Morgridges agreed to extend their commitment to match whatever additional funds could be raised by June.
In all, the match effort will generate about $250 million in new endowment funds. That means 300 endowed professorships and chairs, up from the current 142.
"Never in my wildest dreams did I imagine we'd be closing this off with more than $100 million in matching funds," Blank said.
The funds are expected to generate an additional $11 million annually for the university's foundation.
Hemant Shah, professor and director of the School of Mass Communication and Journalism, said his program received two gifts as part of the campaign. One doubles the funding of an existing chair, to $2 million, and the other established a new $1 million chair, effective 2017.
Shah said he imagined the gift might help the department retain faculty members, which it's struggled with this year. Four professors departed -- three for other universities, and one for another department at Madison. That's much higher than usual, since typically no one leaves, Shah said.
He attributed the departures to the current higher education environment in the state.
"The state legislature cut $250 million to the [university] system, and there are also attacks on tenure," Shah said, noting that professors have been concerned about the future of higher education in Wisconsin for several years -- not just as the situation came to a head this spring when state legislators said they wanted to scratch the notion of tenure from state statute and slash university funding over the biennium. "So morale is very low and these three faculty members that left [the university] saw fantastic opportunities and took them."
Wisconsin's budget law did remove tenure from state statute, but the university system -- while studying possible changes in tenure -- has insisted that tenure remains through system rules, much as it does in many others states.
Shah said that external concerns, such as unrelated family issues, factored into some of the professors' decisions. But no exiting faculty member was looking forward to leaving, he said, "and if things here had been slightly better, I don't believe they would have left."
State higher education funds have dwindled for more than a decade, and faculty members know there are no pay raises in the foreseeable future, Shah said. Add that to a hiring freeze across the College of Letters and Sciences, increasing class sizes, less support for research, and "a whole of range of issues has slowly eroded our ability to do our jobs, doing teaching along with research and service. … Right now we're at the bare bones level."
With that portrait, Shah said he didn't want to offer an "overly rosy" perspective about the future. But he said he did think that the Morgridge chairs will help with retention, in that "they're a very generous gift that have created the opportunity to offer these professorships as a way of telling our best and brightest faculty members, 'Hey, we do actually care about you and we want you to stay.'"
The gift also indicates that "there is a lot of confidence out there in the public and among people who know the university well that it has been excellent," Shah said.
He added, "My colleagues and I work very hard and we love our jobs and we love this university and we can do more with less if need be, and we're willing to do that -- but we're not willing to do that forever. We do need to see some support, because without either private funds or more state funds, I don't think we can continue."
Blank said whether the state's posture toward higher education will affect retention over all remains to be seen, since the issue peaked in late spring, when most faculty members' plans for this academic year already were settled. Faculty turnover this year was about average, she said.
A spokesman said that in 2014-15, the university hired 101 new faculty members and had 86 faculty members retire (53) or leave for other reasons (33). That equals 5 percent new faculty and 4 percent departed. That's about equal to the year before.
Blank said the university nevertheless waged some "tough" retention fights over the summer, and was able to convince faculty members to stay. One of the biggest fights was over five international relations scholars and one political theorist in the political science department, who were tempted by an offer from the University of Minnesota in the Twin Cities.
David Canon, chair of Madison's political science department, said via email that his colleagues decided to stay "because we are an excellent department in one of the top public universities in the world." Madison also was able to put together an "attractive" set of offers, he said.
"This is going to be a tough retention season, so it was great to start off on such a strong note," Canon added. (The chair of political science at Minnesota did not immediately respond to a request for comment.)
Canon said the department did have two faculty departures -- one to another university and one to retirement. But that number is about average: 2.75 departures every year over 30 years.
Madison's political science department received two professorships as part of the Morgridge campaign -- one for the director of the new elections research center and one for a "rising star" young professor, to be rotated on a five-year term.
Going forward, Canon said, both professorships "are going to play an essential role in the retention of key faculty in our department."