You have /5 articles left.
Sign up for a free account or log in.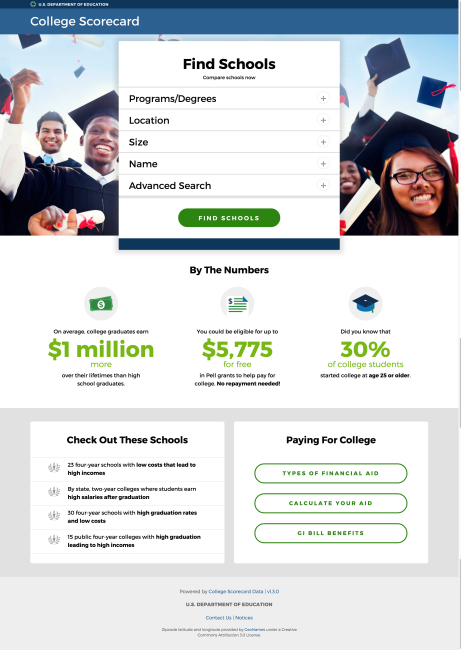 The Obama administration over the weekend unveiled the revamped college information website it created instead of its original plan to rate colleges, releasing a trove of new federal data about the nation's colleges and universities.
These new data show publicly, for the first time, the share of a college's former students who make some progress in paying down their federal loans within the first three years after leaving college. And they provide the first comprehensive look at how much students who receive federal loans and Pell Grants end up earning after they leave a specific college, both in the short term and long term.
The White House released the new data and website on Saturday morning, in advance of President Obama's trip on Monday to Iowa, where he will speak about college costs at a town hall event with high school students. Officials also separately announced over the weekend several changes the administration plans to make to how students and families can apply for federal student aid.
The administration's release of thousands of new data points, broken down by individual college and going back several years, in many cases, largely won praise from experts on higher education data, even as they -- and many college and university leaders, from a much more negative perspective -- were quick to point out the significant limitations of the information.
Most significantly, the government's new earnings data reflect only the achievements of students who received federal financial aid, which several experts said would significantly skew the data and either understate -- or, in some cases, possibly overstate -- the actual median earnings of a college's former students.
In spite of their limitations, though, the new data are likely to add fuel to the growing debate in Washington over ways to hold the nation's colleges -- which collectively receive roughly $150 billion in federal aid each year -- more accountable for student outcomes.
For example, the federal student loan repayment rates underscore that hundreds of colleges are producing large numbers of graduates (as well as dropouts) who are not technically in default on their loans but are nonetheless not making any progress in repaying their debt. The federal government currently holds colleges responsible only when their former students get so far behind on their loans that they default on the debt. The new data also show, according to the White House, that at 53 percent of all institutions of higher education, fewer than half of former students are earning more than the typical high school graduate.
College Scorecard, Take Two
The updated online tool, which like its predecessor is called the College Scorecard, features new measures of student outcomes at specific institutions, including graduation rates, median salary information and loan repayment rates.
The much-anticipated release of the new data -- and the revamped College Scorecard website -- is a scaled-back version of what President Obama initially proposed more than two years ago. Pledging to "shake up" higher education, Obama called for a federal college ratings system to steer families to colleges that provide good value and hold institutions more accountable for student outcomes.
After relentless opposition from colleges and universities and congressional Democrats and Republicans alike, the administration abandoned its ratings plan earlier this summer. Officials pledged to instead provide a slew of new consumer information about colleges.
Perhaps the most significant -- and the most controversial -- new information released Saturday is the student earnings data broken down by specific college and university.
The data, which the Education Department compiled with federal tax records, capture only students who received a federal loan or grant to attend college. Based on that information, the department is publishing two new postcollege salary metrics.
The first shows the share of a college's former students who, six years after they entered college, earn more than about $25,000 per year. That threshold is designed to show how many students are making more than what the average high school graduate earns.
A second earnings metric is more long term. It shows the median salary of former students 10 years after they began college. For both metrics, the earnings data capture former students who received federal student aid at a college, regardless of whether they graduated.
Questions Over Quality
"Americans will now have access to reliable data on every institution of higher education," the president said in a Saturday radio address in which he discussed the release of the new data.
But much as the quality of federal data was a contentious issue as the administration considered a ratings system, colleges and universities were already pushing back on the quality of data points released Saturday.
The American Council on Education, the umbrella association of higher education groups in Washington, said that it remains concerned about the data.
Molly Corbett Broad, the association's president, said in a statement that the Education Department compiled the data "without any external review."
"Given what we believe are significant data limitations, this revamped Scorecard may or may not provide meaningful information to the students and families it was designed to help," she said. "For example, it appears the system only provides a single number for an entire institution regardless of whether a student studied chemical engineering or philosophy, and only includes the earnings of federal student loan borrowers."
Advocates for greater accountability in higher education, including Education Secretary Arne Duncan, have accused some higher education lobbyists of impeding the government's ability to collect more complete and accurate data by supporting a continuing ban on a federal system to track student outcomes.
Another source of contention about data has been the graduation rates that the administration plans to continue to promote in the new College Scorecard.
In the consumer tool, the administration will continue to rely on the federal government's graduation rate that tracks only first-time, full-time students over six years. (However, it plans to publish separately new completion rates extrapolated from federal student loan information that the department says is more comprehensive.)
A coalition of public colleges and university leaders have urged the administration to rely on the Student Achievement Measure, which is a voluntary effort institutions have undertaken to more accurately track the outcomes of their former students.
Denise Horn, a department spokeswoman, said in an email Friday that the department plans, in future updates to the College Scorecard, to include links to data from the Student Achievement Measure.
Peter McPherson, president of the Association of Public and Land-grant Universities, which is one of the college groups that runs the Student Achievement Measure, said in an interview that he "was appreciative that the administration recognized the quality of SAM data as a major step over the government data."
McPherson and the public university presidents he represents have been largely supportive -- especially compared to their private college counterparts -- of the Obama administration's efforts to publish new data about student outcomes at specific colleges.
McPherson said Friday evening that while he supported, in concept, publishing earnings data and repayment rate information, he had not yet evaluated what the administration planned to release.
"What they're doing is pretty complicated and they're clearly trying to figure this out," he said. "What they have access to is Title IV students. What they don't have access to" -- salary data about other students -- is "because the law doesn't allow them to get it."
The APLU and community college groups have said they support Congress changing the law to allow the Education Department to more comprehensively track student outcomes.
Under Secretary of Education Ted Mitchell told reporters Friday afternoon that department officials found there was "no meaningful difference" in measuring the earnings only of federal student aid recipients vs. measuring those of all students.
Department staff wrote in a technical paper posted Saturday morning that federal student aid recipients are "reasonably similar" to the overall student population on characteristics such as standardized test scores, race, ethnicity, age and marital status. Although federal student aid recipients "are clearly lower income than the general student body," the paper said, "the range of incomes overlaps considerably."
Still, Mitchell said, the Education Department acknowledged the limitations of its data and plans to find ways to improve the quality of data for future iterations of the College Scorecard. He noted that the administration no longer plans to use the earnings and graduation data to rate colleges or tie colleges' receipt of student aid to how they perform, as the original vision of the ratings system envisioned.
"It's because of those limitations that we made the decision to not make clear direct ratings because we felt that the data was not supportive of drawing those kinds of conclusions, but we believe the data itself can drive decision making" by students and families, he said.
Responses to the Data
Beyond the limitations of the government's information, though, many data experts said the administration's focus on publishing some student outcome data, however imperfect, was an important step forward.
Anthony P. Carnevale, director of the Center on Education and the Workforce at Georgetown University, said in an email that "the administration's release of the data they have represents a crucial down payment on the data we need at the federal level."
"The administration's data on earnings are imperfect. But the only substitute for imperfect data is better data," he added. "The game goes on. The ball is back in higher education's court" to try to improve on the data they don't like, Carnevale said.
Nate Johnson of Postsecondary Analytics, a higher ed research group, also praised the administration's decision to release the data, saying that in spite of its imperfections, it was important for the government to put out a first draft of data so it can be vetted and corrected.
"While these shouldn't be considered the only measures of postsecondary education effectiveness, they are critical for low-income students and those taking on debt to pay for their education," he said in an email.
Johnson added that the data's focus only on federal student aid recipients "seems entirely appropriate."
"The federal government is providing the funding, so it has a direct interest in the results it is getting for its investment," he said.
Tod Massa, director of policy research and data warehousing at State Council of Higher Education for Virginia, was among the data experts the Education Department turned to when it was developing its rating system.
He said in an email that the scorecard presents students with information too simplistically. It doesn't, for example, account for earnings variations across different states. Still, Massa said, some of the limitations of the data, which the administration outlined in releasing it, could be a useful starting point for efforts to improve the quality of federal data about colleges.
"It provides an implicit road map to what has to be done in the future to have really good national data," he said. "The reaction to the scorecard will fade rather quickly when the next shiny object is released."
Besides questioning the quality of the government's new data, some in higher education criticized the administration for too narrowly focusing on the financial return on investment of attending college.
"The Obama administration's aim is to provide transparency about factors to consider in choosing a college," wrote Christopher Nelson, president of St. John's College, in an Inside Higher Ed op-ed Monday. "This is a laudable goal. Yet the new College Scorecard continues to place a premium on economic rather than noneconomic valuations. That is regrettable."
Karen Gross, the former president of Southern Vermont College and a former senior policy adviser at the U.S. Department of Education, wrote a LinkedIn post that she was concerned by the administration's emphasis on salaries, especially at elite colleges.
"The focus is on dollars earned as if it were the equivalent to quality and academic excellence in picking a college," Gross wrote. "And it is pitiful that this is the message, because high earners are not all our society needs."
Pell Grant Grad Rates and Other Data
The data released Saturday also shows the graduation rate for Pell Grant students at each college. Advocates for low-income students have long pressed the Education Department to provide such information so they can distinguish which colleges do a good job of graduating students who receive a Pell Grant and which don't.
The new consumer tool will also feature "warning flags," Under Secretary Mitchell said, showing colleges that the Education Department has singled out for the extra scrutiny known as heightened cash monitoring, level two, because of serious financial or regulatory compliance issues. Consumer advocates have pushed for including that information, though they wanted the department to go further and identify colleges facing lawsuits from state attorneys general or other federal regulators.
The revamped website will allow users to sort colleges based on their own preferences, officials said. And they also will publish the data through an application programming interface, or API, a web protocol that allows other organizations to easily incorporate the data into their own sites or applications.
Officials provided an advance copy of the API to 11 organizations that are working on developing their own consumer tools based on the information. The White House touted private-sector tools by groups including PayScale, College Abacus and ProPublica, which said it plans to rank colleges based on the new student debt information.
Paul Fain and Doug Lederman contributed reporting. This article has been updated.