Topics
NSF's Advanced Technological Education program, which helps community colleges train technicians and build ties to key industries, enjoys rare bipartisan support.
In a political climate where every single issue or policy seems to have a dividing line between Democrats and Republicans, the National Science Foundation's Advanced Technological Education program has been able to exist above the fray.
For more than 20 years, the ATE program has been a source for developing new technologies and training future technicians in science, manufacturing, technology and engineering fields at community colleges across the country.
"At its heart it's a workforce preparation program and one that prepares technicians," said Jim Hermes, associate vice president of government relations for the American Association of Community Colleges. "Because of the nature of the products and the center that it funds and their strong ties to the business community, that's one of the big reasons it has a lot of support."
The program provides grants to improve programs at two-year colleges that train technicians, as well as provide professional development for the faculty members who teach them. It also focuses on funding innovative programs that better connect academic institutions with various industries. The emphasis of program grants and centers varies by the industry focus of the region or community in which it is located. Centers don't deliver the direct training, but provide the curriculum and connections needed to help the colleges. For example, the National Cyberwatch Center at Prince George's Community College in Maryland is an ATE center not far from the Washington area, where cybersecurity is an important need. The cyberwatch center develops the curriculum and delivers it to the more than 90 community colleges and universities across the country.
Students are also walking away with credentials and working with businesses because of the ATE program, Hermes said.
As of 2014, more than 109,000 students -- most of whom attended two-year colleges -- have participated in ATE projects and centers, and more than 80,000 educators have received professional development opportunities, according to the program. There are currently more than 225 active ATE-awarded projects across the country.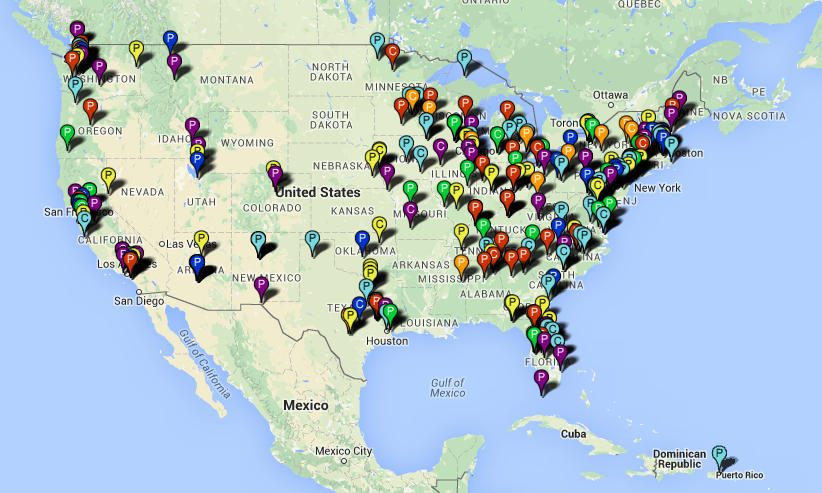 The ATE program can be broken down into three categories -- national, regional and resource centers.
National centers, like the biotechnology program at City College of San Francisco, work as a resource and coordinator of all the ATE-funded biotech projects across the country, said Elaine Craft, director of the South Carolina ATE Center for Excellence.
"All programs in biotechnology would look at it as the mother ship. That's where they look for others with grant-funded projects for tried and true products and curriculum so they don't spend all of the time reinventing the wheel," Craft said.
Regional centers are more focused on the industries within their geographic region. An example is the Regional Center for Nuclear Education and Training at Indian River State College in Fort Pierce, Fla. "We're very driven by industry needs and these centers are designed to support individual college programs by providing resources, support and best practices they wouldn't have access to," Craft said.
Florida has five nuclear plants, so the program would only work in an area with that kind of energy-producing facilities, Craft said. The nuclear regional facility is a consortium of 46 colleges and universities, as well as 35 industry partners and agencies that work to improve nuclear training and education.
Sometimes the tough part is getting students interested in the programs that community colleges run with ATE support.
Typically people decide on a career field because they know someone else, a friend or a relative, who works in that field, Craft said.
"We're offering programs across the U.S. for two-year, technical jobs that didn't exist 10 years ago," said Craft. Or there are fields that a few years ago required higher degrees to master, but today with advancements in technology and software, can be performed by high school students, she said.
But Craft said the ATE program shouldn't be confused with just another job-training program, which wouldn't reflect the NSF-inspired emphasis. She instead considers them education and not training programs, especially because of how much collaboration happens between the community colleges and universities, as well as because of the focus on math and science.
"Technologies are changing and industry needs are morphing; our jobs are to put out technicians who can solve today's problems and tomorrow's problems too and can adapt as the technology adapts and changes, which requires a much higher level of rigor," Craft said.
She points to the NSF's Viticulture Enology Science and Technology Alliance at Missouri State University, a program that unites colleges with vineyards and wineries. The program helps two-year students earn an associate degree at their ATE-connected community college by providing the online course work. Those colleges and students that participate in the program can also receive hands-on experience through partnerships at vineyards and wineries that volunteer to be a part of the program.
Ellen Hause, program director of academic and student affairs for AACC, said the support for the ATE program can't be underestimated and that support has continued in Congress because of its success. The program has collaborated with more than 10,000 groups that have donated more than $12 million in 2013.
That bipartisan support goes back to the original co-sponsor, Mississippi Republican Senator Thad Cochran, and continues with President Obama.
"Senator Cochran has been a consistent supporter of the Advanced Technological Education program, which has been a valuable tool in STEM education for students in Mississippi and throughout the country," said Stephen Worley, a spokesman for the senator.
In the last several years, the ATE program has maintained about $64 million in funding, Hermes said.
"In this climate, we've been flat funded, which is a good thing, because so many programs have been cut," Hause said, adding that its importance is also recognized.
Today's News from Inside Higher Ed
Inside Higher Ed's Quick Takes
What Others Are Reading
Past:
Day
Week
Month
Year