You have /5 articles left.
Sign up for a free account or log in.
Some of the most selective and well-known public universities could do a better job of enrolling and graduating low-income students.
A new report from the Institute for Higher Education Policy examined those selective colleges that have low Pell Grant recipient enrollments to find the best methods for solving this controversial "undermatching" phenomenon. Addressing and studying the undermatching issue has been a priority of the Obama administration.
"We wanted to understand which colleges could contribute far more low-income college graduates to our economy and society simply by enrolling more of them, and those that popped out were those selective, flagship universities," said Mamie Voight, director of policy research at the institute.
The researchers found these colleges by comparing the percentage of students enrolled who are eligible for a Pell Grant with the percentage who would statistically be expected to enroll based on the college's selectivity. The calculation doesn't suggest every selective college should have huge proportions of low-income students, "but only as many as other academically similar colleges have already enrolled," according to the report. They then applied the college's graduation rate in order to calculate how many more Pell students could graduate without an institution changing its admission standards.
Those colleges included Indiana University at Bloomington, Pennsylvania State University's main campus, Purdue University's main campus, James Madison, San Diego State, Texas Tech and Towson Universities, the Universities of Alabama and Delaware, and Virginia Polytechnic Institute and State University.
"They tend to be pretty well-known, selective colleges and that's because they are the high-graduation-rate institutions in their states and all of them are public institutions," Voight said.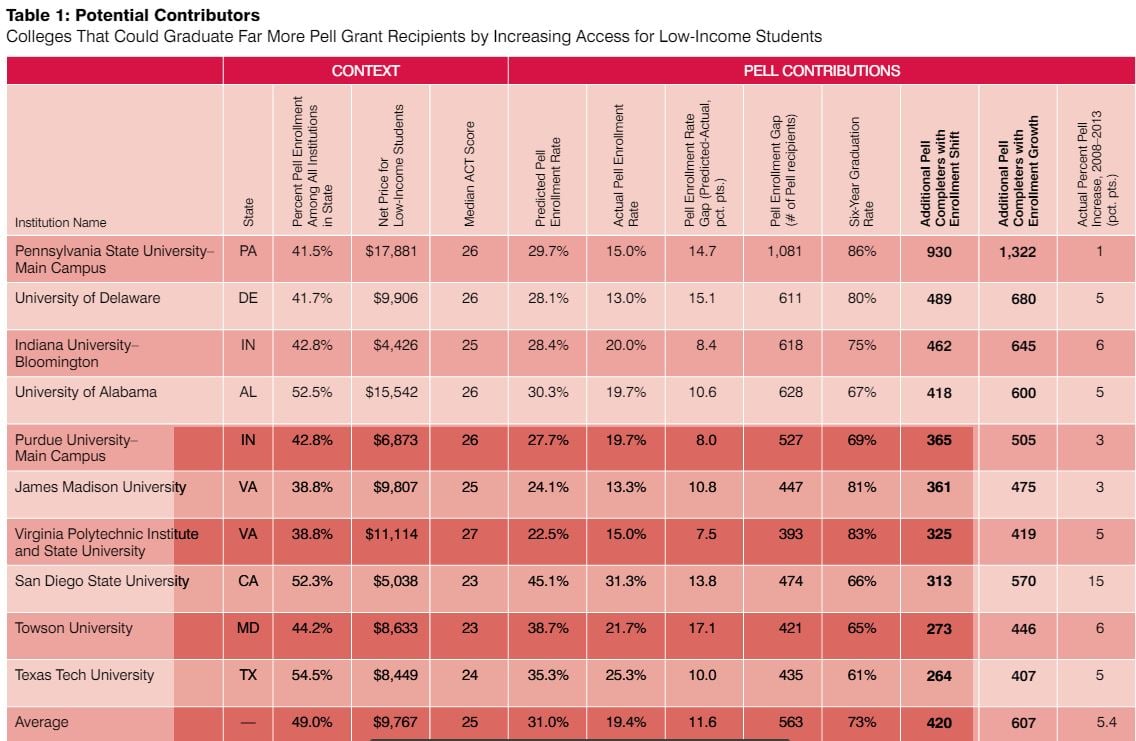 The IHEP report found those colleges that do a good job enrolling low-income or Pell Grant students specifically targeted those populations to attend their institutions, Voight said.
Those colleges include Florida State, Grand Valley State, Indiana Wesleyan and Stetson Universities, the Universities of Florida and Tennessee at Knoxville, and the University of California's Santa Cruz, Irvine, Santa Barbara and Riverside campuses.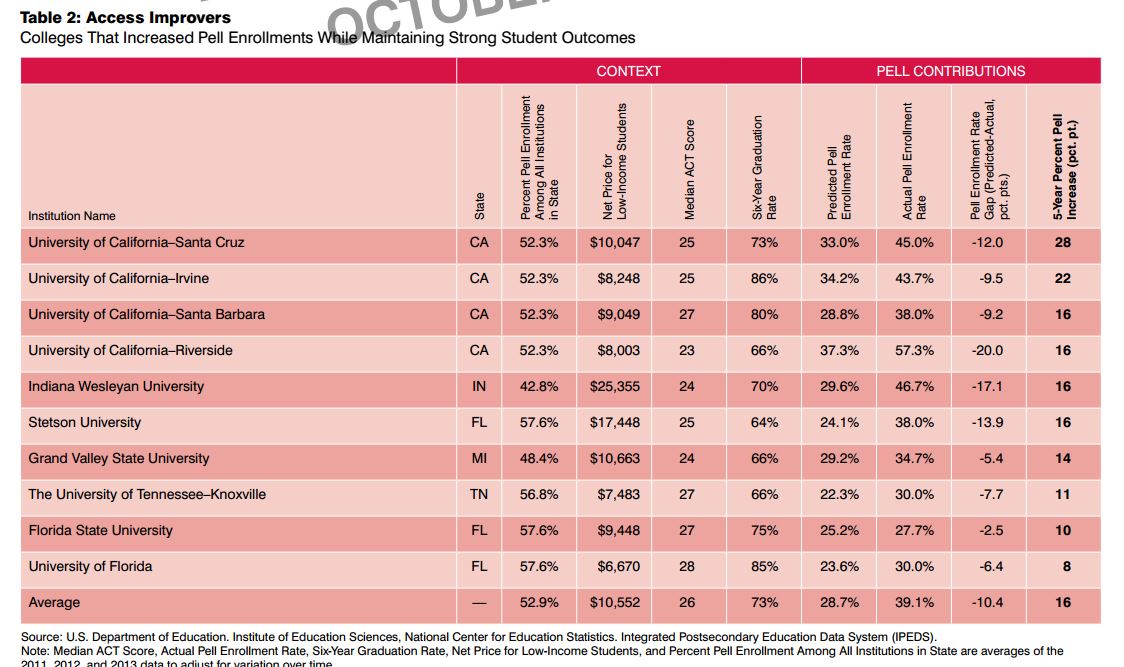 The cost of tuition isn't always why these colleges are or aren't providing access to low-income students, either, but for some of the universities listed the high price tag could be a deterrent. For instance, Penn State's main campus can cost about $18,000 a year for a low-income student to attend, even after accounting for their Pell Grant and other financial aid, Voight said.
"They need to pay either through loans or out of pocket, and out of pocket is not realistic for them, so they're either borrowing or working long hours to make up the difference," she said. "Now Penn State's satellite campuses tend to be less expensive than the flagship, so they often are the entry point for students in Pennsylvania."
But Voight said as the state's flagship, even if the satellite campuses are an entry point for low-income students, the main campus should also be opening the door to as many of these students as are qualified to attend.
On the other hand, Indiana's Bloomington campus also made the list for low enrollment of Pell Grant recipients, and that campus's net price for low-income students is less than $5,000. Meanwhile, Indiana Wesleyan, with a 46.7 percent Pell enrollment rate, costs more than $25,000 for low-income students.
"We found that with Indiana Wesleyan and Stetson they have a high price tag, but they're enrolling many numbers of low-income students. We also looked at the default rate and they're finding ways to help students succeed once they enroll," Voight said.
In the report, two Indiana universities noted that state budget constraints have forced their institutions to push for more out-of-state students, who pay more in tuition and tend not to be low income. An administrator at Purdue noted that the state's high school graduates are also not as prepared to be successful in college as the university would like.
But Voight said IHEP's analysis takes into account the universities' selectivity, so it seems "unrealistic" that the Indiana institutions aren't reaching more of their low-income students who are prepared to attend their campuses.
A representative from Texas Tech explained in the report that the campus may not be a top choice for low-income students because it is in a remote location, and underrepresented students tend to be less mobile.
"These institutions all happen to be public, so part of their mission is to serve the residents in their state and the diversity of residents in their state," Voight said.
When it comes to those colleges that are doing a good job providing access to low-income students, the IHEP researchers found that California and Florida have both shown strong investment in higher education, Voight said, adding that California universities cited institutional leadership to improve enrollment in this demographic and Florida colleges have financial incentives.
Florida's outcome-based funding weighs the enrollment of low-income students. Those institutions that receive additional funding for this population then reinvest it to help the students pay for college or succeed in classes, Voight said.
Other colleges have been more successful at reaching out to high schools in low-income, urban or rural areas. Or they have institutional leaders who have made boosting this population a priority, she said.
Financial incentives seem to be the key.
Low-income students are costly for institutions to enroll because of the financial aid and additional services they sometimes require, said Michael Bastedo, director of the University of Michigan's Center for the Study of Higher and Postsecondary Education.
"What needs to happen is an increase in public pressure to have our selective colleges be more reflective of our society, and we're seeing that. There's a ton of coverage in the media about the lack of representation at the selective colleges, and it's making it harder for colleges to avoid paying attention to this issue," he said.
But attending a selective college may not be the best situation for some low-income students.
There is research that shows students who undermatch and attend a community college are less likely to receive a bachelor's degree, but those who choose a less-selective, four-year college instead of a highly selective one may find it more beneficial, he said.
Those colleges could be closer to home or more representative of their communities.
"We're talking about those students who are high performing academically. If they apply to less-selective colleges, they're getting accepted into an honors college, receiving merit scholarships and getting other special treatment," Bastedo said. "The highly selective colleges don't prepare people for all of the careers we have in America, so that may be another reason for going to a less-selective institution."
Still, Voight said, these institutions should be focusing on access for disadvantaged students.
"With strong leadership and deliberate effort, colleges can reach out to low-income students, bring them in and help them succeed," she said. "Ultimately our society and economy [are] relying on colleges to provide this access to students."