You have /5 articles left.
Sign up for a free account or log in.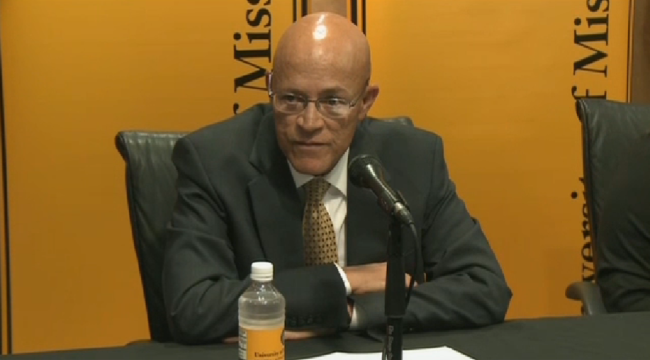 It's been a week of head-spinning disruption and change at the University of Missouri.
After the ouster of the university's two top leaders, hundreds of students continue to protest against racism and for more student and faculty diversity. The system's governing board Thursday appointed an interim leader and promised a number of measures to increase minority representation. And despite the changes, reported incidents of racism continue on Missouri's flagship Columbia campus.
Continued unrest on campus and the very visible events of the last week ask the question, how can Missouri begin to move forward and rebuild its leadership?
How can the institution respond to students' concerns and demands while leadership is in flux? What can a temporary leader do to alleviate tensions on campus? What qualities should the system prioritize in its next permanent leader? How can the system conduct two executive searches that include student activists yet remain confidential?
These questions and many more loom as the university's eight-member governing board considers next steps for their system and premier state institution.
In the span of just a week, Missouri has experienced several dramatic developments. The football team very visibly and publicly staged a boycott in solidarity with protesters seeking to combat racism on campus and encourage more minority representation on campus. These groups sought the ouster of the Missouri System President Tim Wolfe, who resigned on Monday after being criticized for failing to address student concerns about diversity and accused of callously ignoring a group of activists when they approached his car during a homecoming parade.
The chancellor of Missouri's flagship campus was also ousted on Monday, when the board said he would be demoted to a different position. R. Bowen Loftin had been unpopular with faculty members of late, and was also criticized for failing to respond to student concerns about diversity.
As the week wore on, student protesters -- many of whom say they were targets of racial slurs well before Missouri received national attention for the racial tensions now brewing on campus -- received threats and continued to be harassed because of their race, they reported on social media and to university officials.
And on Thursday the board announced an interim leader of the system, Michael Middleton, a former deputy chancellor of the Columbia campus, who has promised to go on a listening tour to hear students' concerns about campus diversity and inclusion. He said he wants to address the demands of student protesters.
The group Concerned Student 1950 is leading much of the activism on Missouri's campus; aside from Wolfe's resignation, the group has demanded that the university increase the number of black faculty members on the Columbia campus, increase the retention rate of black students, and include diversity and inclusion topics as part of its mandatory student curriculum, among other things.
"A first step is to devote our attention to addressing those demands," Middleton said Thursday.
Middleton has worked at Missouri for 30 years, including 17 years as Missouri's deputy chancellor. In that capacity he worked on issues of diversity within the system, though he said during his tenure it was "was extremely difficult if not impossible" to persuade leaders to devote enough financial resources to adequately increase diversity on campus.
Yet in his role as interim system president, Middleton says he has the "full support" of the board "in doing what needs to be done" to address student concerns. Even though his role is a temporary one, "I'm not going to view it as limited," he told reporters on Thursday.
Missouri's governing board has already promised to appoint a diversity officer for the system and provide additional support for hiring and retaining minorities and assisting students who have experienced discrimination. They've also appointed Hank Foley, the system's executive vice president for academic affairs, as interim chancellor of the Columbia campus.
Not waiting to address students' concerns is key, according to higher education experts and former and current campus leaders interviewed for this article. Given that the system's two top leadership positions are both abruptly open at the same time, it will take time for both positions to get permanent leaders.
"Racism and systemic bias aren't issues that can be fixed overnight, but they also aren't issues that can wait for a six-point plan and … a permanent successor," said Erin Hennessy, vice president of TVP Communications, a public relations agency focused on higher education.
What's more, the governing board will likely want to find a system president before it settles on a chancellor for the Columbia campus -- further lengthening the timetable.
That's because "it is essential, especially in so fraught a situation that exists on this campus, to have those two working in sync," said Carol Christ, former president of Smith College and a consultant who works with university leaders. Under Missouri's structure, the four campus chancellors are accountable for the running of their individual institutions but report to the system president, who is in charge of setting the overall direction for the system.
"Most chancellors want to know who their boss is going to be," said Jamie Ferrare, a consultant and former principal at AGB Search, a higher education executive search consultancy. It could take a year or two -- or even more, some consultants say -- for the Missouri system to be fully staffed at the top again.
Meaningful change can't wait that long, says Robert Jones, president of the University at Albany and a former top administrator for the University of Minnesota System.
"Once these interim leaders are in place, you can't wait until permanent leadership is in place. Those interim leaders are going to have to step up … and really send a strong message, both internally and externally, that diversity and inclusion are core values," he says. "In many ways they have to prepare the campus for more permanent leadership by really deeply engaging the campus community, the student protesters, the faculty, the board of trustees and everyone."
Transparency Key
Ferrare emphasized that it's important for Missouri's governing board to operate a transparent search that, as much as possible, embraces participation by students and faculty.
Whereas more and more universities are limiting the number of people who directly influence their searches, as well as restricting information publicly released about the search, Missouri should go in the opposite direction and "err on the side of transparency," said Benjamin D. Reese Jr., president of the National Association of Diversity Officers in Higher Education.
Students and faculty members are going to be looking at the search and how it's conducted as evidence of whether board leaders are listening and responding to concerns of students and professors on issues like diversity, experts interviewed for this article said. The Concerned Student 1950 group has included among its demands that future searches for the system president and chancellor positions include "a collective of students, staff and faculty of diverse backgrounds."
"These are going to be highly visible searches, so they're going to need to be conducted properly and with as much transparency as these search committees will allow," Ferrare said. "We have some credibility that really needs to be built up here."
Ferrare said that even if the board, in an attempt to value candidates' privacy, declines to have candidates for the presidency or chancellorship visit campus, it should consider having a select group of students meet individual finalists. And the initial feedback stage of a search should include a listening tour of sorts that allows students and faculty and staff members to discuss the qualities they want in their next president. This stage exists in nearly all presidential searches, but it's particularly important for Missouri, as a new leader should start with the support of all campus constituents because of the sensitive issues he or she will have to tackle.
"It's time now, particularly given the challenges and concerns of diversity, that we open up those processes," said Robert Smith, vice president of CBT University Consulting, referencing controversy in recent searches -- such as the recent University of Iowa search -- where governing boards have been criticized for running closed, opaque searches that don't adequately consider student and faculty feedback. "Obviously you can't have a committee of thousands, but you can have focus groups and efforts that engage people."
Christ also emphasized the need for the search to have "legitimacy" and said that rather than rush to appoint a permanent leader, the board should take the time necessary to survey the desires of students. "It would be a mistake to think, 'Oh, we don't have leaders, we have to rush really fast to get leaders' and not understand that in such a crisis of leadership you have to take the time to build the trust of the community."
Diversity Paramount
It's common, when choosing public system leaders, for boards to focus on a candidate's experience with large-scale policy making or their understanding of the political landscape in which they'll be working. Traditionally, these are roles that require leaders to interact more with politics than with students.
More and more, boards are choosing system leaders from outside higher education. Such was the case with the recent appointment of former George W. Bush cabinet member Margaret Spellings at the University of North Carolina or former military leader William McRaven's appointment at the University of Texas.
Before coming to Missouri in 2012, Wolfe was a businessman with no experience in higher education. Yet it was Wolfe's apparent difficulty in communicating with students and addressing their concerns that toppled his presidency, and as board members look for a new president for the system, it's likely they'll emphasize attributes like inclusivity and communication more than they might have previously.
"You're not going to see a system head hire where this person is just focused on policy and procedures systemwide and engaging with the Legislature," said Hennessy. "You'll see someone hired for that job who has experience with engaging with students and who may have experience with diversity and inclusion as well. You're going to see a very different system head than the one who has just left the job."
The board's choice of leaders will likely make a statement about whether its members are strongly committed to prioritizing and even solving issues of race and diversity highlighted by student protesters. Missouri students and faculty want a leader who has strong convictions and is "supportive of the direction that these communities want to go" and "is fair and open and collaborative in his or her style," said Ferrare. He added that such leader should be "the kind of person who is not afraid to take on some challenges, because there are going to be some real challenges here moving forward."
Jan Greenwood, an executive search consultant who specializes in higher education and is president of Greenwood/Asher & Associates, said presidents who come from industry, and not higher education, often have a particularly difficult time responding to student activism and concerns over race and equity.
"One of the biggest topics right now is diversity and racism and developing a university that is responsive, not after the fact but before the fact," she said. "These nuances get missed [and] it's very important to be able to understand those and understand the intensity. That is an area of extraordinary concern."
Added Jones, "While they still may be looking at people from nontraditional backgrounds, it's absolutely clear with all that's transpired there has to been deep consideration for someone who really understands and values issues of diversity and inclusion."
Yet in Missouri, even the chancellor -- who had formerly been the president of Texas A&M University -- has been accused by student protesters as being aloof to their concerns. Hennessy noted how the presidency has always been a demanding job, but is becoming increasingly so given the issues campus and system presidents face and how they are changing over time.
Knowing how to respond to student activism and race issues has risen near the top of many presidents' competencies. Where many once stressed fund-raising, Hennessy says, now they wonder how they can keep their campuses from being the next Missouri. And as governing boards across the nation consider new leaders, a candidate's grasp of race issues and ability to work with students will need to be paramount.
"If every board and every system head and every campus chancellor isn't sitting down and having some tough conversations about where their system is on race and what kind of experience their students and faculty are having, they're missing a real opportunity," Hennessy said.