You have /5 articles left.
Sign up for a free account or log in.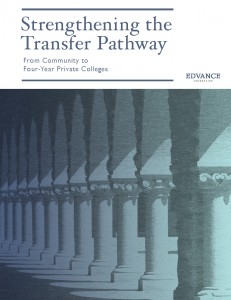 Students are entering community colleges with the goal of earning a four-year degree, but most don't succeed.
More than 80 percent of community college students want a bachelor's degree, according to federal data, but only 25 percent of these students actually transfer to a four-year institution. Solving this dilemma is at the heart of the Edvance Foundation's call to create a national college transfer partnership. The foundation has outlined, in a report released today, five core components to establishing a smooth transfer pathway that encourages more community college students to transfer and helps them to actually graduate with a bachelor's degree. Edvance is a nonprofit organization with a focus on higher education.
"One of the things we're finding is that in an effort to push more students to a community college … folks are being put on a transfer pathway without recognition that 80 percent of those who start want to go on to a four-year degree," said Brian Mitchell, chair of Edvance Foundation and former president of Bucknell University. "It's one thing to get them on the pathway, but it's full of potholes."
The goal of the partnership is to identify community college students who are interested in transferring to private colleges and help them to do so.
The foundation identified five core points after examining the transfer practices at private four-year colleges, talking with college presidents and administrators from 18 states, and examining the Jack Kent Cooke Foundation's community college transfer initiative, which helps low-income students transfer to four-year institutions.
The five components of creating a smoother transfer pathway are:
Early identification of promising students, with concentrated academic support and regular evaluation of their readiness;
Establishment of virtual bridge programs to strengthen academic and soft skills and to promote college and career readiness;
Support of rigorous, discipline-based study at community colleges;
Creation of a network of mentors for two-year students that is staffed through regional offices;
Emphasis on data collection and analysis to inform college transfer programs.
Edvance would recruit private four-year institutions and community colleges in the beginning to join the partnership, before expanding to public universities. Some states, like California, have pushed to make it easier for students to transfer from community colleges to public four-year universities, said Arthur Rothkopf, chair emeritus of the Edvance Foundation and president emeritus of Lafayette College.
"But it's not as easy to do this at a four-year private institution," he said, adding that transferring credits to private colleges can be particularly difficult. "The irony is, in the Jack Kent Cooke reports, it's clear students who do transfer to four-year private colleges actually do better and often graduate at same rate as those students who started as freshmen, because of mentoring and the small size of the institution."
According to the Community College Research Center at Columbia University's Teachers College, 60 percent of transfer students at private nonprofit four-year institutions graduate within six years.
"There is a real effort on the part of private colleges and universities to increase the diversity of the student body, in terms of race and socioeconomic class. Private colleges have the capacity and they are very good places," said Rothkopf.
Some of the colleges aren't meeting their freshman admission targets, so easing the transfer pathway helps them improve diversity on their campuses, he said.
Mitchell said he's not taking a position on whether free community college is good or bad, but he thinks there shouldn't be a push of large numbers into community colleges without a transfer pathway with a support network of counselors or mentors. That push for free community college has been picking up steam since the Obama administration announced it earlier this year.
Funding for the partnership would mostly come from the four-year institutions that would pay a member fee and regional, corporate sponsors. A national partnership could provide the colleges with the qualified transfer students they need, so existing recruitment dollars could go to the transfer pathway rather than the colleges searching out transfer students on their own, Mitchell said. It's also a benefit to corporations and businesses who are funding the creation of their workforce, he said.