You have /5 articles left.
Sign up for a free account or log in.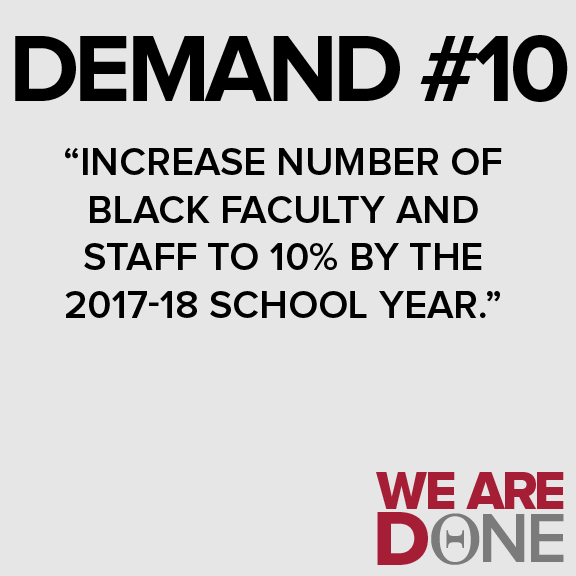 Increasing faculty diversity has long been a priority on college campuses, but the recent, widespread student protests over race relations have made the issue all the more urgent. And while a number of institutions already have pledged additional resources to increasing faculty diversity, questions remain about how realistic some of these goals are -- at least in the near term.
That's because black students remain underrepresented in a variety of Ph.D. programs. Even trickier, experts agree, is getting more black students to stay in academe after they earn their Ph.D.s., given climate concerns and the fact that they are also in demand elsewhere, including the much better paying corporate world. So any successful diversity plan, those experts say, will involve not only bringing more black faculty members to campus, but also address the climate issues that will influence whether they stay there.
"Getting to a certain percentage of black faculty by a certain time is a tough road," said Kimberly Griffin, an associate professor of higher education at the University of Maryland at College Park and co-author of several studies that shed light on the choices of early-career academics of color. "Especially when we're talking about doubling or tripling a population. Increases that significant often require more faculty lines either through retirements and other departures or the creation of new lines, which requires funding" that institutions may not have.
And while that "doesn't mean that it shouldn't be a goal by any means," Griffin added, "I worry about narrow strategies that focus on short-term recruitment and hiring."
The university facing the biggest diversity demand is also ground zero for the recent protests about race, and the treatment of black students in particular. Students at the University of Missouri at Columbia have called on administrators to increase the share of black faculty members to 10 percent by 2017-18, roughly mirroring the share of black undergraduates (8 percent). Campus activists and others outside Mizzou say students need more professors who reflect an increasingly diverse student body, and that the academy itself benefits from a greater range of perspectives.
Mizzou hasn't yet formally responded to that demand. A university spokesperson said it was under discussion. Data suggest it would be difficult. Mizzou's faculty is currently 3 percent black, according to 2013 data from the National Center for Education Statistics' Integrated Postsecondary Education Data System, meaning that it would have to more than triple its share of black professors within about two years.
If Mizzou somehow did meet that goal, it would be way ahead of most of its peers, since just 6 percent of faculty members nationwide are black. Averages are even lower in Mizzou's immediate peer group, the Southeastern Conference: of 14 universities, just two -- the University of Alabama and the University of Mississippi -- meet the national average of 6 percent black faculty. Mizzou fares worst, but the group average is just 4 percent. A wider analysis by the Associated Press found that no state's flagship public university campus had a black faculty population approaching 10 percent, and that only a few topped 5 percent. Most campuses were between 2 and 4 percent.
Numerous other colleges and universities have received similar but more general student demands for faculty diversity in recent weeks -- meaning that students want to see change but haven't cited a specific percentage. In response to the student protests on its campus, Yale University announced a $50 million initiative to fund the hiring of faculty members from historically underrepresented groups. The provost's office will provide $25 million, and the individual schools and colleges doing the hiring will match an additional $25 million.
That approach is similar to one taken by the University of Pennsylvania in 2011, in which the central administration pledged $50 million for faculty diversity hiring and other initiatives. That amount was to be matched by individual colleges and schools.
Beyond that, Penn purposely avoided setting a specific diversity goal. That's primarily because not meeting it might seem like a failure -- even if good was achieved.
"The challenge of a specific target like that is of course we're talking about a finite pool of new Ph.D.s and new professional school graduates and continuing scholars," Anita Allen, vice provost for the faculty, told Inside Higher Ed earlier this year. "I just don't know that it's wise to present those kinds of goals as being imperative to the real goal, which is making the faculty diverse and inclusive."
Brown University, on the other hand, did establish a hard target earlier this year: doubling its percentage of underrepresented minority faculty by 2025, from 9 percent to 18 percent. Like Penn, Brown's preliminary plan included hiring initiatives, as well as efforts at increasing the number of minority students in the Ph.D. pipeline to the professiorate. Funds also were earmarked for climate and mentoring programs to keep them in academe.
This month, in light of recent events, Brown President Christina Paxson announced additional elements to the diversity plan -- including support for undergraduates -- as well as the price tag, previously undisclosed: $100 million.
Brown's updated plan was "profoundly informed, and substantially improved by, recent campus conversations about structural racism," Paxson wrote in a letter to students, faculty and staff. "The deep pain that we have heard expressed by students of color in the past weeks and months -- a pain that has been affirmed by faculty and staff members who work closely with and care deeply about our students -- is very real."
She added, "Although we cannot solve these problems globally, we can ensure that all members of our community are treated with dignity and respect, and are provided the opportunities they need to reach their full human potential. We can make sure that Brown is a place where these issues are acknowledged and better understood through the courses we teach and the scholarship we conduct. And we can prepare leaders who make significant positive changes in the world throughout their lives."
How realistic are these goals? Penn proves informative. Even with its prestige and an arsenal of cash, progress has been steady but relatively slow -- at least compared to the Mizzou timeline. Between 2011 and 2013, the percentage of new hires who were underrepresented minorities grew from 9 to 14 percent. But the total percentage of underrepresented minorities on the faculty jumped just 1 percent, to 7 percent, from 2010-13. Minority professors over all increased from 13 percent in 2013 to 16 percent in 2014.
Part of the problem is that black students are underrepresented in a majority of Ph.D. programs and among Ph.D. holders.
While black people make up 14 percent of the U.S. population, they've earned roughly 6 percent of the research doctorates awarded to U.S. citizens and permanent residents each year since 2003, according to the National Science Foundation and other federal agencies' Survey of Earned Doctorates. While blacks hold a relatively high proportion of education doctorates, earning about 13 percent of such degrees awarded in 2013, they're underrepresented in other fields. According to 2013 data, the most recent available, they earned 6 percent of life sciences doctorates, 3 percent of physical sciences doctorates and 5 percent of engineering doctorates. In the social sciences, blacks earned 7 percent of doctorates. It was 5 percent in history and about 4 percent in the humanities. In business, it was 9 percent.
According to the survey, 2,167 black citizens or residents earned research doctorates in 2013. Compare that number to 130 -- that's how many full-time black faculty members Kevin Eagan, interim managing director at the Higher Education Research Center at the University of California at Los Angeles, says Mizzou alone would need to hire in the next two years to meet the 10 percent demand.
Or consider another stat: of the 128 new faculty members Mizzou hired in 2013, according to IPEDS, just 14 were black, Eagan said.
Beyond supply, there are concerns about retention among minority faculty members in higher education. Griffin's own research suggests that female and minority Ph.D.s in biomedical fields are more likely than others to lose interest in faculty careers while earning their doctorates.
A missing piece of the puzzle is "whether the black graduates of doctoral programs actually want to stay in academia, despite their abilities and commitment to their communities," Griffin said, noting that interest in academic careers among underrepresented minority women in particular still wanes in relation to their peers even when controlling for scholarly productivity, prestige of program and quality of advisers. "Something is happening to career interests in graduate school that we must address to see change."
Climate is one area of concern. There is a growing literature on the experiences of faculty of color that suggests that they face many challenges in terms of how they and their work are perceived in the tenure and promotion system, Griffin said. And they may also be subject to stereotypes and microaggressions -- subtle slights based on race -- which are at the heart of many of the student protests.
Beyond just talking about numbers, Eagan said it's important to define "faculty" in diversity plans in ways that will actually enhance the student experience -- not just look good on paper.
"Having faculty status can mean very different things across campus contexts," he said. "Will these new hires have contact with the undergraduates engaged in the ongoing dialogue on these campuses, or will they be hired as research faculty, potentially limiting their exposure and visibility to students?"
Griffin said students "often expect a great deal from these faculty in terms of mentorship," and that some have described a "revolving door" of black faculty members, in which one leaves due to climate concerns to replaced by another faculty member of color, and so on.
Richard Greggory Johnson III, an associate professor of public administration who studies social justice and higher education issues at the University of San Francisco, said it's "unrealistic for college to suggest that they will achieve 10 percent of black faculty by a certain date," due to pipeline issues, possible discrimination in hiring decisions and climate concerns at predominately white institutions that may leave black faculty members to feel isolated, overworked and underappreciated for their research interests.
"Ten percent sounds like a quota system that should never be used when targeting black faculty hires," Johnson added. Instead, there should be "an institutional system in place that goes beyond 10 percent or any other arbitrary percentage."
Shaun Harper, a professor in the Graduate School of Education and executive director of the Center for the Study of Race and Equity in Education at the University of Pennsylvania, said he was less interested in specific faculty diversity targets than broader questions about how to eliminate bias in hiring decisions and fixing climate concerns.
"Conversations concerning faculty diversity are terribly lopsided," he said via email. "Emphasis is often placed on hiring more faculty of color, which is incontestably necessary. But not enough attention is paid to raising the consciousness of white faculty members about how their implicit biases shape their interactions with students and colleagues of color."
Faculties at most predominantly white colleges and universities "will always be overwhelmingly white," Harper added, so institutional diversity efforts must include professional development experiences that "help white professors become highly skilled at teaching diverse populations and fostering classroom environments where students from all racial groups feel included."
Targets aside, accountability for diversity initiatives also is necessary, since "investing financial resources into recruiting more faculty of color is only a small part of the solution," Harper said. "It is entirely possible that only a tiny fraction of funds committed will be spent, especially if deans and department chairs are not held accountable for taking advantage of faculty recruitment and retention resources that have been made available."