You have /5 articles left.
Sign up for a free account or log in.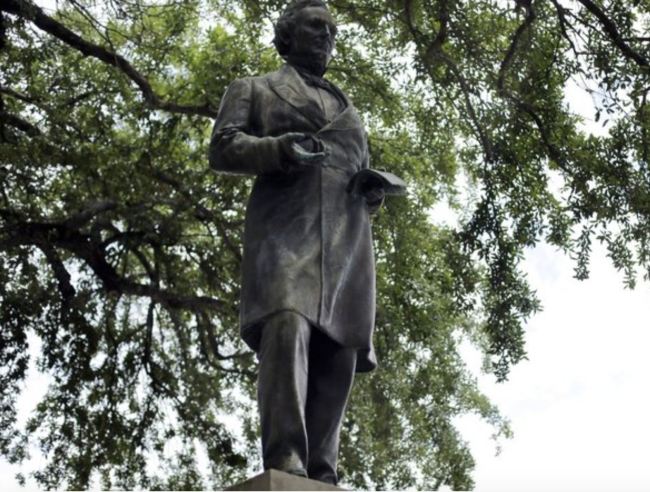 ATLANTA -- Those driving or even flying here this week for the American Historical Association's annual meeting might have glimpsed Stone Mountain out their car or airplane window. The massive, Mount Rushmore-style tribute to Confederate leaders Jefferson Davis, Robert E. Lee and Thomas "Stonewall" Jackson is hard to miss and -- for many -- hard to stomach. But what can and should be done about the thousands upon thousands of Confederate memorials and other symbols throughout the American South, many of which are on college and university campuses?
The topic was the subject of a plenary session for the first time open to the public here Thursday at the AHA's gathering.
James Grossman, executive director of the AHA, and a panel of noted experts on the American South all said the evening's discussion was precipitated by the June massacre at Emanuel African Methodist Episcopal Church, in Charleston, S.C., which prompted debates about state-sanctioned Confederate iconography due to the shooter's interest in such symbols, as well as the recent student protest movement.
But speakers also said that the history of the Confederate flag and other symbols is long and fraught, and that another national conversation over their value and rightful place was already overdue.
For David Blight, the Class of 1954 Professor of American History at Yale University, the Confederate symbol question is, in part, about where one's "line" is. For some, he said, the line between what is historically valuable and not is drawn at that which does not promote maximum unity. For others, the line leads to maximum knowledge, and the "troubled wisdom" that comes with it.
Others still draw it at healing justice, if such a thing can be achieved, he said, and yet others at maximum pleasure or pain. Blight said he was pushed by a reporter earlier this year in the aftermath of the Charleston shooting -- which he called the past "exploding" into the present -- to draw his own line. Without realizing it, Blight named the Davis and Lee figures in the National Statuary Hall Collection in the U.S. Capitol as Confederate monuments he found unacceptable.
"I found I had a line," Blight said, but admitted he couldn't do anything to remove the statues, which are selected by individual states.
W. Fitzhugh Brundage, the William B. Umstead Distinguished Professor and chair of history at the University of North Carolina at Chapel Hill, said he used to shrug off the Confederate symbol problem in favor of what he saw as more pressing issues. He's come around, he said, but the problem is of a massive scale, and seeking to "rebalance" the Southern memorial landscape would likely be prohibitively expensive. According to the digital archive he's helped create of all the monuments in his state, just 30 of several hundred Civil War-related ones honor Union or black soldiers.
So what to do about all the other monuments in North Carolina and other states -- such as Georgia's giant Stone Mountain? Brundage suggested that the mountain -- with its various historical ties to white supremacists, including those in the Ku Klux Klan -- might best serve as a museum tracing the history of American white supremacy. But because there would be little public interest in such a project, he said, it's probably best to start by addressing the "lowest-hanging" fruit, or smaller monuments and memorials -- many of which are housed at colleges and universities.
While students on campuses across the country have called for the removal of monuments to everyone from Davis to Thomas Jefferson, who was not involved the Civil War but who owned slaves, Brundage said colleges and universities should target symbols for removal based on their significance.
For example, he said, some students have argued that all tributes to Woodrow Wilson, a known racist, should be expunged. While Wilson's imprint on certain campuses might be relatively insignificant, and therefore perhaps best left alone, he said, the Woodrow Wilson School of Public Service and International Affairs at Princeton University probably should be renamed because Wilson's views contradict in many ways what the school is trying to promote.
Daina Ramey Berry, an associate professor of history at the University of Texas at Austin, was a member of her university's task force on what to do about several Confederate monuments in a prominent area on campus.
The task force didn't tell President Gregory L. Fenves what to do, but rather described the historical context of the monuments, gauged how members of the campus community felt and outlined possible ways of dealing with them. Students were nearly perfectly split on the issue, and in the end Fenves decided to move the most controversial monument -- that of Davis, president of the Confederacy -- to a museum on campus that could provide appropriate historical context. Several other monuments stayed in place because they were found to have significant ties to Texas.
Berry said she'd refrained from talking publicly about her work on the task force after someone commented in a local newspaper article that black faculty members should be chained to the Davis statue. But because she felt that she was among peers on Thursday, Berry said she wanted to speak out. She asked what the historian's role was in the national ongoing debate, and encouraged her colleagues to get involved.
"I've been saying to my students for the last year, year and a half, that we are in a particular historical moment," Berry said. "So what is the historian's role in this moment, I ask again? The historian's role is to provide the context in which people can understand the very complex issues of the past and the present."
In addition to students, Berry said, historians also serve the public. "What will we say?" she asked. "Some of you in this room have already weighed in and I know these are difficult conversations. We will certainly not always agree with one another's interpretation, but that is history and it is what we do."
John Coski, an historian with the American Civil War Museum and author of The Confederate Battle Flag: America's Most Embattled Emblem, said historians can help elevate the "tone and substance" of current and future conversations about such issues. Most importantly, he said, historians can help distinguish between sovereignty and free speech contexts -- that is, the difference between a state flag that looks like the Confederate flag, for example, and someone wearing the Confederate flag on a T-shirt.
Second, he said, historians can help explain the difference between the facts of history and the "glorifying" of it. For example, he said, it stands to reason that those who strongly value the Confederate flag as a means of memorializing the soldiers who fought and died under it ought to want to limit their expressions to a memorialized context. That's instead of, say, wearing a prom dress featuring the flag's pattern, he said.
Last, Coski said, historians should demand a more sophisticated conversation about what it means to "erase" history, and whether that's really possible. "That's what we have heard about and will be hearing a lot about in the next few years, unless these discussions morph into something unexpected," he said. "'It's erasing history!' Is it really? Well, you can't really erase history. You can erase the presentation of it, you can erase the memory of it, you can erase a particular spin of it, but is it really erasing history? We should be at forefront of trying to clarify what does and does not constitute erasing history."
Jane Turner Censer, a professor of history at George Mason University, made a similar argument, saying that the earliest attempts at memorializing Confederate soldiers -- undertaken largely by white women's organizations -- sought to locate and identify their remains. Over time, the monuments became more and more celebratory, and "glorifying," boldly moving from the cemetery to public squares and other prominent areas: Davis on a horse, a Confederate soldier standing guard.
Some of the supporters argued that these efforts weren't political, when they of course were, Censer said. "White Southerners showed their power by dominating the space with martial monuments."
But rather than eliminating such symbols altogether, she suggested, what if they were moved back to cemeteries and other locations more clearly tied to the act of memorializing, or the "bringing about of remembrance?" Censer said that while she's much more comfortable dealing in 19th-century history than 21st-century policy, "I suggest the way that these Confederate statues came to exist can offer something to our decisions …. Purpose matters. Even though cemeteries are not generally closed to the public they do not appear public" in the same way parks or colleges or universities do.
Grossman said it would have been irresponsible for historians to meet in Atlanta without talking about the "presence of the past within our lives." And while the city is rife with reminders of a cause that "deserved to be lost," he said, it's a history that can't be erased -- even through the removal of monument and symbols -- and which instead must be confronted.
During a question and answer period, U.S. Army Col. Ty Seidule, chair of the department of history at the U.S. Military Academy at West Point, said Confederate symbols and monuments were "not just a Southern problem." While West Point rejected as traitors all Confederate veterans in the aftermath of the Civil War, he said, the university in the 20th century began to honor some Confederate officers. Now it's rethinking some of those ties, he said, based on the idea that Lee, military leader of the Confederacy, alone "killed more U.S. Army soldiers than Hitler."
Michael Allen, a community partnership specialist with the National Park Service based in Charleston, said he was heartened to hear some of the evening's suggestions, and that he'd report them back to leaders of the Emanuel AME Church. They want to plan a memorial or museum for their slain members, he said, and will have to face many of the issues discussed.
Allen also said he'd had some success trying to "rebalance" the memorial landscape in and around Charleston. A historical marker at the site of secession caused controversy and was knocked down, but survives. And a marker dedicated to Robert Smalls, the first African-American to command a U.S. warship, is still standing.