You have /5 articles left.
Sign up for a free account or log in.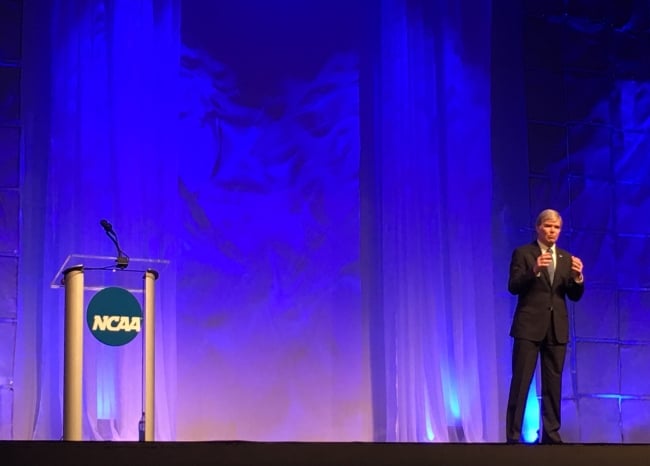 SAN ANTONIO -- While the time demands on college athletes ­became the central focus of the National Collegiate Athletic Association's annual meeting here this week, several proposals to deal with the issue were seemingly tabled the day before the NCAA's five wealthiest conferences were scheduled to vote on them.
"No other issue challenges Division I more than time demands," Harris Pastides, president of the University of South Carolina and chair of the NCAA Division I Board of Directors, said Thursday during the association's opening business session.
The decision to possibly table the proposals that would have addressed some of those time demands came after a day of conversations about the issue. While some within the Pac-12 Conference, the league that planned to introduce much of the legislation, said Thursday that the proposals "were still on the docket," an NCAA official told this reporter "not to be surprised" if the legislation does not come up for a vote Friday.
Leaders within the association said they want to see more research on the issue before taking any action.
The results of a national survey of 30,000 Division I athletes, released by the NCAA this week, found that many athletes want to spend less time on athletics. More than 40 percent of football and basketball players said they wanted an additional day off per week beyond the one they have now, and most athletes indicated they would appreciate two weeks off at the end of a season.
One of the tabled proposals would have created a three-week discretionary period following the championship segment of a season. Another proposal aimed to prohibit athletically related activities, other than competition, for a continuous eight-hour period between 9 p.m. and 6 a.m.
According to new data released by the NCAA this week, as part of its ongoing GOALS study, football players in the Football Bowl Subdivision -- the association's most competitive level -- report spending 42 hours per week on their sport. Two-thirds of Division I athletes reported spending as much or more time on athletics during the off-season as during the season. Nearly one in three FBS football players said their sport prevented them from enrolling in a course they wanted to take.
Soccer players, swimmers and divers reported spending the least amount of time on their sports, though at 29 hours, even they still surpassed the amount of required athletic activity allowed by the NCAA. Complicating attempts to address the issue is that many athletes choose to spend those extra hours practicing and training and are not necessarily being required to do so by coaches. In the 2015 GOALS study, more than 40 percent of male Division I athletes reported they would prefer to spend more time on athletics, not less. 
"What's the amount of time that our students need to do their schoolwork effectively, to pursue their academic aspirations, which for the vast majority of them is going change their life, and still allow them to be successful as athletes?" Mark Emmert, president of the NCAA, said. "These are very competitive young men and women, and they want to learn how to be as successful of an athlete as they are in the classroom, so they're putting in a lot of time."
Even so, Emmert, during his annual state of the association address Thursday, urged NCAA members to take action on the issue sooner rather than later. "This is the time now to match our actions with our values," he said, calling for a "rebalancing" of athletics and academics.
Part of that rebalancing must allow more time for résumé-building activities like internship programs, college leaders said. With the vast majority of college athletes not playing their sports professionally after college, they said, colleges must commit to making sure athletes don't forget to be students. James Phillips, athletic director of Northwestern University and chair of the NCAA Division I Council, said too often athletes have a singular focus on sports.
"Helping athletes pursue that next step, whether it's professional school, law school, medical school or going out and getting a job, time demands will affect that," Phillips said. "There needs to be recalibration of what we want to stand for in college athletics."
Roderick McDavis, president of Ohio University, said it would be a mistake for colleges to wait for NCAA policy changes to prompt that shift.
"Policies don't change behavior," he said. "People change behavior. We can hope that the NCAA catches up with us all one day, but what I know I can control is I can go home tomorrow and make a difference on my campus."