You have /5 articles left.
Sign up for a free account or log in.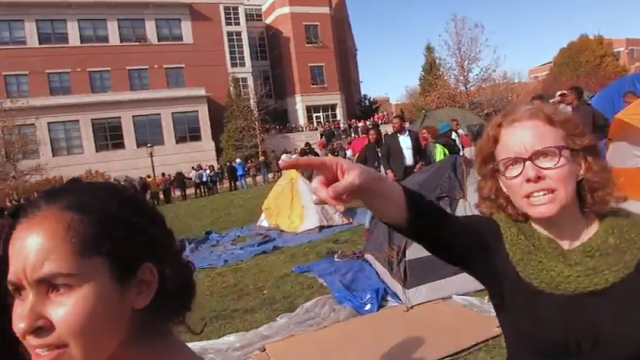 In a controversial and unusual move announced Thursday, the University of Missouri Board of Curators voted in closed session this week to fire Melissa Click.
The assistant professor of communication at the university system's flagship campus at Columbia was suspended with pay in January due to her behavior during student protests this fall -- including asking for "muscle" to remove a student journalist from a protest in a public area. While Click's actions proved divisive even among faculty members, her colleagues were quick to criticize the board Thursday for circumventing normal, faculty-driven channels of review. The board, meanwhile, said it was forced to act after criminal charges were brought against Click by a local prosecutor.
"The board believes that Dr. Click's conduct was not compatible with university policies and did not meet expectations for a university faculty member," said Pam Henrickson, chair of the University of Missouri Board of Curators, at a press briefing Thursday afternoon. "The circumstances surrounding Dr. Click's behavior, both at a protest in October when she tried to interfere with police officers who were carrying out their duties, and at a rally in November, when she interfered with members of the media and students who were exercising their rights in a public space and called for intimidation against one of our students, we believe demands serious action."
Henrickson said that the board respects Click's right to express her views and support students expressing their own views. But Click is not "entitled to interfere with the rights of others, to confront members of law enforcement or to encourage potential physical intimidation against a student," she said.
The board voted 4-2 to dismiss Click. Henrickson said she voted against the decision, but did not say why when asked. She said the board had been hoping that a faculty member would file a complaint against Click to be reviewed by an elected body of faculty members, according to university policy. But when no faculty members filed such a complaint, she said, the board moved forward on its own.
The catalyst? Click was charged with third-degree assault in January for her actions during the protests, Henrickson said. (Click entered a plea to avoid jail time.) But many onlookers say the university was facing pressure from the state legislators, who have threatened to withhold state funds in relation to the Click case.
Henrickson denied that external factors affected the board's vote. She said curators based their decision on a lengthy, outside investigation into Click's behavior, centering on two events during the intense protests over on-campus race relations this fall. Both were captured on video. In the first video to make headlines, Click appeared to grab at a student journalist's camera, and said, "Who wants to help me get this reporter out of here? I need some muscle over here, help me get him out."
The board also said she'd invoked her faculty status, telling the student reporter after he asserted his right to be on university property, "That's a really good one, I'm a communication faculty and I really get that argument, but you need to go, you need to go." According to the board, Click asked other students to exclude the journalist, saying, "You guys need to make room for this guy to come through, he shouldn't be here. And don't let him back in."
A second video, which surfaced earlier this month, shows Click yelling, "Get your fucking hands off me" to a police officer clearing a street during a protest in October. The board said she'd attempted to "physically block" the officers preparing for the homecoming parade.
A letter sent to Click Thursday notifying her of her termination says that the board considered whether she had violated various university policies, including that Mizzou "will not tolerate actions by any individual or group that would seek to restrict the appropriate freedoms of any other individual or group." Another policy says that faculty members "should at all times be accurate, exercise appropriate restraint, show respect for the opinions of others and make every effort to indicate that they do not speak for the institution," and demonstrate "respect for the student as an individual." Employees also risk termination when they "bring discredit upon the institution."
Hank Foley, interim chancellor at Columbia, said that while the process for dismissing Click is "not typical," he was in "complete agreement with the board that the termination of Dr. Click is in the best interest of our university." Her actions "directly violate the core values of our university." He added that Click's dismissal has nothing to do with her scholarly record, but "does have something to do with teaching," in that her actions bear on her ability to do so. Faculty members need to mindful of their actions, given that "social media is everywhere," he said.
After Click was charged with assault, Foley said she should be able to complete her upcoming tenure review. But he changed his tone after the October video circulated, calling her conduct and behavior "appalling."
Foley said he could personally assure that Click's investigation was "fair." She was interviewed twice, with legal representation, and was able to suggest relevant witnesses, according to information from the university.
Click has until early next month to appeal the decision directly to the board. Neither she nor her lawyer, Mary Anne Sedey, immediately responded to a request for comment. Status Labs, a public relations firm with which Click has been working, said she had no immediate comment.
No Due Process?
"Fair" didn't cut it for Ben Trachtenberg, an associate professor of law at Mizzou and chair of its Faculty Council, who said the board "made a terrible decision."
"Regardless of one's opinion of Professor Click's behavior or fitness for duty, she was entitled by our rules -- rules that the Board of Curators has approved -- to a fair process," he said via email. "She didn't get it. Instead, she got one that the board made up as it went along."
Trachtenberg challenged Henrickson's assertion that the board acted as it did because it waited in vain for a professor to file a complaint against Click to be investigated according to university bylaws. Board members may file such complaints, he said -- and faculty members informed them of that right.
"If members of the board believe that a formal investigation of Professor Click's conduct is appropriate, the faculty respectfully suggest that the board bring a charge against her under [university policy], allowing the university's existing process to go forward under the supervision of the interim chancellor," Nancy D. Stancel, chair of the University of Missouri System's Intercampus Faculty Council, said in a letter to curators the day before their vote to fire Click. Stancel, a faculty law librarian, works at the Kansas City campus.
"Suspending Professor Click and conducting its own investigation to determine whether additional discipline is appropriate, without using the existing procedures that the board has approved, undermines confidence in the current leadership of the university," the intercampus council chair added.
The American Association of University Professors also has appealed to the university on Click's behalf. Joerg Tiede, a senior program officer with the association's Department of Academic Freedom, Tenure and Governance, criticized the board for interfering in what should be a faculty-driven process. Under widely followed AAUP guidelines, even tenure-track professors should have the right to appeal dismissal before an elected faculty body prior to the scheduled end of their appointments, he said. Any other kind of hearing -- such that which has been offered to Click, before the board directly -- fails to meet that standard.
"Summary dismissal without a hearing before a duly elected faculty body is inimical to the principles of academic freedom and academic due process," he said.
Click's termination is effective immediately. Board members said they hadn't heard from Click since she was notified.
Mark Schierbecker, the student journalist who recorded Click, said in a statement that he was "embarrassed that the Board of Curators had to act because the faculty would not," USA Today reported. "Click has not been totally forthcoming and has repeatedly denied that her actions represent a pattern," he added.
Concerned Student 1950, the student group Click was supporting during the protests, did not immediately respond to a request for comment through social media.
Foley, the interim chancellor, said the university was working in the aftermath of the fall to make the campus one that is inclusive for everyone, regardless of "color or creed."