You have /5 articles left.
Sign up for a free account or log in.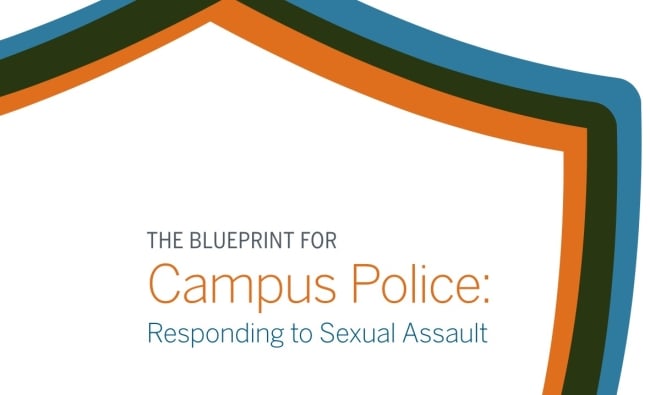 Police officers at all 14 University of Texas campuses will soon be trained to follow new investigative protocols aimed at changing how campus law enforcement officers interview and support victims of sexual assault, the system announced today. A new 170-page manual, called "The Blueprint for Campus Police: Responding to Sexual Assault," instructs the system's 600 sworn police officers to replace "tradition with science" when investigating sexual violence.
UT officials said they hope other colleges will also consider the manual's guidance and that it helps campuses "lead the nation in a culture shift" that encourages more victims of sexual assault to report the crime. 
"It's important that we're not relying on tradition or history as a premise for our response, but instead are being informed by the notion that we need to be victim centered, science based and trauma informed," said Michael Heidingsfield, director of police for the UT system. "It's a redefinition of protocol that we can use in a very practical way."
Historically, Heidingsfield said, police officers both on and off campus have investigated crimes in "a generalized fashion," using similar interview and investigative techniques for crimes as disparate as robbery and rape. "We learned through this collaboration that there's an entire body of knowledge in neuroscience that explains why [sexual assault] victims behave as they do, why they say what they say and why their memories are different from what we might have anticipated," he said.
The manual was developed by researchers at the University of Texas at Austin's Institute on Domestic Violence and Sexual Assault, and its content was based on interviews with 27 "key stakeholders and experts," including college presidents, police officers, deans of students, Title IX coordinators and victim assistance counselors, as well as on earlier research about sexual violence.
The institute will use an ongoing $1.7 million multiyear survey to track if the new protocols result in an increase in the number of victims who feel comfortable reporting incidents of sexual assault to campus police.
"We looked at what were the issues that campus police had to be educated about if we were really going to change their knowledge and skills around campus sexual assault," Noel Busch-Armendariz, director of the institute, said. "We focused on addressing issues like neurology of trauma, the role of alcohol and drugs, false allegations, and forensic interviewing."
Researchers and victims' advocates have long argued that police should take a more trauma-informed and victim-centric approach when interacting with victims of sexual assault. Laura Dunn, founder and executive director of SurvJustice, an advocacy organization for victims of sexual assault, said she hopes the UT manual is the "start of a new trend."
"As we know from low reporting rates, how police officers respond to victims of sexual assault has not been effective," Dunn said. "Understanding the trauma and the neurobiology aspect is essential. Officers are very much trained to interrogate defendants, but they are not really trained to take statements from victims, especially with something as personally traumatic as sexual violence. This is a step in the right direction."
While conducting research on why so few incidents of sexual assault are prosecuted, Rebecca Campbell, a psychology professor at Michigan State University, interviewed police officers to learn more about how they perceive victims they interview. "The stuff they say makes no sense," she quoted one officer as saying. "They can't get their story straight," said another. "No way it's true. No one would act like that if it's true."
As many officers are not educated on the neuroscience of sexual assault trauma, the manual states, victims "have encountered unwarranted skepticism from law enforcement." Sexual assault is a trauma, the researchers continue, which causes a release of hormones that activate the body's defense mechanisms known as fight, flight, freeze or appease. This not only affects a victim's emotional state during and after an assault, but also how she or he remembers information from the crime.
Brains experiencing trauma are better at recalling sensory information over specific details, research shows, meaning names, times and locations might be difficult to remember at first, resulting in inconsistent statements. Campbell, whose research with the National Institute of Justice is cited in the blueprint, compares the brain processing a traumatic event to someone taking lecture notes on Post-it notes rather than on a single sheet of paper. Those individual notes can get lost and be difficult to recollect in the correct order.
The manual instructs officers to avoid rapid-fire, linear questions and to be patient with victims when there are gaps in their memory or if the timeline doesn't quite make chronological sense.
"Ask victims about what they remember hearing, tasting, touching, seeing and smelling over 'who, what and where' questions," the document states. "The preliminary interview should primarily focus on gathering enough information to determine whether a crime occurred. Follow-up interviews can occur a day or two later and after a full sleep cycle so memories can be better recovered and/or when the victim feels safe."
In a section about "misconceptions and realities of sexual assault," the blueprint warns officers not to assume that the "normal" response to being assaulted is hysterical crying. "Emotional responses vary," it reads. "Victims are often in shock and passive, quiet and unemotional."
Other myths are discussed in the guide, as well. Most perpetrators of sexual assault are not strangers to their victims. Not all victims have visible physical injuries. Victims often don't immediately report sexual assault to law enforcement, and such delays should not be seen as suspicious. Officers are asked to fill out "skill-building exercises" about the myths, including answering true-or-false questions and responding to a "rape myth self-assessment."
"We present those sexual assault myths as part of the training officers now get, to see what they've heard or what's been part of their bias," Heidingsfield said. "We want to clearly disperse what we know as mythology and replace that with facts."
Heidingsfield said the university does not have an estimate about how much the new training will cost, but he said officials expect it to "be modest," as the upgrade will largely consist of swapping out specific modules in existing training courses.
Calling the guide "a major step forward," William Taylor, president of the International Association of Campus Law Enforcement Administrators, said he hopes the document can serve as a blueprint for other colleges.
"This is probably something we've needed for a long time," said Taylor, who, as chief of police at Collin College in Texas, plans on adopting some of the manual's protocols. "I think it could have a major impact on the usefulness of college law enforcement and could have the potential to go way beyond even that. Our focus is on sexual assault and dating violence on campuses, but the reality is that it happens everywhere. Frankly, campus law enforcement is struggling with these issues, but it's not near as bad as what has happened out in municipalities over time. I think this truly has value for all of law enforcement far beyond the University of Texas."